An 80th birthday is a big call for celebration. It's such an honor to reach eight decades of living and you can help highlight this special day with a party fit for such an occasion. Just like any birthday party, you want to take the guest of honor into consideration first and foremost. This should be about celebrating their life, so focus on giving them what they would want and not what you would want.
That said, there are some great ideas for party themes and party favors that you can play off of. I've compiled some of my favorites here in this post. If you use these ideas for 80th birthday party favors, I hope they really come through for you. I'd love to hear all about it in the comments.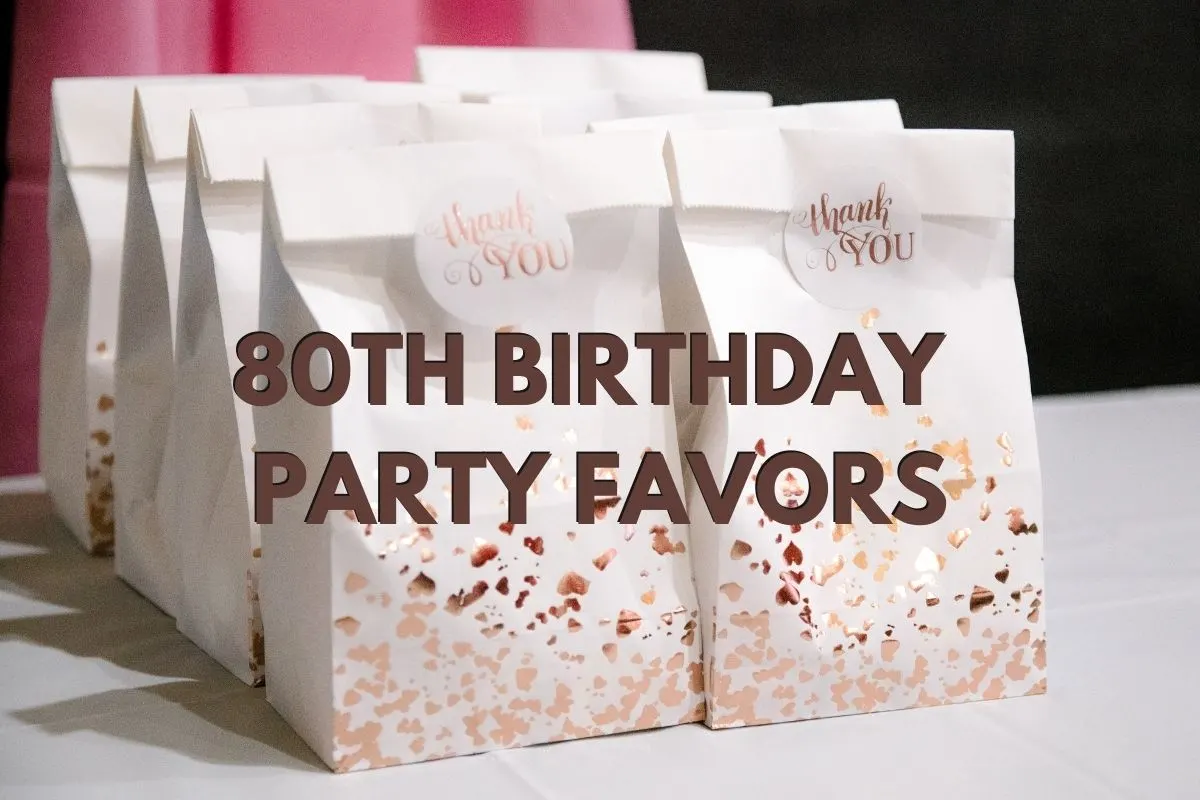 Remember that while it's not necessary to include party favors, they can be a lot of fun and are typically really appreciated by your guests. When you take some extra time to think of great party favors, it makes everyone who attends feel included and appreciated.
Top 80th Birthday Party Favors
In general, your party favors should match your party theme. However, there is no hard and fast rule about this and when you're hosting a party, you really can do whatever you want. I've compiled some ideas that you can work into your party theme, and if these don't work for you, I hope that they help spark an idea that will work for you.
Now let's take a look at these ideas:
1. Cheers to 80 years party favor boxes
These cute black and gold boxes are perfect for adding party favors or small gifts inside and then giving them to each of your birthday party guests. Each package comes with a set of 12. You can order multiple packs if you have more guests. The classic gold and black color is a popular theme for 80th birthday parties so these will look great while also being functional. If you're going to get these boxes, you need to put something inside them. You don't want to give the guests an empty box. You could add something from another idea on my list, or you could bake some cookies or add other treats or candy inside.
2. 80 and fabulous sash and tiara
When you want the birthday girl to feel like a queen, this "80 and fabulous" sash and sparkly tiara will do just that. This kit includes 80 & Fabulous sash, 80th Rhinestone Tiara, pearl pin, and Happy birthday cupcake topper. All these birthday accessories are packed in a box. This is less of a party favor for everyone and more something for the guest of honor unless it fits your party theme, and you want to give all the guests their own sashes and tiaras.
3. Share your memories and wishes cards
This is a 50-pack of cards that your guests can write on to share their memories and wishes. It could be a lot of fun to give one to each guest when they arrive or place it on the tables where they are eating. They can then write their memories and wishes on the cards, and they'll all be collected and given to the birthday guest of honor at the end. Be sure to bring enough pens for everyone to write out their cards.
4. Happy 80th birthday silly glasses
These black and gold-themed silly glasses say "Happy 80th birthday" and "Eighty" on them and make a perfect choice to keep the smiles and laughs at your 80th birthday party.
Each pack comes with 24 novelty glasses to share at the party. You can order more if you have more guests. These could be fun for a photo booth or if you have a photographer at the event, and they're just fun to wear for all ages. Your guests can take them home with them and remember the fun day.
5. 80th birthday photo booth props
Speaking of photo booths, here's a great idea that was made just for that. This is the perfect kit if you're going to have a photo booth at your birthday party, or if someone will be taking photos at the party for you.
This kit contains 48 pieces of props in an 80th birthday party theme, all made on quality card stock and wooden dowels. It has mustaches, eyeglasses, bow ties, lips, cakes, and funny sayings for you and your guests to enjoy.
6. Birthday themed Hershey candy bars
Here's a fun party favor for a milestone birthday like an 80th. These are pre-wrapped Hershey chocolate bars that are decorated in personalized wrappers. You can put the guest of honor's picture on them as well as their name and the fact that you are celebrating 80 years.
Who doesn't love Hershey? It's a classic! Even if they don't like eating chocolate, they will enjoy this personalized wrapper as a novelty item.
7. Mini succulents
When you want to give a party favor they can take home with them and enjoy for a long time to come, consider mini succulents. Two or three-inch varieties work well. If you want to go the extra mile, you can include care instructions or handmade wraps or baskets for them.
You can use 80th birthday stickers to decorate and help them remember where they got them from. Succulents are very low maintenance and easy to care for, so even someone without much of a green thumb can typically do well with them.
8. Mini tape measure keychains
Here's a cute and functional gift that will keep you thinking of the guest of honor every time you use it. These mini tape measure keychains come in sets of 12 and you can even personalize them with the birthday stickers we linked in #7.
If your dad, uncle, or grandpa was always a "Mr. Fix It" or the guy who helps you in a jam, this is a great party favor for his 80th birthday. He'll be looking out for you, no matter where you are.
9. Mini canvas paintings
You can purchase bulk mini canvases and bring lots of small paint bottles and allow the guests to paint their own mini canvases and take them home with them.
It makes great memories, and everyone gets something personalized they can take home with them. You might even choose to put birthday or personalized stickers on the back, so they always remember where they made it.
Some of the mini canvases you can buy also come with little easels that make it easy for your guests to display their creations, too.
10. Party candles
You can make your own candles or purchase jar candles so that you can personalize the labels and then give these away as party favors. Again, you can use birthday stickers to label them or make your own personalized labels that match the party theme.
I've included one example here that I thought was very elegant, but there are many different options.
Why Do We Give Party Favors?
The custom of giving party favors has been around for a long time. While it's not a requirement, it can be a very good way to show your guests you appreciate that they came out to celebrate your important day. It's also a fun way to send them home with a little memory of the event.
While it's completely up to you whether or not you decide to give party favors at your event, I think it's a great way to commemorate a special milestone birthday like the 80th. While some people choose to use party favors and gifts at every party, and some opt-out of them completely, this can be a way to make your 80th birthday party extra special for your guests.
80th birthday party favors – conclusion
You can't have a complete party without party favors and that doesn't stop being true as you get older. It can be just as fun at 80 to get party favors as it was when you were a kid. I hope that you enjoy and use some of these ideas on my list.
At the end of the day, it's all about enjoying this special day with the guest of honor and helping them have an amazing time as they ring in their 80th year of life on this earth. The ideas for party favors that I've compiled are to help you with your party planning. But the real meaning behind the day is to share love, laughs, and good times together.
Which party favor ideas do you like the most?