Kids grow up so fast! Their bodies and minds are developing so rapidly that they seem to be growing overnight. This means you want to choose a birthday gift for a five-year-old boy that's not only fun, but that also boosts motor skills and mental development. Here are 10 birthday presents for a 5 year old boy that promote positive growth and development while also letting your child be a child.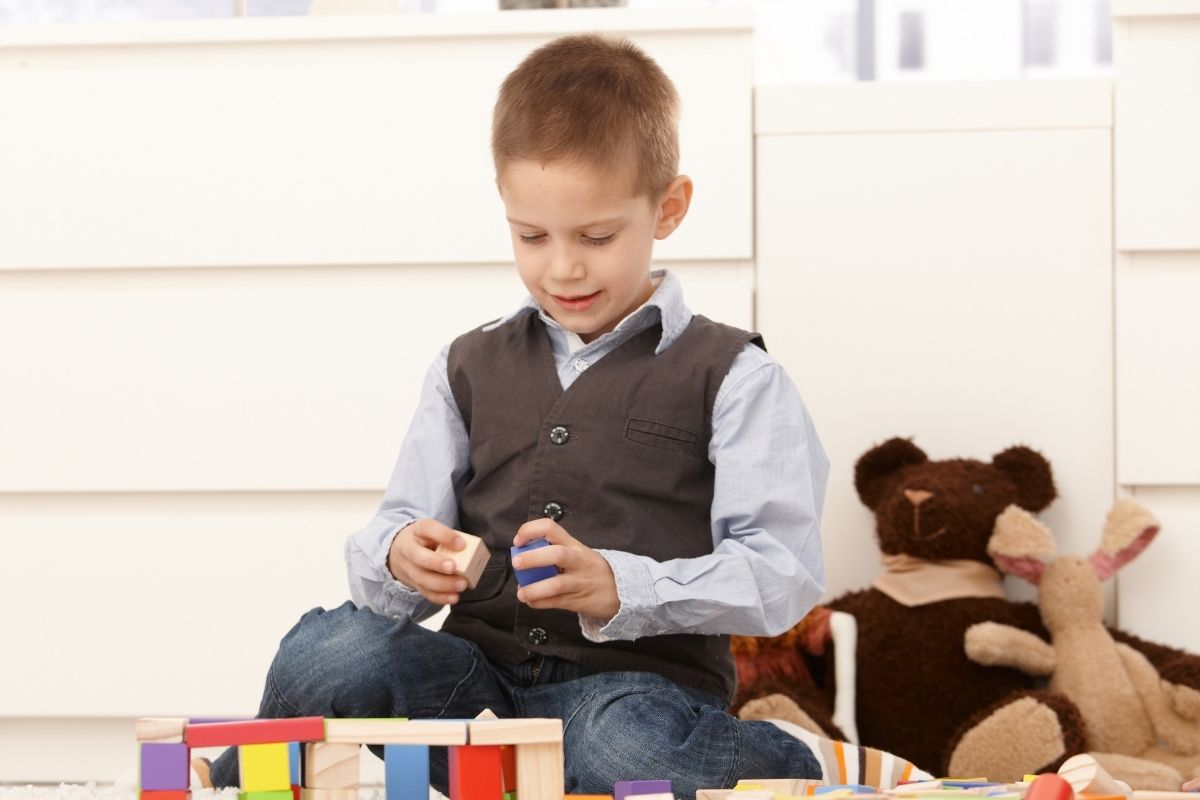 Best Birthday Presents for a 5 Year Old Boy
1. Get a kids tablet
I know what you might be thinking. A five-year-old boy is too young to be spending his free time on a tablet. What you need to remember is this is a different time than when you and I grew up.
Also, there are plenty of tablets with applications and games kids love that help them grow their brains and even their physical motor skills. Look for one that has plenty of safety filters and features to limit what the child can access on the Internet.
2. Building block STEM toys
The early years are when a child's cognitive development takes place. This means giving birthday presents that develop science, technology, engineering, and math skills (STEM skills) can help the special five-year-old boy in your life grow in so many important ways.
Building blocks qualify as powerful STEM tools that both boys and girls love.
Children are naturally drawn to blocks. They teach creativity, counting, motor skill development, and other important lessons. There are building block sets available for all budgets, and you can smile knowing you're helping develop important abilities crucial to healthy mental and physical growth.
3. Walkie talkies for kids
This is a gift that is more than just something any five-year-old boy will love. Sure, kids love walkie-talkies. They're able to communicate with someone that in many cases they can't even see.
A five-year-old is too young to have his own cell phone, but he won't feel left out of the high-tech communications game with these walkie-talkies. Also, imagine how important a walkie-talkie with a 3 km range (1.8 miles) could be if your child somehow became lost. The walkie-talkie for kids is lightweight and made for small hands. They're easy to operate and inexpensive.
4. Rock and mineral collection
Five-year-old boys surely aren't scared to dig around in the dirt. Many of them love collecting and examining rocks and other minerals. A rock and mineral collection helps them learn about different rocks. It teaches them things like their scientific names and the minerals they're made out of, while also prompting the child to spend more time outdoors with nature.
5. Motoworx toy rocket launcher
Did you cringe when you saw the words "rocket launcher"? Let me set your mind at ease. This is a foot-activated launchpad for foam rockets. There are no electrical components or combustible materials.
The Motoworx Toy Rocket Launcher for kids includes 8 colorful foam rockets and a launching pad. It's rated for boys and girls over 3 years of age. Rockets shoot up to 100 feet in the air when the birthday boy steps on the launching pad. We chose this particular toy rocket launcher because it has nearly 13,000 reviews on Amazon, with a stellar 4.5-star customer satisfaction rating.
6. Superhero costumes and dress-up kit
The special 5-year-old boy in your life no doubt has a favorite superhero. Movies and cartoons made for children use superhero characters to promote positive traits. These characters show your child that they'll have to overcome difficulties in life to generate the type of outcome they're looking for.
They instill other positive character traits in children, and kids want to be just like them. Costumes and dress-up kits boost imagination and creativity and can be used throughout the year for special occasions or just for fun.
7. Bicycle (with training wheels)
More than a few young boys learned to ride a bicycle when they were 5 years old. While young boys would love to be able to hop on a bicycle without training wheels and ride it successfully right away, that just doesn't happen.
The training wheels can be removed so the child can become proficient on just two wheels. Bicycles hone important motor skills while instilling self-confidence and independence in children.
8. Soccer ball, kickball, beach ball, any ball!
Kids love throwing and kicking and catching and playing with balls of all shapes and sizes. You really can't go wrong with this gift. Children of all ages can get in on the act, and this teaches your five-year-old how to interact with different age groups.
The athletic and motor skills which are improved with this simple gift are limitless. If you go with a soccer ball, a Size 3 ball is perfect for a five-year-old boy.
9. Indoor/Outdoor play tent
Does your five-year-old make forts in the home? A lot of children do. They create imaginary worlds using sheets and cushions and furniture. Mom and dad don't always want their children building forts, hideouts, and superhero headquarters out of household goods.
This is where the indoor/outdoor tent or play space makes the perfect gift. Small tents and cloth domes made specifically for children promote independence, creativity, and imagination. They improve motor skill development and so many other skills crucial for a five-year-old's development.
10. Five-year-old boys love dinosaurs!
You can find educational dinosaur posters and dinosaur pillows online. There are dino costumes, and nightlights, and board games, and tons of other dinosaur-themed products that are perfect for a five-year-old's birthday. This is a great go-to gift that never fails if you've waited until the last minute and need to pick up something you know the birthday boy is going to love.
11. Digital piggy bank, money counter, mini ATM
It's never too early to teach financial management. The earlier children are taught to be financially responsible the better. Research shows that children who learn money management skills before the first grade are more likely to carry those skills over to their teen years and young adulthood.
The Totola Piggy Bank Electric Mini ATM for Kids has a lot of features you're going to love. You can select your child's favorite color. Money can be added through a coin slot or a cash slot. Your child has to memorize a code to open the bank with a keypad. If he forgets his passcode, mom and dad can reset the bank and access the money by changing out the battery.
Birthday Presents for Five-Year-Old Boys – Conclusion
What five-year-old boy wouldn't love a rocket launcher that's powered by him smashing his foot down on a plastic launching pad? Kids love bicycles and balls, and any gift on this list is going to be appreciated.
For a lot of reasons, the walkie-talkies for kids get our selection as the perfect birthday presents for a five-year-old boy. Their long range means you can always keep in touch with your child, which adds an important safety feature to playtime.
Have older boys? Here are some gift ideas for 14-year-old boys!