When you want to have the very best gift of all for a milestone birthday, consider making something yourself. Here are some great creative 50th birthday gifts to get you started.
Homemade gifts are a great, one-of-a-kind 50th birthday gift. What better way to make sure your gift is creative and unique than to make it yourself? One thing's for sure, you'll be sure your gift won't be duplicated if you create it yourself. Handmade items are some of the best 50th birthday gift ideas. It's a great way to show how much you care and to truly honor the special occasion for what it is.
On this page, I'm focusing on homemade gifts, as I find that's the best way to be creative. However, you can also purchase some of these gifts in stores if time is of the essence or you aren't the crafty type. The idea for these gifts is to make them something heartwarming and special.
A milestone birthday party is all about having a great time, wakening your taste buds with some delicious birthday cake, sharing time and memories with the people you love, and making memories that last. This is why I have chosen five heartwarming creative handmade gifts to give for this occasion.
If you're not good at making things with your hands, it could be time spent together doing something the birthday guest of honor will love. Sometimes spending quality time with close family members is the best 50th birthday present someone could ask for.
Creative 50th Birthday Gift Ideas
By the time someone reaches an important milestone birthday like their fiftieth, it can sometimes feel like they already have everything they need, or like you have exhausted all gift ideas for previous birthdays. Or maybe it's just that this is such a special birthday, you want to honor it with something more than a store-bought card and a gift basket.
Unique 50th birthday gifts are just the way to show your special someone that you are thinking about them on their big day, and that you have put a bit more effort into their gift than a traditional store-bought item. A fabulous 50th birthday idea is to make something creative and handmade, which allows you to pour so much love and sentiment into the gift itself.
When you want a special and unique birthday gift for the person turning 50 in your life, here are some to consider. Nothing says happy birthday quite like a thoughtful gift from the heart. The best 50th birthday gifts are those that come from the heart, and you can definitely say that about this unique gift idea:
1. Create a picture collage
Photos are a beautiful way to capture memories of good times. A picture collage is one way to showcase lots of those photos in one place. With modern technology and digital photography, it's now easier than ever before to create your own picture collages and even print them and share them with others.
You can create a collage of pictures on the computer using graphics software. Once it's created, you can then print it out and frame it. If you're not familiar with this type of software or prefer to go "old school", you can make your photo collage by hand. Here's how:
Print out all your desired pictures.
Cut them out and glue them all on a piece of Bristol-board.
You can frame it, or if it's too large for a frame, you can have it laminated.
Another option for a collage is to buy large picture frames that allow you to insert more than one picture. There are even frames that overlap and look like a collage. You take your desired pictures and place them in each section of the frame. Put a beautiful bow on it and you're ready to go!
2. Create a video collage
Another creative gift idea that involves captured memories is a video collage. It works on the same idea of a photo collage, but you're using videos instead. This means that you can't just cut them out and paste them on a photo board, or put them in a picture frame, but there are some great ways you can compile and present a video collage to the birthday girl or boy.
These creative gifts are similar to the picture collages except they are videos. Using software on your computer, you can create a video collage of videos from over the years and put music to it. Use music they like or just music with lyrics that have a lot of meaning to you both.
If you don't have a lot of videos or you never took and gathered videos over the years, you can still do this with pictures. Create a slideshow from still images, add music and even add captions on the different slides.
Put it on a disk or USB flash drive and "ta-da!" Now you have a very creative birthday gift they can treasure for many years to come.
3. Build a memory scrapbook
50 years is a long time to live and, no doubt has allowed for a lot of fun memories. One way to preserve those memories is with a scrapbook. Again, this involved photos but there's something that makes this idea unique: you can add more than just photos.
Scrapbooks are not a new idea. In fact, they used to be much more common before digital photography took over and now they're seeing a comeback. Part of the fun of the scrapbook is the little creative elements you add to the photos. This is how it differs from a regular photobook.
Here's what you will need:
A blank scrapbook to fill up
Some photos of memories to put in the scrapbook
Scrapbook-safe glue
Craft paper, construction paper, or photobook paper
Stickers, frames, and other scrapbooking "extras"
Archival quality pens for writing notes
Now all you need to do is start creating your scrapbook. I think it's a great idea to build it out and leave some blank pages at the end when you deliver your gift so that the recipient can continue to add some memories of their own. They may even want to create a page for their 50th birthday and the gift and memories you just gave them.
4. Build a thought book
Similar to the good idea of memory scrapbooks but with a little unique twist, a thought book can also make a very creative and heartwarming gift for this special birthday. The main difference between this and a scrapbook is that many different people will participate in a thought book. Also, a thought book doesn't have to have photos, although some people do like to add them.
For this creative happy 50th birthday gift, you get a notebook or blank journal or similarly styled book and then you let all the friends and family sign it and write out messages to the birthday guest of honor or tell stories or share memories they have had with them in the past.
Have every member of the family write out a page about the birthday person – they can write how they feel about them, how much they love them, great memories, funny stories, etc.
An idea to add photos: On the two pages that are beside each other you can have one side with a picture of the birthday person with the person who wrote the page, and the notes, letters, messages, or memories on the other side.
People who are out of town can put their messages on a piece of paper and mail to you and you can paste it into the book for them. These unique 50th birthday gift ideas are sure to impress.
5. A special dinner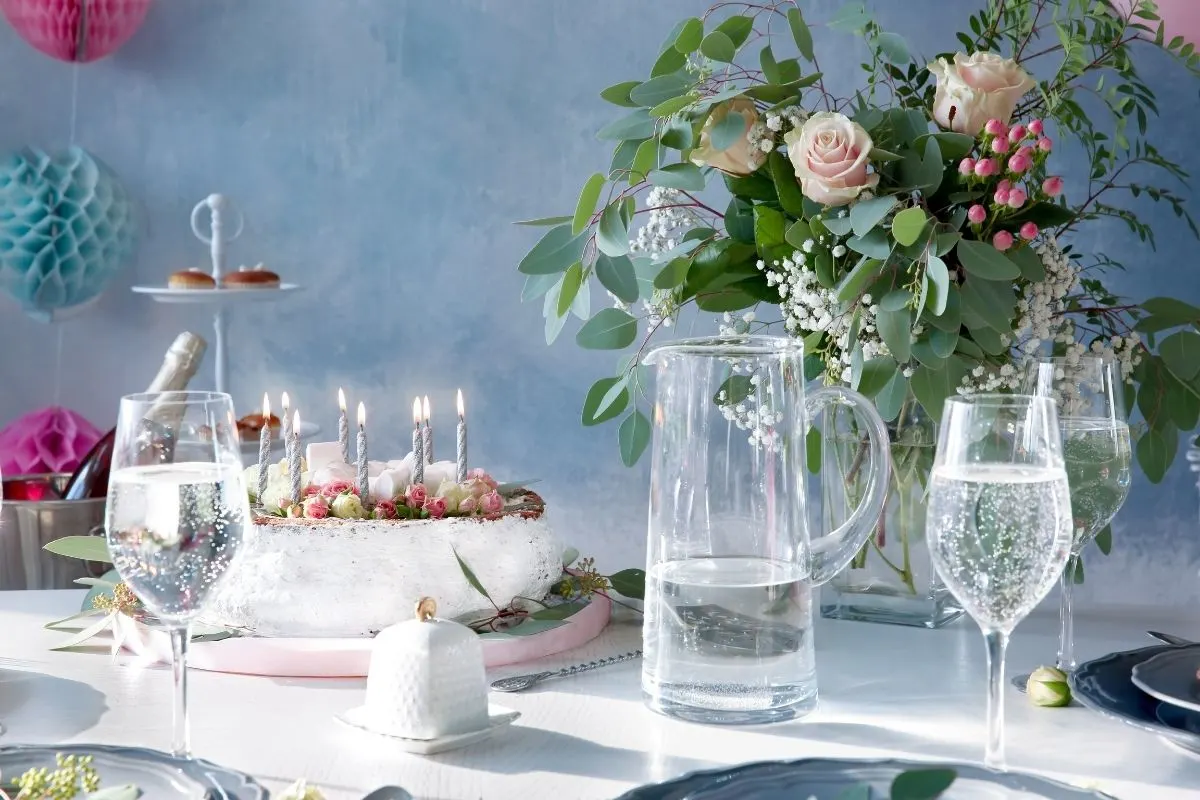 And for the final idea here, you can treat your loved one to a wonderful meal for their 50th birthday. In many cultures, food is a way to express love. Great food creates good feelings within us and may also remind us of other happy memories. This is another reason birthday parties usually have food and treats served. Lots of food shared with close friends is a comfort. This is why it makes a perfect gift idea and there are so many ways you can do it.
You can take them out to eat or host a dinner at your home or make their favorite foods to bring to the birthday party. Being treated to their favorite dinner will always be a great gift idea. You can also combine this idea with one of the others and give a homemade gift and also take them out to a delicious meal.
Other creative 50th birthday gifts
With a creative, handmade gift like this, your gift will be the talk of the party. Are you still looking for some more gift ideas? Well, here are a few more for you to consider:
Paint mugs or t-shirts with witty sayings or quotes that the birthday guest of honor always says.
Have everyone autograph something like a t-shirt, framed paper, stuffed animal, etc.
Create a jar for change, add a label that says something like "Retirement Fund," "Bingo Fund" or "Fishing Fund," or something that relates to their interests.
When possible, always add a homemade card. If your card is homemade, it will be a keepsake they will hang onto for years to come.
Homemade gifts can be a little more time-consuming because they have a lot of thought and meaning behind them. These creative 50th birthday gifts will be saved, cherished, and looked at over and over.
If you want to add a store-bought card with your handmade gift, you are also welcome to do that as well. You might give a gift card to their favorite store or restaurant, or make a basket of some of their favorite things, or for sports fans, you might get some memorabilia or tickets to a game – but whatever you decide, when you combine it with the creative gift, it has even more meaning.
Conclusions of Creative 50th Birthday Gifts
If you have a birthday party coming up and you want to give something extra special to the birthday guest of honor, consider making your own gift. It doesn't get any more creative and unique than something you create just for this person. It's a lovely gift that won't be forgotten for a long time. Every time they look at it, they'll remember all the great memories again, and they'll think of you for gifting it to them.
Useful gifts like coffee mugs are great, but a personalized gift like one you make yourself is something they can't get anywhere else. When it comes to fabulous 50th birthday gifts, these top the list. You only turn half a century old once, so let's make it memorable and special.
Do you have any homemade ideas for a 50th birthday that you would add to my list? Have you tried any of these ideas for yourself? I'd love to hear about it in the comments!