Jokes for 50th birthday can be used to roast your birthday guest of honor and create a hilarious party! What better way to celebrate the big day than a fun-loving roasting? These roasts are very memorable and unique, no two are alike!
50th Birthday Jokes
Laughter is the best medicine they say – and I agree. What better way to celebrate than having a good-natured laugh with some 50th birthday jokes!
These are jokes I've collected over the years. Some of them, I made up just for you to use at your 50th birthday celebration. Please don't post them on other sites! Thanks very much.
Top 10 Signs You're Over The Hill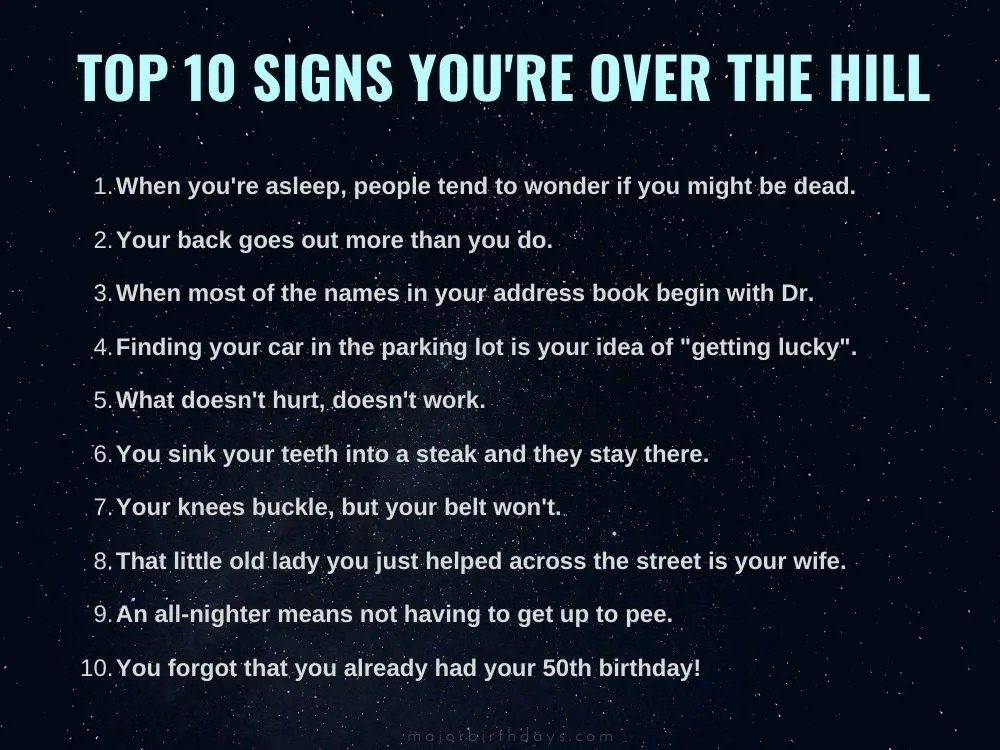 When you're asleep, people tend to wonder if you might be dead.
Your back goes out more than you do.
When most of the names in your address book begin with Dr.
Finding your car in the parking lot is your idea of "getting lucky".
What doesn't hurt, doesn't work.
You sink your teeth into a steak and they stay there.
Your knees buckle, but your belt won't.
That little old lady you just helped across the street is your wife.
An all-nighter means not having to get up to pee.
You forgot that you already had your 50th birthday!
Helpful Tips for the over 50s
Tip #1: Always tether your glasses to your person. Without them, you won't be able to find your dentures!
Tip #2: Keep a journal or diary. It will help you remember what you did yesterday.
Tip #3: Take advantage of your age! Complain about your health and talk your kids into doing all your chores.
Tip #4: Science has finally made it possible for a 50-year-old to look as young as a teenager – with a simple head transplant!
Tip #5: Buy an iPad, digital camera, and an MP3 player. Although you won't know how to use them, you'll at least appear trendy.
Tip #6: Become friends with people much older than yourself – you'll feel so much younger.
Tip #7: Never attempt to pick up something you dropped, except under strict medical supervision.
A Prolific Source for 50th Birthday Jokes: The Late Joan Rivers
A wonderful source of jokes about getting old: the late Joan Rivers. You can find tons of her material on YouTube.
Use her material for inspiration, rather than copying her jokes. Or just tell stories about her and the jokes.
Another Good Laugh
There were three ladies talking about how they feel about being 50 years old.
The first lady said, "There are times I find myself with the milk jug in my hand, and the fridge door open, but I can't figure out if I was taking it out, putting it back, or pouring myself a glass."
Another lady replied, "Yes sometimes I'm at the foot of the stairs and I don't remember if I was going up or just came down."
The last friend chimed in, "Well, thankfully I don't have that yet. Knock on wood." As she knocked on the table, she looked around and said, "Oh, someone's at the door. I'll get it!"
Know what's good about turning 50?
The senior discount at Denny's is only a few years away!
Do you know how you can tell you're over the hill?
When you can see it in your rearview mirror!
Random Laughs and One-Liners
You know you're old when you go antique shopping and the crowd thinks you're part of the inventory
Ah, birthdays. You should really try to cut back, Joe. Too many of them can kill you.
They say it gets harder to remember things as you get older. (To birthday person…:) In that case, it's a good thing this was a surprise party. You may have forgotten to show up!
I really enjoyed making your cake, but seriously. You're starting to acquire so many candles, there's not much room for cake!
These are only a few of the many, many funny 50th birthday jokes you can tell at your party to get a great laugh.
You will even have the 50-year-old laughing at them!
Could be a risk of a "laughter leak"!
Have you ever heard a great over the hill joke? Tell us your joke in the comments!
What is a Birthday Roasting?
A birthday roast is a presentation honoring the birthday person in a funny way. It is filled with comedic insults (nothing demeaning or rude – they're just for fun), embarrassing stories, fun experiences, and heartwarming memories all about the person. Basically, you use jokes for 50th birthdays and honor the birthday person with love and affectionate teasing.
A number of close friends and family of the "roastee" are called upon to present their personal roasting anecdotes.
How are do you organize a 50th birthday roasting?
There are some basics to structuring your roast event. You need to let your guests know that you are planning a roasting and to start thinking of roasting jokes for this 50th birthday event. You want to center your invitations around the event and prepare your guests.
Here are some basic definitions to keep in mind when it comes to roasting:
Roastee: This is the guest of honor. The target of the roast.
Roastmaster: This is the host of the event.
To structure this event, make sure you dedicate a Roastmaster. This person will host the event, it is handy if they are of a comedic nature and easily speak well in front of crowds.
Inside your invitations, you can request that your guests prepare a short roast of their own. This will provide plenty of content for the night – and likely a TON of laughs!
Here's an example of a 50th birthday roasting:
How do you decide if a roast is appropriate?
Very important! The guest of honor must have a good sense of humor – and that is a definite MUST! This type of event is a comedic play on the person's life, so they have to be okay with some good-natured jokes. If not, you could end up with an insulted, offended loved one and that would not be good at all.
What's a good number of guests to make for a lot of fun?
The more people you have the more roasting that occurs. It is great to make sure everyone knows the roastee well enough to join in the fun. It is good to have a close group of friends and remember, the more people the more trouble it can cause. And I mean good, fun, warm-hearted trouble!
Your guests may even think up great jokes off the cuff and spur of the moment as they get into the spirit.
Do jokes for 50th birthdays have to be negative?
Roastings are not intended to be "negative"; they are just good-natured fun-poking at the roastee. Now with these, as long as the comments and even insults are fun and good-natured it's okay – just make sure they are not hurtful.
What jokes for 50th birthdays are "off-limits"?
It all depends on the person.
Things that can be off-limits are:
Past relationships that still have lingering feelings.
How many women/men they have been with (especially if their new significant other will be present).
Events that are "touchy" subjects for the person.
If all your guests are close friends and family to the roastee, most should know what is off-limits. But it is always a good idea to maybe coordinate the event so that all the guests are there before the guest of honor. This will give a little bit of time for everyone to go over some ground rules about the roast. It will ensure there are no awkward moments when someone says the wrong thing.
Some other great tips for a roasting and using 50th birthday jokes:
You could ask your guests to send you the high points from their notes for the roast, so you can somewhat arrange for a nice flow of speakers.
For those who cannot attend, you can always have them send you something in the mail or by email for the Roastmaster to present in their place.
Have a chair decorated like a throne and have the Roastee sit in it while you all present your stories.
Record! and take pictures!!! This will be a one-of-a-kind event and completely unforgettable. This will be something great to look back on over the years.
Hopefully, these tips will help you throw the best birthday roast possible!! Enjoy and use these jokes for 50th birthday.