A great way to celebrate the milestone of a 50th birthday is with a fun birthday bash that brings all of the birthday guest of honor's favorite people together. You can also use 50th birthday quotes to help express how you feel toward them and the many good wishes you want to bestow on their very special day.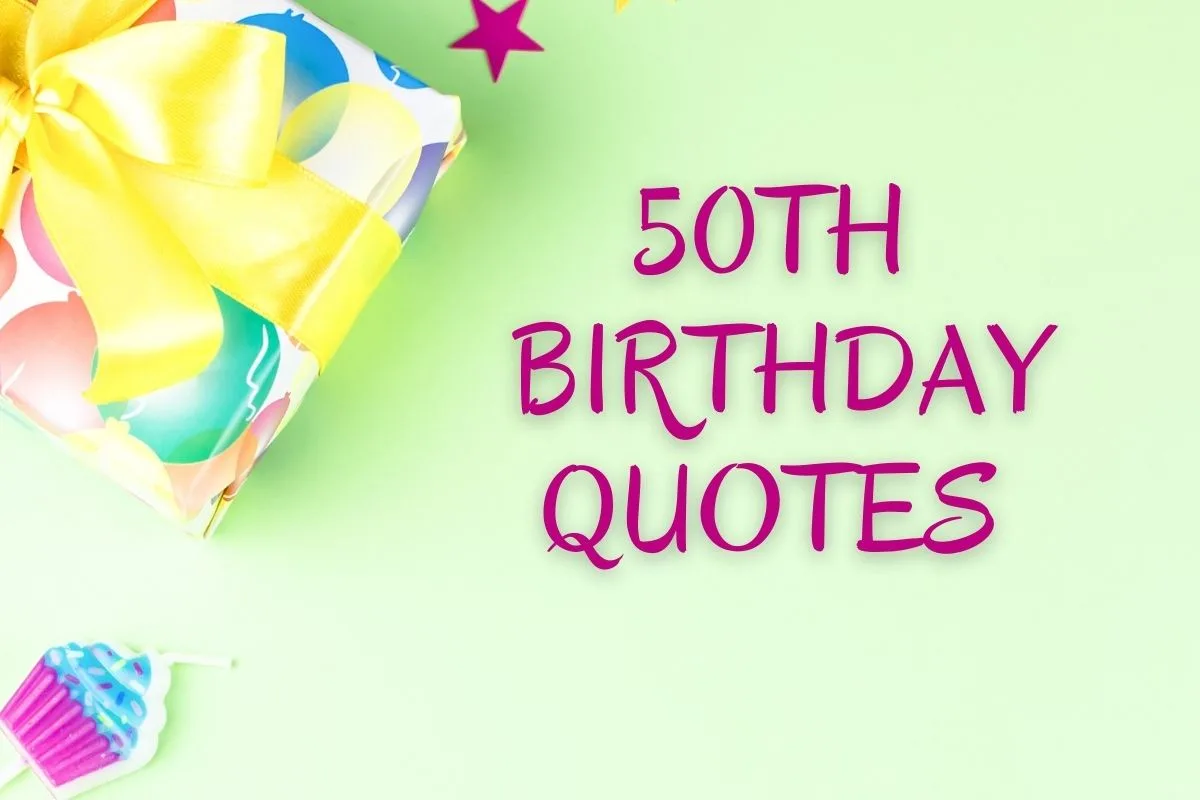 Turning fifty is a big deal and this milestone birthday should be celebrated properly. A half-century has come and gone, and you've accomplished a lot in that time. As you reflect on all that you have done, it's natural to feel both proud and excited for the future. This amazing milestone is something worth celebrating with a good time.
Turning 50 is an important life landmark, and it's time to celebrate all that you have achieved! Today we will share 50 inspiring quotes for turning 50. We hope these quotes help motivate and encourage you as you move forward in life.
Here's to 50 more years of happiness, health, and success!
Famous 50th Birthday Quotes
These 50th birthday quotes come from the creativity and experience of many famous and popular people of our time. These are things that people have said about being 50 and things you can use as quotes when creating invitations, birthday cards, banners, t-shirts, etc.
People like having quotes from the rich and famous, so here I've compiled a few quotes from many different people, but they have one thing in common – they are interesting quotes!
Jim Carrey: 50 years: here's a time when you have to separate yourself from what other people expect of you and do what you love. Because if you find yourself 50 years old and you aren't doing what you love, then what's the point?
Agatha Christie: I have enjoyed greatly the second blooming… suddenly you find – at the age of 50, say – that a whole new life has opened before you.
Coco Chanel: Nature gives you the face you have at twenty, but it's up to you to merit the face you have at fifty.
Victor Hugo: Forty is the old age of youth; fifty is the youth of old age
Sophie Tucker: From birth to age eighteen, a girl needs good parents. From eighteen to thirty-five, she needs good looks. From thirty-five to fifty-five, she needs a good personality. From fifty-five on she needs good cash.
Cindy Crawford: The face you have at age twenty-five is the face God gave you, but the face you have after fifty is the face you earned.
Billie Burke: Age is something that doesn't matter unless you are a cheese.
Happy 50th Birthday Quotes
Here are some great birthday quotes about saying "happy birthday" to the one you care about!
Age is just a number. It's only a limitation if you put it there. – Unknown
The 50s are the new 30s! – Unknown
Turning 50 is like finally reaching the top of Mount Everest and being able to say, 'I did it!' – Unknown
At 50, you've reached the summit of experience and knowledge. – Sidney Sheldon
You're not 50, you're 18 with 32 years of experience. – Unknown
50 is an age that's young enough to accomplish anything you set your mind to while being old enough to enjoy it. – Unknown
A man who views the world at 50 the same as he did at 20 has wasted 30 years of his life. – Muhammad Ali
The 50s are the new 40s! – Unknown
50 is not old. It's experienced. – Unknown
Age is a question of mind over matter. If you don't mind, it doesn't matter. – Satchel Paige
Life begins at 50…or so I'm told. – Unknown
You're only as young as you feel. – Unknown
Only 50?! You look fabulous! – Unknown
The 50s… Where age gets in your way of acting like a fool. – Unknown
If you're 50 and still feel like you're 25, then it's time to change your life. – Unknown
Age doesn't matter if it isn't important to you. And if it is important to other people, why should that bother us? – Unknown
Now, what if your birthday guest of honor loves a good joke? Let's take a look at some funny quotes that might bring a smile to their face (and to yours).
Funny 50th Birthday Quotes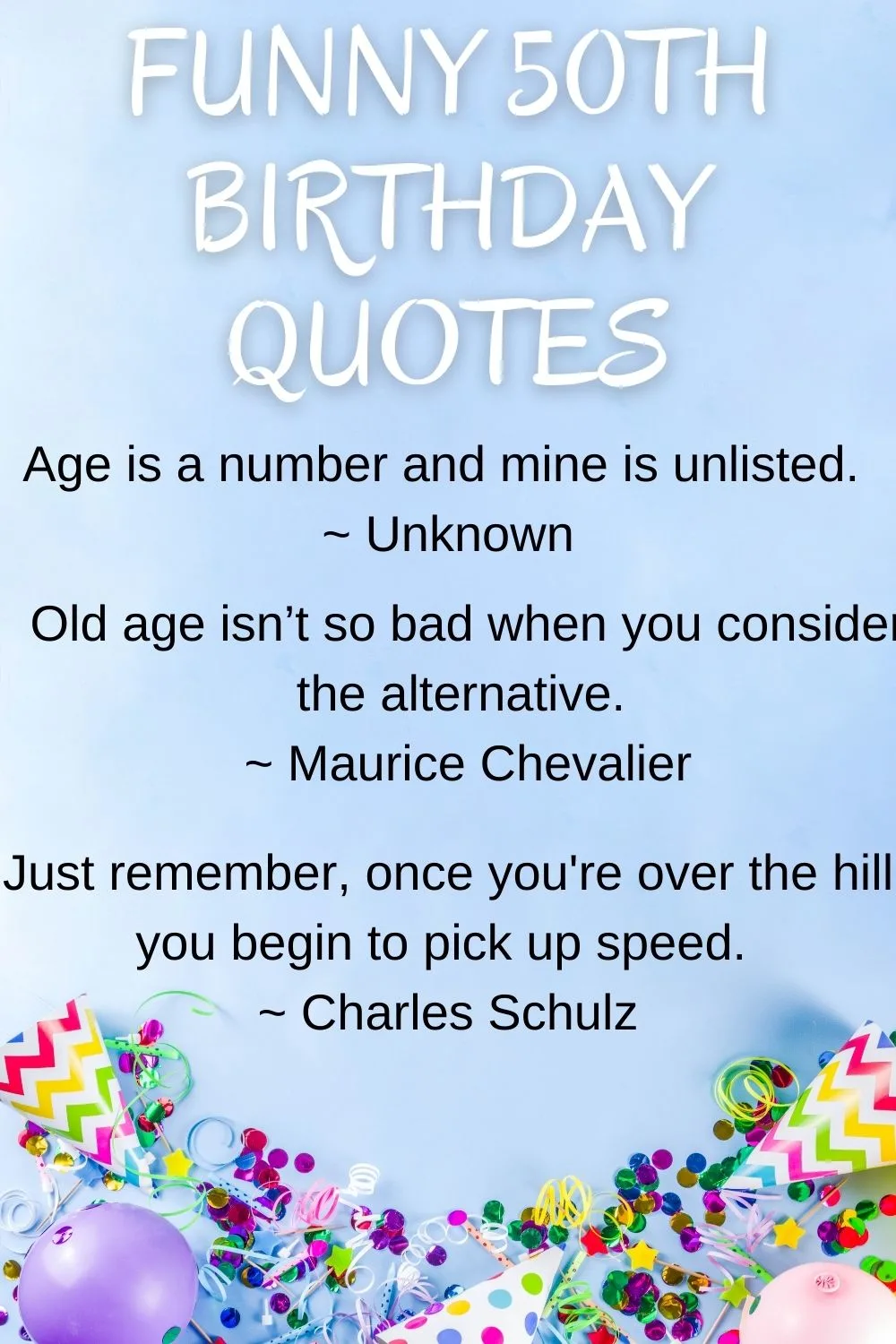 Why not use these funny 50th birthday quotes for a good laugh in your birthday card or invitation? They'll have everyone laughing…especially the guest of honor.
These can also work great in PowerPoint presentations or videos, speeches, or collages as well.
Or you can make up your own original phrase. Who knows? It could become famous, too.
Have a good laugh with these funny birthday quotes:
Time and tide wait for no man, but time always stands still for a woman of thirty. – Robert Frost (Author)
About the only thing that comes to us without effort is old age. – Unknown
Inside every older person is a younger person – wondering what the hell happened. – Cora Harvey Armstrong (Musician)
Age is a number and mine is unlisted. – Unknown
Birthdays are good for you. Statistics show that the people who have the most live the longest. – Larry Lorenzoni (Italian Clergyman)
After 30, a body has a mind of its own. – Bette Midler (Actress, Singer, Comedienne)
Old age isn't so bad when you consider the alternative. – Maurice Chevalier (Actor, Singer, Entertainer)
Growing old is mandatory but growing up is optional. – Chili Davis (Baseball Player, Coach)
The old believe everything; the middle-aged suspect everything: the young know everything. – Oscar Wilde (Author)
The secret to staying young is to live honestly, eat slowly, and lie about your age. – Lucille Ball (Actress, Comedienne)
Just remember, once you're over the hill you begin to pick up speed. – Charles Schulz (Cartoonist, Author)
A diplomat is a man who always remembers a woman's birthday but never remembers her age. – Robert Frost (Author)
A great way to use these humorous 50th birthday quotes would be to gather up a bunch of photos of your birthday person and match a phrase or quote to each photo. Then create a really well-done scrapbook. This would be loads of fun to pass around at family gatherings even after the big 50th birthday celebration.
Using quotes for a birthday scrapbook
If your birthday person has a favorite celebrity, put pictures and quotes from that person in the scrapbook.
Use their favorite colors and other favorite things to decorate the scrapbook. Lots of love can go into a handmade project like this and it will record many wonderful memories for years to come.
You could also have the photo book published if you aren't the scrapbooking type.
These are good ways to show them you gave a lot of thought to their 50th birthday, and that you pay attention to what they like.
50th Birthday Quotes for Women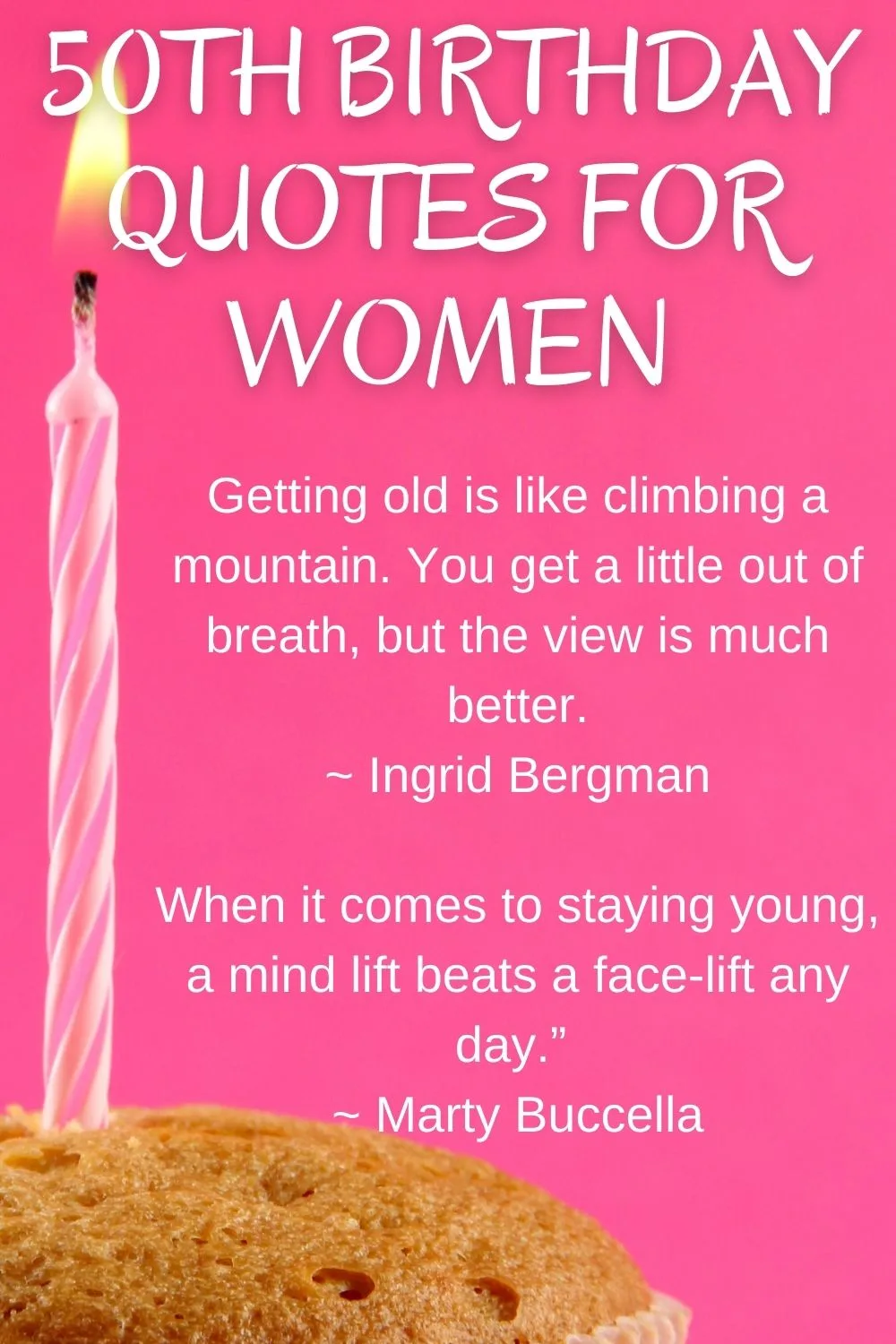 Turning 50 has never looked so beautiful! These quotes celebrate all that she has accomplished as she enters her golden years.
Fifty is a wonderful time to be! You can do anything you want, and it's easy because you've done some. – Unknown
There is a fountain of youth: it is your mind, your talents, the creativity you bring to your life, and the lives of people you love. – Sophia Loren
Getting old is like climbing a mountain. You get a little out of breath, but the view is much better. – Ingrid Bergman
Aging is not lost youth but a new stage of opportunity and strength. – Betty Friedan
As I get older, I realize that the thing I value the most is good-heartedness. – Alice Walker
I suppose real old age begins when one looks backward rather than forward. – Mary Sarton
You don't get older, you get better. – Shirley Bassey
Age is no barrier. It's a limitation you put on your mind. – Jackie Joyner-Kersee
When it comes to staying young, a mind lift beats a face-lift any day. – Marty Buccella
To find joy in work is to discover the fountain of youth. – Pearl S. Buck
We turn not older with years, but newer every day. – Emily Dickinson
As you can see, these are all great ways to wish the woman in your life best wishes as she is turning 50.
50th Birthday Quotes for Men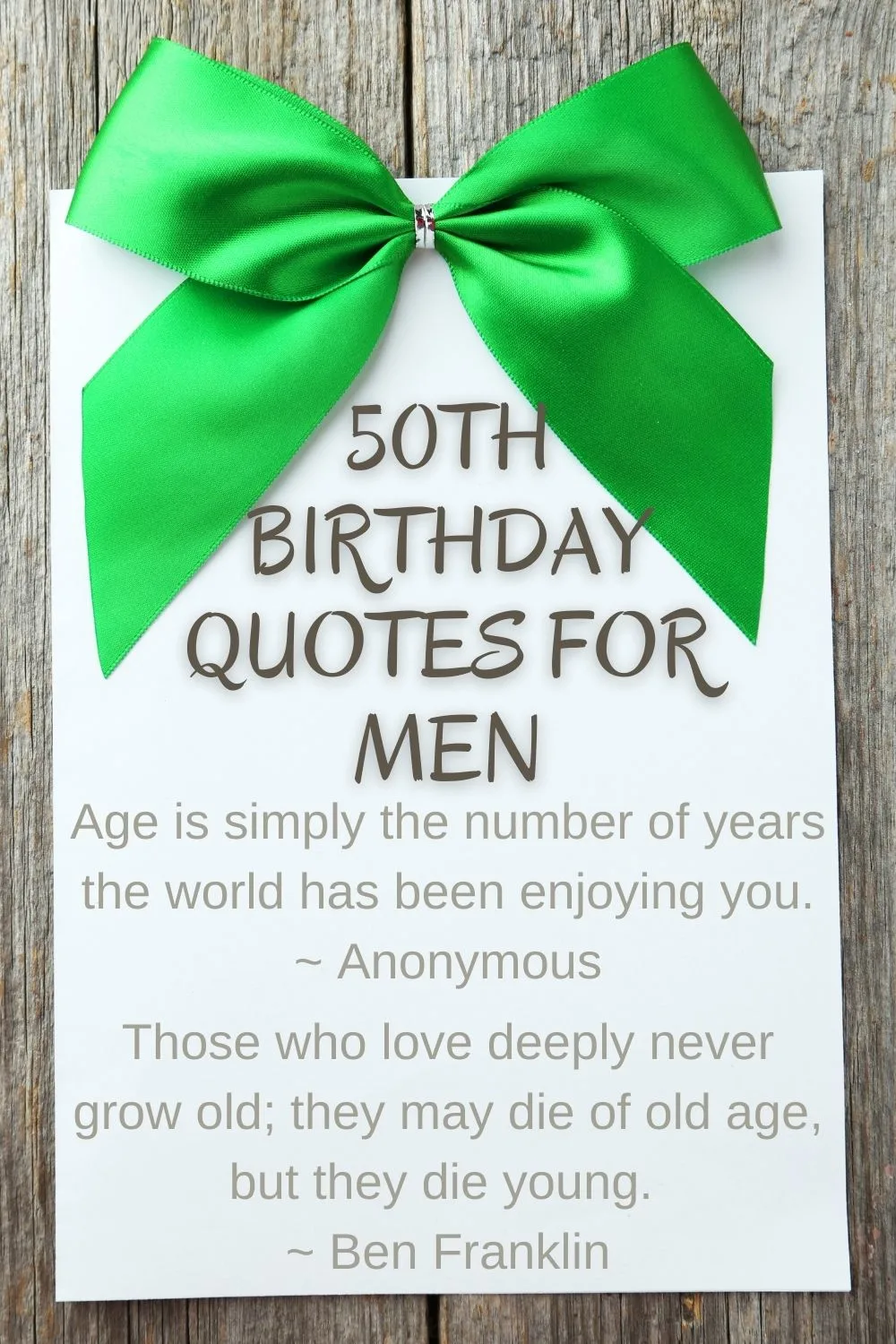 For the man who has achieved so much in 50 years, these 50th birthday quotes are just what he needs to hear at this milestone.
At 50, life begins when we take control of our minds and bodies. – Unknown
You're only as young as you feel. And if that doesn't work out then ask your doctor about Viagra! – Unknown
Age is simply the number of years the world has been enjoying you. – Anonymous
The trouble is, when a number—your age—becomes your identity, you've given away your power to choose your future. – Richard J. Leider
We don't grow older, we grow riper. – Pablo Picasso
Those who love deeply never grow old; they may die of old age, but they die young. – Ben Franklin
The older I get, the less I listen to what people say and the more I look at what they do. – Andrew Carnegie
Sometimes the best way to wish someone a happy birthday is to keep it short and sweet. Let's take a look at a few quotes and wishes you might use in your card or even on a banner at the birthday party.
Short 50th Birthday Quotes and Wishes
Here are some short messages that also work great on a card.
You make 50 look AMAZING.
You're proof that 50 is fierce and fabulous!
You do 50 proud.
Here's to 50 years of awesomeness!
Congrats on half a century of making the world brighter!
50 and Fabulous!
Can't believe you're 50! Congratulations!
Wishing you a wonderful birthday full of many happy things.
Here's to a happy life!
Have a happy, wonderful birthday!
Happiest 50th birthday! Enjoy it
Happy 50th birthday wishes for a happy day
And that's it! It really is that easy to get the perfect quote for your birthday celebration.
While you want to wish for good health, great friends, and all good things, sometimes the best gift you can give and receive is time with the ones you care about the most. Think of that when planning a fiftieth birthday celebration and when you are looking for quotes to honor the day.
50th Birthday Quotes – Conclusion
As you can see, there are many wonderful 50th birthday messages you can send on this big day. Whether it's your best friend, a long-time friend, a family member, or even your spouse or lover, you want to welcome them to their golden years in a very special way. Bring out the birthday cake and get ready for a great day, because you only turn 50 once.
You can send funny 50th birthday wishes or serious happy 50th birthday messages and include one or more of these quotes above. You can also write it into their 50th birthday card to make it extra special and personalized.
Middle age doesn't have to be a time of worry or stress. Becoming half a century old is something to celebrate with joy. Just think of all the years of experience you have and all of the things you have seen and done at this point in your life. Some of the hardest lessons have already been learned and now is a time for enjoying life and all that it has to offer with the maturity that comes from five decades of living.
How will you help someone close to you celebrate their fiftieth birthday? Will you use one of these quotes above?