When planning your 50th birthday party, it all begins with a few tips and knowing what to do. A fiftieth birthday is considered a milestone birthday and when you want to decorate in a traditional way, you can use gold 50th birthday party decorations.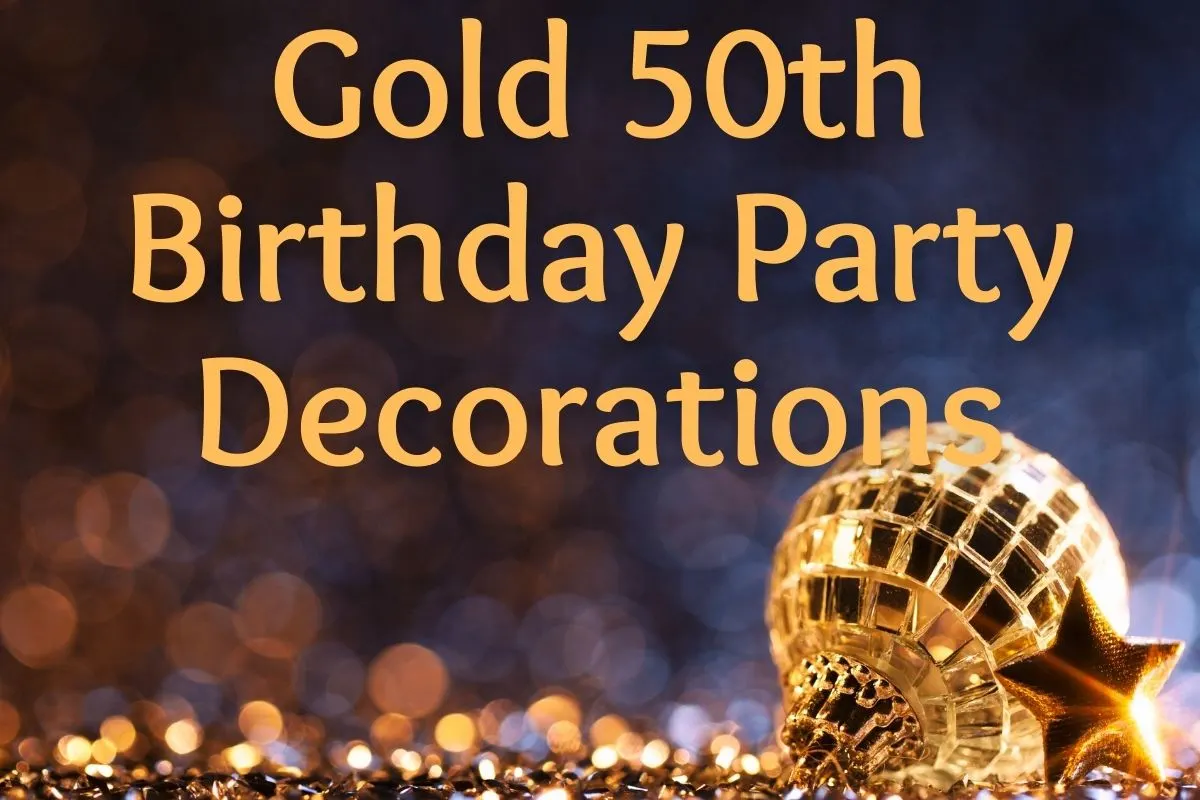 The 50th birthday has long been known as the "golden" birthday and this half-century time in life is a great time to go all out and plan a gold fiftieth birthday party theme that is filled with class! When we say "gold", we mean the color gold so don't worry – it doesn't have to cost you a fortune. However, if the birthday guest of honor is someone close and special to you, then you might decide to give a special gift that's made of real gold.
Gold is the color of the 50th milestone, so it's a perfect theme to use for the 50th birthday. A complementary color to this gold fiftieth birthday party theme is often black but you can also do white or silver, or a combination of these colors. There are so many amazing themes out there for your party but when you choose a gold 50th birthday theme, it works every time. When you're looking to create an amazing party, you need to start with your 50th birthday party decorations. Let's take a look.
Choosing 50th Birthday Party Supplies
First, before you do any shopping you should take some time for planning. What supplies do you really need and which ones could you probably skip for your party? Let's take a look at some great ideas to help you with choosing birthday party supplies for your 50th birthday decorations. You can't have a great party without the right supplies so let's see what you will need.
Think about the theme you will use. When you're doing a traditional gold theme, you can get lots of gold party decorations from a local party shop and you can also find decorations with the black and gold classic look for a 40th birthday party. We'll give some examples of these below.
Here are some things you may want to include:
table decoration
table toppers
matching cake toppers
50th birthday balloons
confetti balloons
gold foil and streamers
and other favorite things
Remember, you don't have to get everything on this list. You can just choose what works for you and your party, but I want to show you some great ideas for your big day to help you get started.
Balloons
Fill the room with helium-filled gold-colored balloons, and if you like, complement these with some white ones as well. You could also purchase a few of the foil helium balloons that have sayings on them indicating it's a 50th birthday – something as simple as "50" printed on them. These foil balloons can also be purchased with gold coloring on them.
Tie these balloons up with a gold ribbon as well. You can have a family member help you decorate before the party and blow up the balloons, add strings and foil, or attach them where they need to go.
Gold Metallic Chrome Latex Balloons
These simple but elegant gold balloons are perfect for the occasion. They're affordable and easy to use and they look great. I love the sheen on them!
Gold Metallic Chrome Latex Balloon Arch Kit
You can make a beautiful gold balloon arch with this balloon kit and ribbon. Get creative with it!
Streamers & Banners
For a gold fiftieth birthday party theme, you can purchase gold-colored streamers and intertwine them with whites and drape them in between the sections of balloons. This is a great way to bring out the gold colors and complete the theme. While streamers and banners aren't a necessity, they really can make a big difference in the overall vibe, so I highly recommend them.
For example, if you are in a square room you can have balloons in every corner and streamers draping from corner to corner. Any banners that you want to have can be white with gold writing, or vice versa – gold with white writing.
Black and Gold Birthday Backdrop

This beautiful 50th birthday banner really helps you highlight the reason for the party. It's gorgeous and the colors are so vibrant. It also makes a good photo background. This is a great way to say happy 50th birthday in style and matching with your gold theme.
Large Black and Gold Happy 50th Birthday Banner Sign
This HUGE banner will look great outside the venue and show all of the guests where they need to come for the party.
Party Favors
As a giveaway at the end of the party, you can give a framed picture (make the frame gold). Some other ideas are:
Champagne flutes with gold ribbon or decorations on them
Little gold boxes filled with chocolates
little candles with gold 5-0 on them
The base of the gold fiftieth birthday party theme is just to use some basic colors in all aspects of the party – gold being the dominant color. You can have family and close friends come to the party and have a little something to take home with them to remember the fun day.
12 Pcs Candy Boxes for Birthday Party\
These little gold-colored boxes are great for small party favors to give to your guests.
Dinnerware & Utensils
And of course, if there will be food and cake, your guests will need something to eat it with. You can purchase plates and napkins in gold and white. Always make sure to alternate the two colors, don't have too much of one color. For example, you can have gold plates with white utensils. Add in white napkins with a gold border on them. You could also get white plates with the 5-0 in gold writing.
160 Gold Plastic Cutlery Set
Here's some gorgeous gold cutlery for the party. You get 160 pieces in this pack for one great low price.
Cakes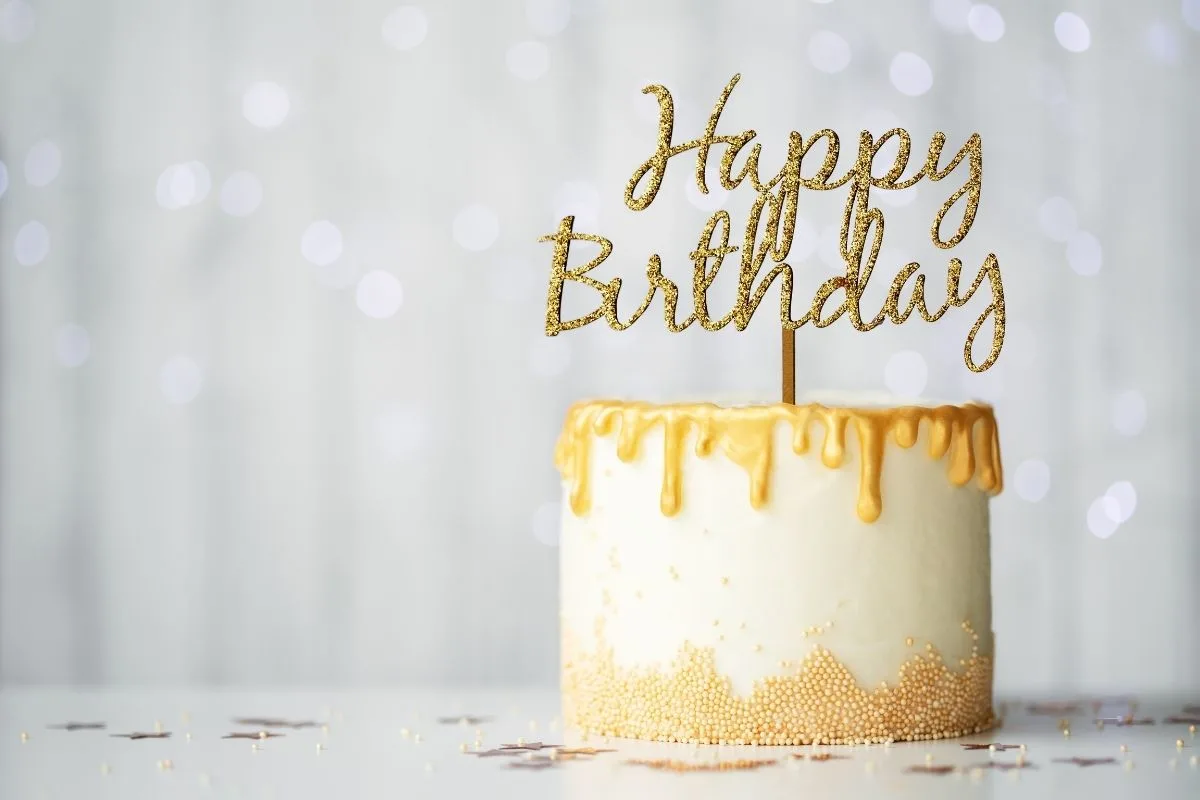 You can use any style of cake. It can be a simple 1 tier cake or elaborate with many tiers. There is edible paint you can use – to paint it gold (this gold paint has over 5500 5 star reviews!). You can make the entire cake gold, or use a white cake with gold icing and writing.
You could also use just a simple white cake with gold candles and trim with gold icing. The gold icing and colors make the cakes look very elegant, people may think it's so pretty they don't want to eat it – just re-assure them with how good it tastes as well!
For more cake ideas, see our page about 50th birthday cake ideas and men's birthday cake ideas page.
Centerpieces
Use balloons as centerpieces. You can have 3 balloons, two gold and a white. Use gold and white ribbon on them. You can also purchase foil-wrapped weights from any party store – get this foil in gold. This way the balloons can be weighted down to each table. This is an inexpensive way to have centerpieces at every table. Or, you can just tie some balloons to your centerpieces.
If you don't want balloons, you can just purchase the gold foiled weights with streamers and confetti-style stuff sticking out of them – they usually have stars or 5-0 attached to a wire and sticking up.
Instead of a centerpiece, you can use confetti all over the table. Have confetti that has 5-0's in it and stars and balloons – again these are best in gold, maybe some white if you can get it.
Invitations
You can get gold-colored paper to print your own invitations, or you can use white paper with gold writing on it. If you want to add stuff to it, you can always add gold ribbons, or in the envelope, you can put gold confetti on them… if you have that kind of time!
There are so many great 50th birthday party ideas out there to choose from but personally, I love a gold theme. There's just something so classic and elegant about it. If you're ready for your big birthday bash, buy your gold birthday party decor and get started.
50th Birthday Invitations for Men or Women with Envelopes
These are so beautiful and include both the gold theme and the happy 50th birthday. If these aren't exactly your style, there are many more comparable ones to choose from.
Gold 50th Birthday Party Decorations – Conclusion
There are so many amazing themes out there to make your birthday party extra special. When you want a better 50th birthday party theme, consider the classic gold and use these tips to work it throughout all of the party decorations and supplies. Write up your guest list, tell your 50th birthday honoree, book your venue, and start your party planning.
The perfect way to give it a personal touch is to think about the guest of honor and birthday themes that fit their personality well. The birthday girl might like a rose gold number balloon with a big 5-0, or you might turn the party for your birthday boy into a black-tie affair so everyone can dress up in their best attire. You know the birthday honoree best and you can decide what will work the best for them.
Did you see something on this list that you want to get for your golden birthday party?