A 50th birthday banner is a great way to decorate for a 50th birthday party. A banner will label the party, set the theme, and can be used to help direct people to the party, or just let the world know it's someone's big five-o birthday by putting a fiftieth banner on their lawn or at work.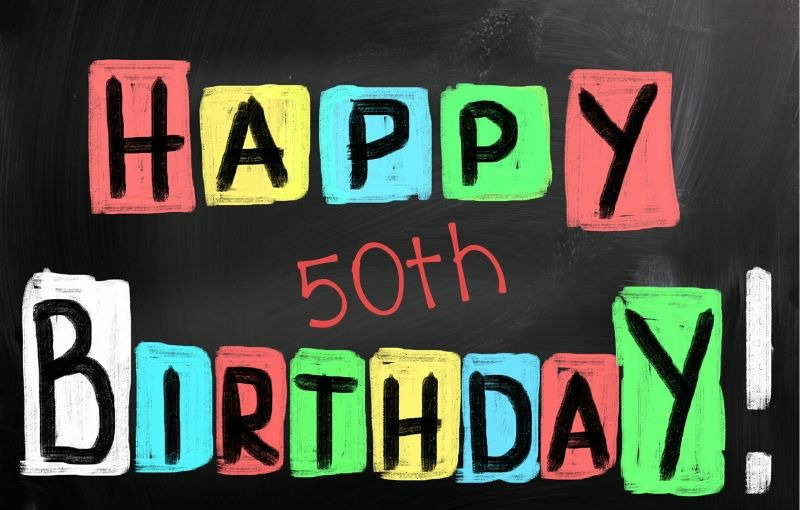 These are easy to make even on a tight budgets.
Just grab some paper and markers and you have a banner.
Or go out and buy the themed banners to match your theme.
Choosing a 50th birthday banner
Maybe you could just use a banner with a witty saying about being 50.
When looking for a banner, you must make sure you have a nice big banner at the venue of the party. These are great 50th birthday party ideas to make sure the atmosphere is there.
Also these banners help when you are taking pictures. Have the banners in the background and people can look at the photos and just know that it's from their 50th birthday.
Smaller 50th Birthday banners can be used to decorate the desk or lawn on the big day, too.
General, Eye-Catching Banner Idea
Here's a concept idea for a simple banner to help celebrate the big day.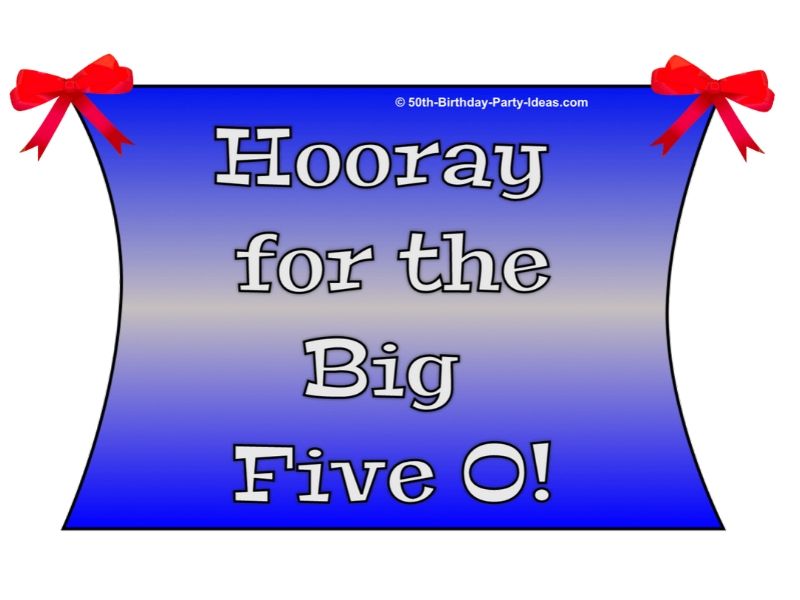 Interactive 50th Birthday Banner
How about something more interactive? Make sure everyone who passes the banner says HAPPY BIRTHDAY! Provide markers for signing.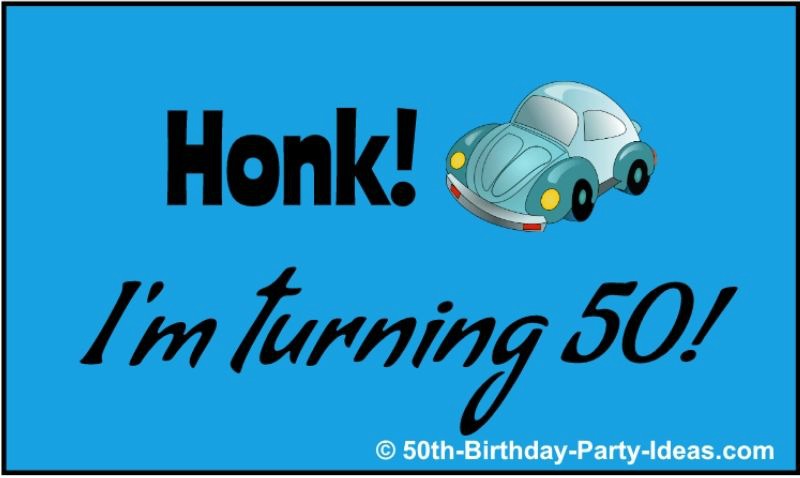 Where to Find Possible Deals on Banners
Many places have banners just for 50th birthdays. Ebay has a bunch… if you are not in a time crunch, it will save you money, compared to a local party shop!
Another place to check is a local sign shop. Large, heavy banners are not too pricey if you only use a few colors. Then dress it up with your own custom add-ons, like stickers or photos.
Banners can be made with paint like the ones described above, or with other computer programs. Once designed, you just need a color printer and you are all set.
Amazon, of course, has lots of options! Here are just a few:
Another great way to create a banner on a budget is simply foam or presentation board and markers. This has always been my preferred method – cheap and also very thoughtful.
But there is always one thing that stumps a lot of people . . .
"What do I write on the banner??"
Check out all our birthday sayings page for more 50th birthday party ideas to help make or buy your perfect 50th Birthday banners.
Make sure when you are picking out these banners you keep with your theme and always best to keep them simple. The more jazz and detail to them the harder it is to read what you are saying on the banner. Sometimes simpler is better. To jazz them up just add some streamers around them or some balloons, just always make sure the writing is clear so your message is delivered.
Here Are Some DIY Banner Ideas…
This one is pretty simple: All you need is a piece of presentation board and a printer.
From there you just have to decide what you want your banner to say.
Print out the individual letters from your print – in black and white even to save on ink costs.
Cut out the letters and decorate them with some markers.
After that just glue them on your foam board and decorate the board and TA DA!
You have yourself a nice home made 50th birthday banner with very little cost to you… just a little time and a piece of bristol board!
Here's another simple one: All you need is a birthday banner from the dollar store, tape and two small sticks or dowels. This is one I used for my dad's birthday. As he drove up to the camp ground me and my brother held the sign high and everyone started singing.
Tape a dowel (or stick) to each side of the banner.
Stick the dowels in the front lawn, or use them as handles to hold up a fun birthday sign.
This can serve dual purposes – a sign to wave around while you sing happy birthday, and once you're down stick it in the lawn to let everyone know who's just turned fifty!