Are you looking for tips for planning a 50th birthday party step by step? I've got you covered. This post will go through having the best 50th birthday celebration, ever. You can turn a good idea into a great time with the right party planning tips. A special occasion like a 50th birthday party calls for a party that will be remembered for years to come.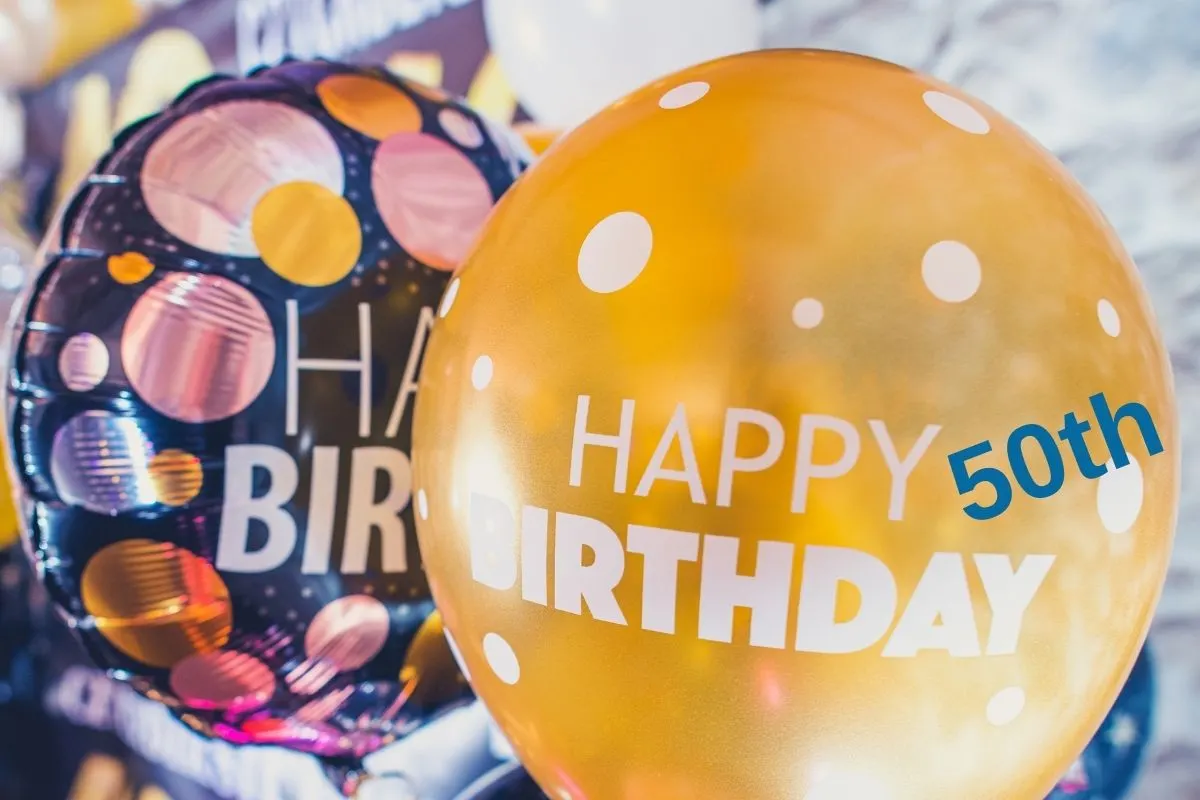 Turning 50 is a milestone birthday and it's important to treat it with the respect it deserves. Whether it's a small gathering with your closest friends, a surprise party for the guest of honor, or maybe the ultimate 50th birthday party event of the century, I'm going to help you learn how to plan it properly. The important thing is to remember to take it step by step.
Does planning a 50th birthday party sounds overwhelming?
Do you want to make it a perfect and most memorable party? But maybe you don't know where to begin. There are so many things to think about: to buy, set up, and organize. Well, you've come to the right place!
Want to throw the party of the year… or even the CENTURY? It can be so much fun to plan a party like this, but it can also be overwhelming if you don't plan properly. Putting things down in writing (or typed up) is the best way to make sure you enjoy not only the party but the process of planning it too.
No matter if you're planning a 50th birthday party for a family member, a best friend, or yourself, you can have a blast planning such a memorable event. Compile all of your birthday ideas for the special occasion and list them in order of what you need to buy. There are so many great 50th birthday ideas to choose from. Part of your early planning stages will involve deciding on a theme and a venue.
With this step-by-step guide, we can assure you will be successful in planning a memorable party.
How to Plan a 50th Birthday Party Step by Step
The best way to ensure you have the best milestone birthday party ever is to take some time to plan the 50th birthday celebration properly. Personally, I like to make lists. And on my lists, I include things like favorite foods, party games, gift ideas, and other details for your 50th birthday bash. This is a great way to get an idea for everything you need to plan for all in one place so no surprises come up later when you're in the middle of it.
50th birthday parties are a lot of fun and you'll want to include good food, favorite things, family members and close friends, and the best birthday cake ever. It's the perfect excuse to indulge a little and let down your hair and make it a good time all around.
You don't need to let the stress of planning the party get you down. Just keep your mind focused on all the fun you're going to have and also keep a solid plan for the party, step by step. Let's explore this in more detail.
Step #1 – Choose your theme and your budget
Before choosing your theme, consider your budget. Money is a key factor when preparing to shop for a party. A themed party is a great way to make party planning easier because once you pick a theme, you know everything will follow this theme.
First things first, decide how much you want to spend on the event. Then, divide your budget into sections depending on the amount you want to spend on each area.
For example: When planning a 50th birthday party, if the budget is $1000, divided as follows:
Party favors: $200
Food and drink: $400
Invitations: $100
Decorations: $200
Cake: $100
Your birthday theme can be anything – simple decorations or an elaborate theme with costumes and favors.
Take into consideration who the party is for and that person's likes and interests; if they like certain colors, make the theme around those colors.
For ideas on a theme, check out this list of party themes.
Things to Brainstorm
Grab a piece of paper and let's start brainstorming!
Does the birthday person have any hobbies or interests?
What does the birthday person like?
Would they rather have a small intimate party or a large gathering? How about a surprise, or planned out with invitations and RSVPs?
How many guests will you have?
What kind of decorations do you want?
What kind of birthday cake? See pictures of birthday cake for ideas.
Will you need a dance floor?
Will there be a photo booth?
Take this time to be creative and have fun! For more theme ideas, check out our 50th Birthday Party Themes page for some great ideas.
Step #2 – Choose your venue
Once you have the creative juices flowing, consider where you want to have this party.
This is when you take into consideration:
How many people will be attending
What kind of setting do you want
What season of the year it is
What activities do you want at the party
What the birthday person would like
Here are a few ideas of places depending on the style of event you would like:
★ Formal – Country Clubs, Banquet Hall, Hotel, Party Rooms at Restaurants
★ Informal – Your own home, a beach, at camp, in the backyard
The possibilities for location are endless and it all depends on what type of party you are throwing and how many people will be invited. You can do a black-tie dinner party, a casual dance party, or anything
Step #3 – Prepping all the details
Party theme? Check. ✓
Location? Check. ✓
Budget? Check. ✓
Brainstorm? Check. ✓
Next up when planning a 50th birthday party … who do you want at your party?
Creating the guest list
Take some time, sit down, and write out everyone you would like to attend. If the party is for you, this is easier. If the party is for someone else, think of the people they would like to share this special day with – and take into consideration anyone they may not want there.
Once you have this list, determine the number of people you wish to be there. (If the number doesn't matter then move on to the next step). If you have too many on your list, go through the list and make the necessary cuts.
If you choose to use invitations, we can help you with the 50th Birthday Invitations.
Step #4 – Scheduling the big day
Planning a 50th birthday party requires organization and the big day needs to be scheduled so you can make sure all your guests can attend.
It is always best to consider all of your guests.
It can be helpful to jot down everyone you wish to attend and beside each name make notes of their availability. This can give you a quick overview of what days are best.
Step #5 – Create a shopping list
Who can argue with shopping!
This is the time you sit down and write out all the gifts and goodies you want to get. Create the list with your budget and theme in mind.
Things to consider for your list are invitations, party favors, games, food and drink supplies, decorations, etc.
To make sure your party planning goes without a hitch, you can use a party planning checklist and a party supply list. We've made some you can print for FREE!!
Free 50th Birthday Party Planning Checklist & Supply List
Choose what you want to serve for food and drinks. Take this time to decide how you want to serve alcohol – as a "bring your own" or "open bar" concept.
You'll need to plan your 50th birthday party decorations and be sure to order them in advance. You don't want to push everything to the last minute in case something doesn't arrive or it arrives damaged or not in the correct size because you want to give yourself enough time to replace it and find something else.
This is also the time you decide on the cake and what design you want to go with for a cake. You also know how many people will be attending so you can determine how much food you will need as well. Large gatherings will need more cake and more food. Smaller gatherings probably won't need as much.
These few simple steps will be the blueprint for planning a 50th birthday party.
Planning a 50th Birthday Party – Conclusion
With these steps in hand, you can be very successful in planning a 50th birthday party and have the most memorable 50th birthday party ever! The perfect 50th birthday party starts with proper planning. You don't need to be a professional event planner to do this birthday right. You just need the time, the desire, and the tips above to pull it all off.
Do you have any other tips for planning a 50th birthday party step by step?