A 50th birthday party planning checklist is a MUST for any party. It's the best and easiest way to see all the tasks you need to complete in one place. This will not only ensure that you don't forget anything, but it will also alleviate some of the party planning stress. Your party planning checklist acts as a to-do list and a guide to what needs to be done for your party and it will help you manage even the biggest of tasks. When you have everything organized in a neat way, in one simple list, it helps you organize it in your mind as well.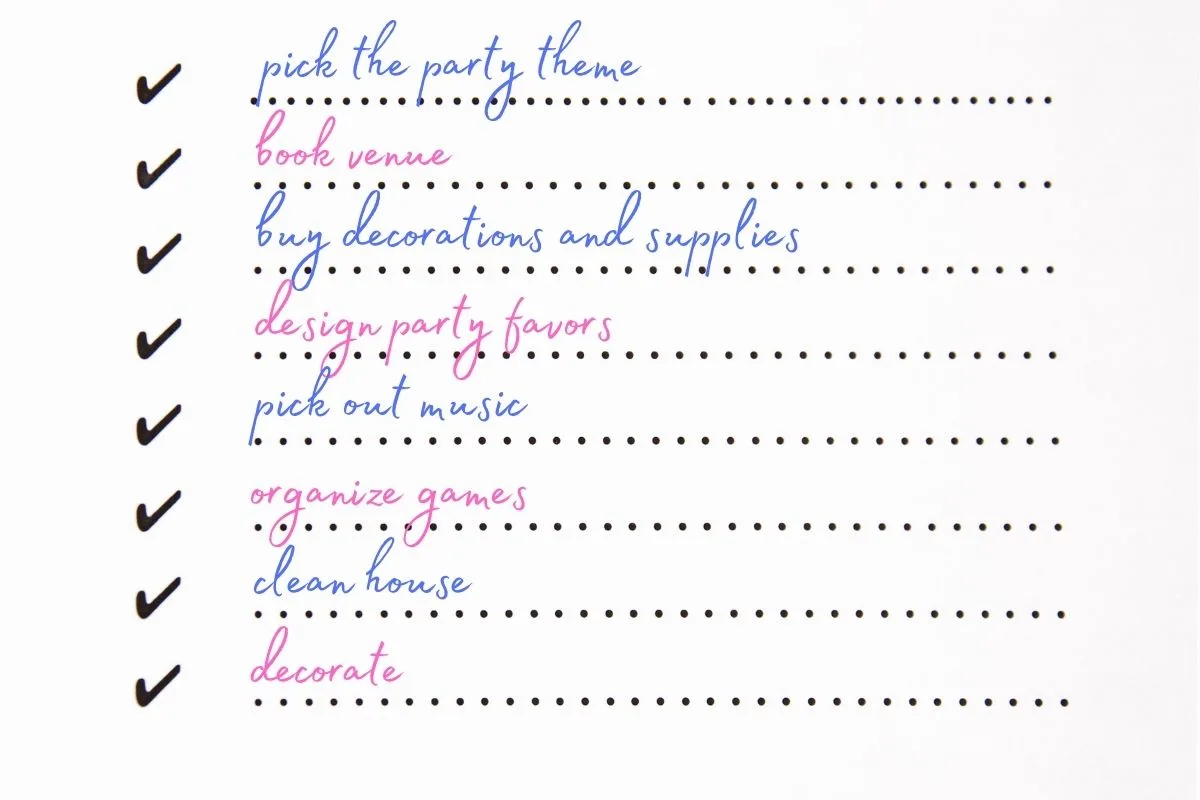 In other words, a checklist is an easy way to ensure your 50th birthday party is flawless. It's the secret to being a successful host or hostess. A 50th birthday is a big deal. It's the golden birthday, a milestone birthday, and a lot of people really like to go all out on this occasion and make it a huge blast.
The 50th birthday is definitely deserving of such a celebration, but it's also important to recognize that a lot of work can go into it. In fact, it's probably going to take more work and more planning than an ordinary birthday.
Well, guess what? This page brings you great lists and a checklist to help you run a smooth party planning operation!
Whether you are throwing a party for yourself or for your guest of honor, there are some things to know that can make this process easier for you. The first is to start with a checklist that covers all the things you need for a great party. You can customize your list to your specific party needs, add things as needed, and take away things that you don't plan to use, in order to get the perfect checklist to use as your party planning guide.
The checklist breaks down your party planning process starting a month (or more) before the party.
It's a good idea to start planning your 50th birthday party ideas as far in advance as possible. This is the best way to give yourself enough time to get it all done. And allowing yourself a bit more extra time than you think you'll, also accounts for any snags that come up along the way. For example, what if you order party favors online but then they arrived damaged or not at all? You'd need time to order replacements. If you leave everything to the very last minute, a snag like this could be a big deal.
The checklist helps you organize things like this. And it will break down everything you need up until the big day.
50th Birthday Party Planning Checklist
What should go on your birthday planning checklist?
Well, first you're going to want to think about the party, what family members or friends you will be inviting, what venue you are using, whether or not it will be a surprise party, and all that you know about the party area.
Will there be a dance floor?
A dining room for eating?
Will it be outside or indoors, or maybe both?
It's a great idea to know this ahead of time so you know how much area you have to work with and to decorate, or to set up games and other activities.
It also helps you to know the rules or guidelines for the venue you choose. For example, some people rent out country clubs for big parties like this. If this is your choice, the club may have specific rules about decorating, number of guests, etc. You need to know this before you start any shopping or deep detailed planning.
If you're doing a dinner party or a party in your home, you may want to have your best friend or a close friend or family member help you with everything. And if the guest of honor lives with you and you want to make it a surprise party, you may need to keep decorations and supplies at someone else's house so they don't see them.
Involving others who are close to the guest of honor in the planning process is also a great way to get everyone involved. It makes the celebration extra special when all the people who care about the birthday girl or guy are involved in planning the big event.
Close friends don't have to have a huge role in the planning if you're the main organizer but even helping choose some favorite foods, wrapping presents, or putting together goodie bags of party favors are all some ways of contributing. This is a great way to create a fun 50th birthday party for everyone who attends.
We want to help make your party a success, so here's a sample list that costs nothing but the paper and ink to print it out! Just click the link and a PDF will be displayed. You simply use the print feature of your .pdf reader and send it to your printer. No running to the store or winging it by keeping things in your head. For such an important birthday, we want to help you be completely prepared.
FREE!!
Birthday Party Planning Checklist
Now, let's look at some other ways to keep organized during your party planning for your special day.
A great way to help keep you organized and focused is to create a folder for all your party planning. Grab a manilla folder out of your office supply closet, or even a fancy colored one. It's up to you. Whatever you have on hand, or whatever inspires you will work just fine. You can label it or decorate it, but that's all up to you.
This folder is going to be your master folder for a fun 50th birthday party. Anything that makes you think "happy birthday" can go in this folder. You can also keep track of contracts for catering, cake orders, venue rentals, and more. You can place receipts from purchases inside so you have them if you need to make refunds or exchanges. And it is a much better way of keeping everything in one place. Your party will be so much fun and the planning process can even be fun when you are well organized.
Staple this party planning list to the front of the folder. Inside the folder, you can put many things like:
Your grocery lists
Cake design sketches
Party supply list
Breakdown of your budget
Guestlist
Ideas for invitations
Plan for decorating
Menu ideas
A personal itinerary of when you need to do everything
You can create your running guest list of close friends and family, ideas for party games, 50th birthday party themes and pictures of great parties that inspire you, notes for the party store, and anything else you need here in this master folder. You might want to do a karaoke bar or a photo booth to add some fun memories to the party.
These kinds of things can be done no matter what kind of party theme you're using. You might want to use your folder as a way to keep track of these ideas and planning related to them.
And here's another Tips & Cheat Sheet you can download: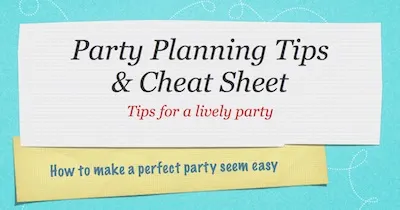 This list provides pointers and reminders on how to craft a successful event. It can help you anticipate issues and think of ways to improve your party. Print this out, too, and put it in your party folder. You can use it to make notes and add to your other lists.
It can be so much fun to plan a special event when you're organized and both of these tools will help you do it successfully. Your special occasion will go off without a hitch. People will be sharing it and talking about it on social media, and there's no better way to make great memories for your 50th birthday celebrations.
Before you begin to take a walk down memory lane, or jump to your planning and shopping list, let's take a look at some birthday supplies you may need for your big birthday bash, and also how to use an organized list to keep track of these things as well.
Birthday Supplies List
Another lifesaver in the party planning adventure is a party supplies list. This list will make sure you don't forget any necessary items you need for a successful party. You can put your birthday supply list in your birthday planning folder as well.
This supply list will itemize everything you need (other than groceries – those are menu-specific and need their own detailed list). Your birthday party checklist is not complete unless you include a supply list as well.
I have put together a sample supply list you can use; leaving a few blank spaces on the bottom for some personalized supply items you may need. You can also want to include a spending plan so that you know what your budget is and how much of it can be spent on each element from party decorations, to cakes and treats, and even the venue and other larger expenses.
FREE!!
50th Birthday Party Supply List
With these 50th birthday party planning tools in hand, you will be sure to wow your guests with an unforgettable night! 50th birthday parties are a big deal. This is such an important milestone and if you want to be sure everything goes well and according to plan, you can use these checklists and tips for keeping it all organized. Your 50th milestone birthday party will be the event of the year when you use these tips to help plan everything.
Now that you have these checklists, let's get back to the party planning steps. Will you use one of these checklists to plan your party?