A birthday is the best time to celebrate a special occasion with cake. When you want a celebratory treat that is like cake, but a bit easier to handle and more flexible to work with, consider cupcakes instead! Here are some cupcake birthday cake ideas to get you started.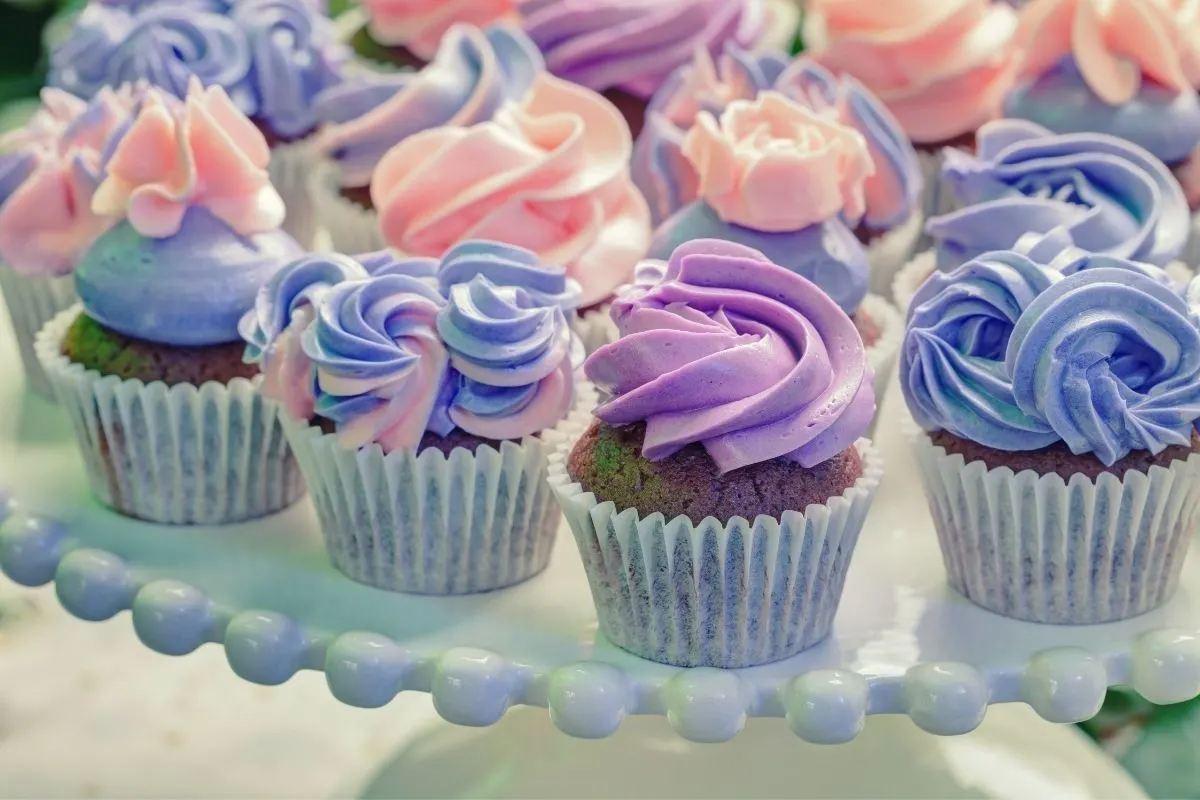 From the most creative flavors to the perfect decorations and cupcake toppers, I have all the info you need about great cupcake ideas for your next birthday party right here. An easy way to please your party guests is to offer some great-tasting cupcakes for the party. Let's take a look!
Birthday Cupcakes for All Ages
First, we need to explore the notion that cupcakes are just for kiddie parties because that's definitely not true. Cupcakes are not just for kids. You should see these ideas for cupcake birthday cakes if you thought cupcakes wouldn't work for adult birthday cakes. These work for every birthday age group.
Cupcakes don't have to be just for kids. They are the easiest cakes to serve, and cupcakes like these can still be dressy enough for grown-up parties, too. With a little imagination, they can make perfect 50th birthday cakes.
You can also use cupcakes at a baby shower, a wedding reception, a wedding or bridal shower, and any other time for celebration. If there's a group of people getting together to celebrate, cupcakes are always a great idea.
At your next party, check out some great cupcake recipes and the ideas below.
Fancy birthday cupcake squares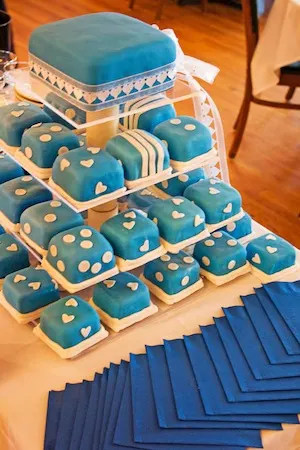 First, we're going to look at the idea of cupcake squares. Fondant decorations can give any type of cake a more polished look, like these square "cupcakes".
With square cakes and fondant decorations, you could make a little birthday package for each of your guests. You can do any flavor cake and color frosting from angel food cake to chocolate sponge to peanut butter flavor, and even blue frosting.
These cute molds are perfect for making this.
Cupcake ideas for a flower themed birthday cake
For a flower theme, you can make impressive cupcakes with standard cream frosting, like these sunflower cupcakes. This is just one way to make a flower cake. But there are so many more you can use, especially if you are going to have flowers in your birthday party theme.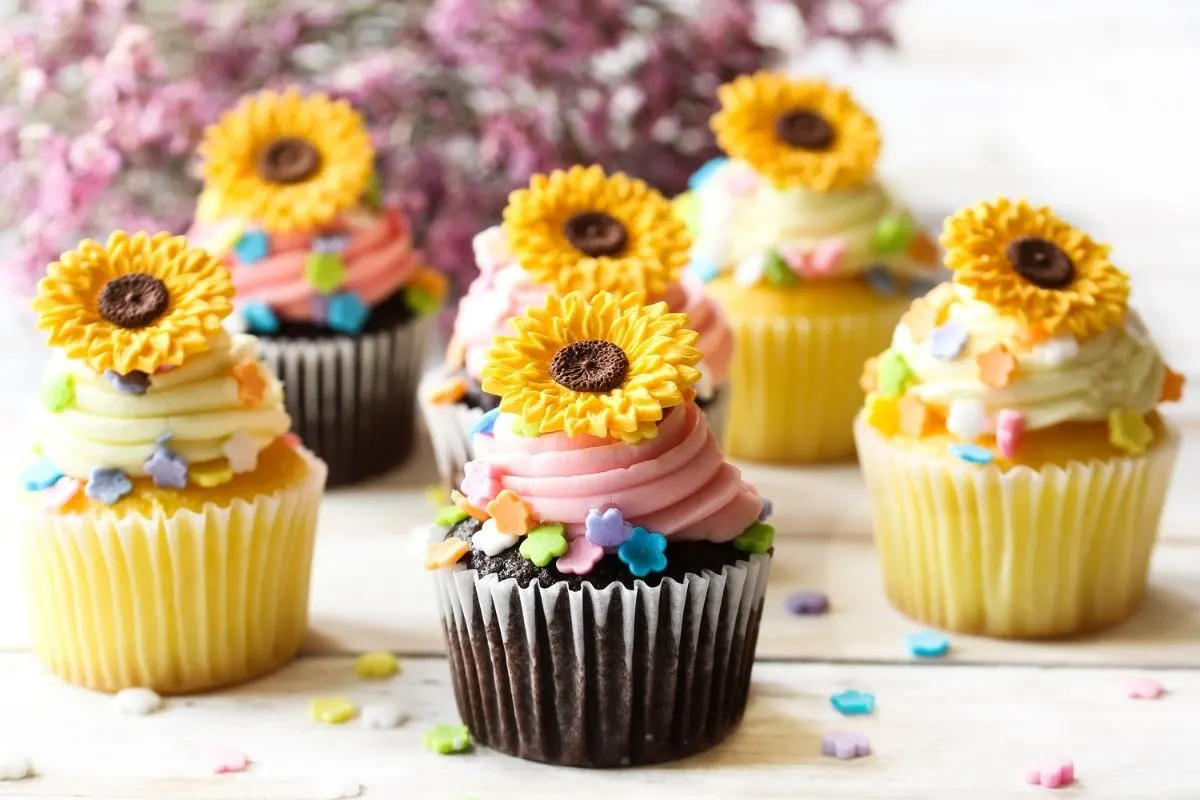 With edible flowers, you can decorate your cupcake creations with nature's colorful flowers.
You can also add something to the top of the cake if you choose. Some people decide to just leave them blank and simple. Or you might do a simple frosting but then add some party-themed cupcake toppers to the cakes instead.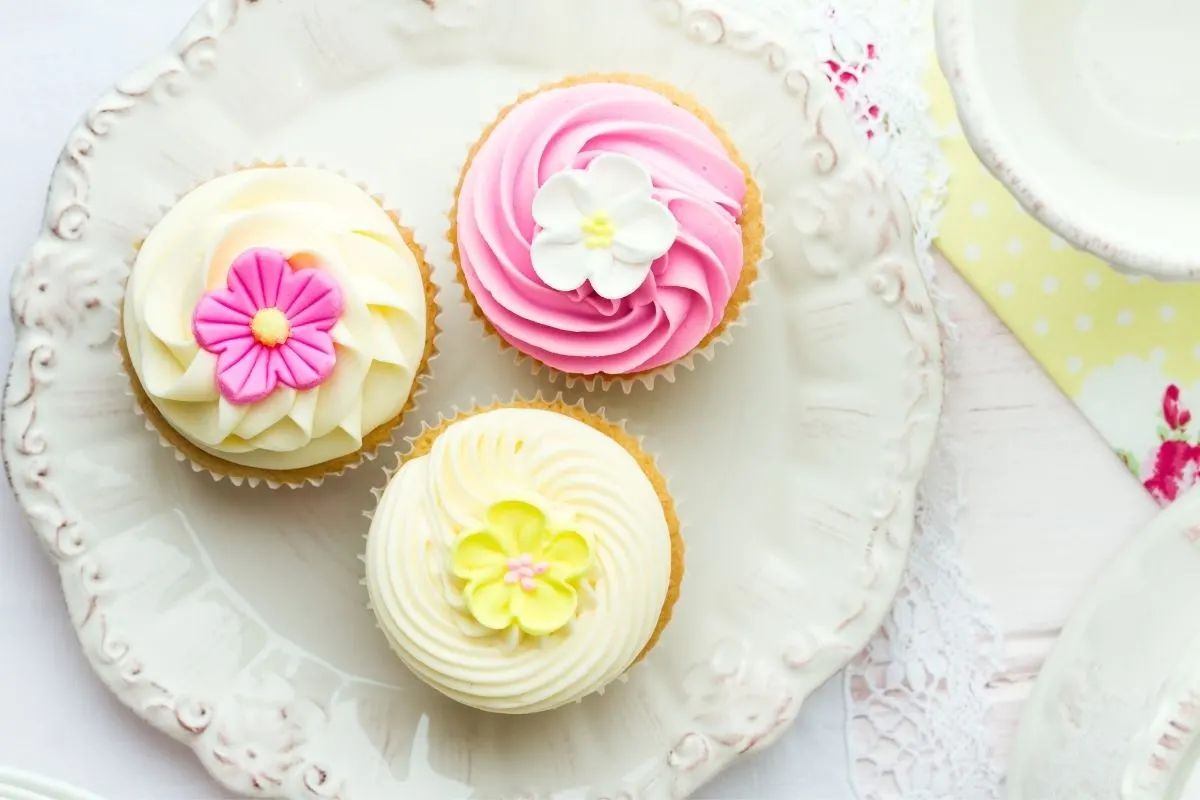 Dress up your cupcakes
When you're just too busy and need to make a cake for a special occasion, your standard everyday cupcakes can still be pretty. Many people also find them a lot easier to handle, especially if you're new to baking. Not only that, but they can also be a lot easier for your party guests to enjoy in bite-sized portions, versus eating a whole slice of cake and needing a plate and fork.
With just the right supplies you can make them special, too. Just below, I'm going to talk about all the ways you can decorate your cupcakes or cupcake cake and make it special for the big day.
Dress them up with things like cupcake wrappers and decorative cupcake liners and they'll fit even the fanciest party!
Allow plenty of time to work on your cupcake creations if you decide to do it yourself.
Birthday cake ideas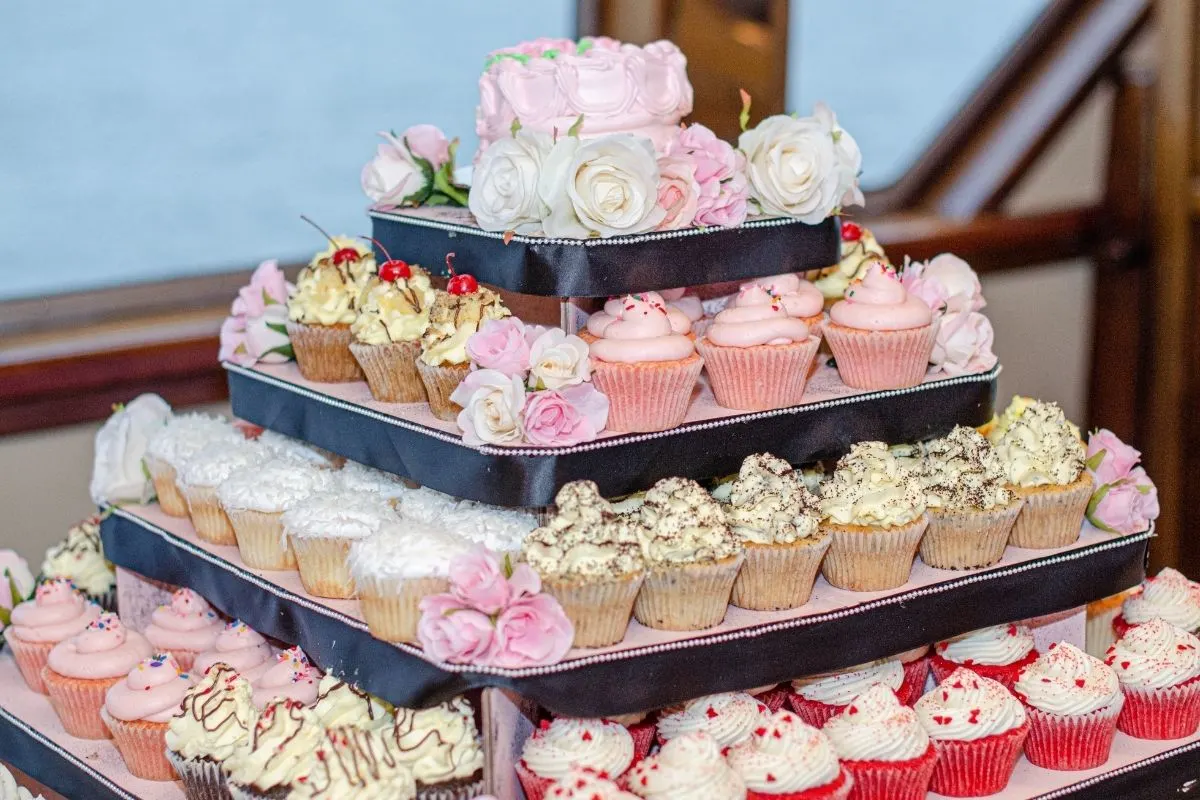 A birthday cake is one of the best parts of celebrating the big day for a lot of people. No party is complete without cake!
If you're looking for birthday cake ideas, consider these points:
How many people are you feeding?
Are there any allergies or dietary needs to consider?
What does the guest of honor prefer?
What kind of party theme will there be?
These are just a few things to help you decide on the best birthday cake for your needs. When considering the best idea for your party, think about whether or not cupcakes might be a better option. Some people also decide to do both. One cake for the guest of honor and then a bunch of cupcakes that others can choose from as they wish.
Giant cupcake cake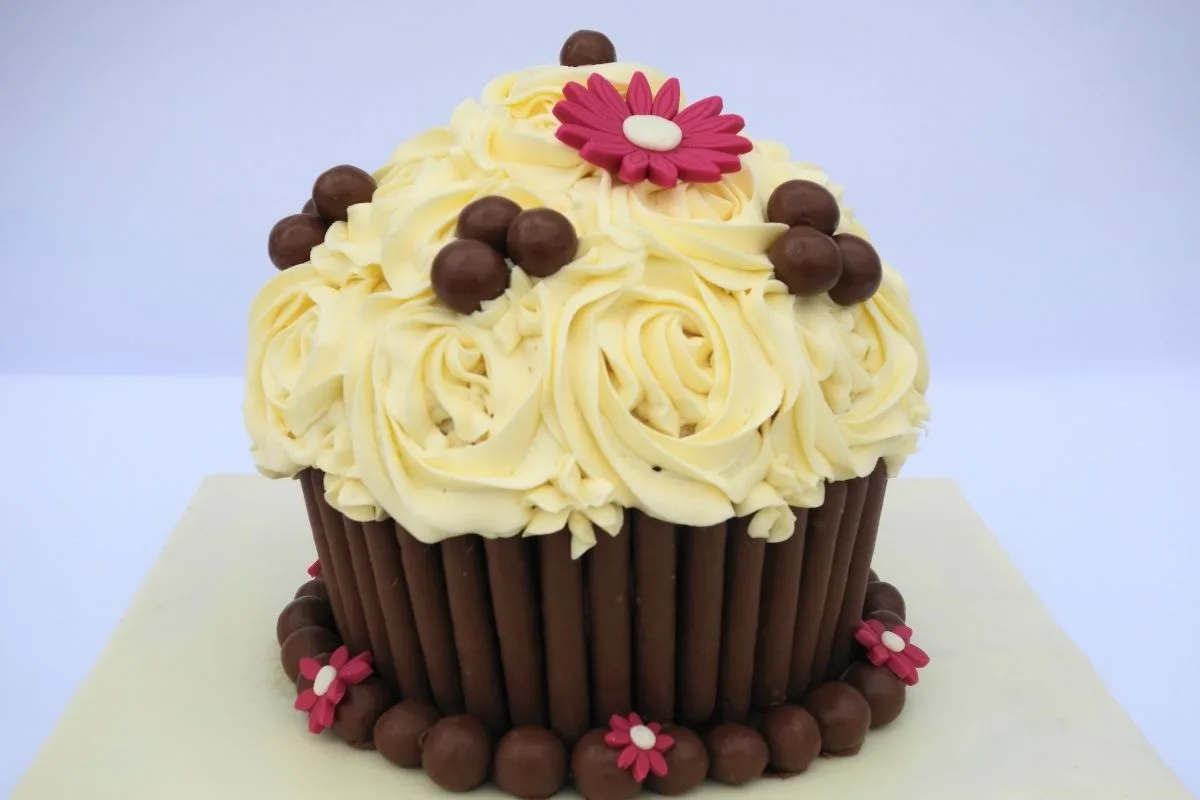 Another idea that's different from a traditional cake is to do a giant cupcake cake. What do we mean? If you're not familiar with the concept, it's basically like taking a bunch of cupcakes and putting them together and then decorating them like a regular cake.
They are becoming more and more popular at birthday parties and can make the perfect birthday cake because it looks great when it's all together and decorated, but there's no need to cut or slice anything because when it's time to serve, you just pull away the individual cupcakes for a serving for each of your guests.
Or, if your party is small, or you don't want a lot of sugar at your party, create one giant cupcake-shaped cake like the one above.
Cupcake Birthday Cake Ideas
When doing cupcakes for a birthday party, there is an endless number of ideas to work with. So, how do you know where to begin? Just like with the cake ideas above, start with thinking about how many people you will need to feed.
If you're doing cupcakes, you might consider 1-2 cupcakes per person attending. Not everyone will eat two and some people might not eat any at all, but accounting for a few extras is always a smart idea.
From there, consider any food allergies or special diets that guests or the guest of honor may be facing. You can purchase or make gluten-free cupcakes, and cakes with other special ingredients or without certain ingredients.
Think about the guest of honor, their favorite flavors of cake and frosting, and also think about the theme of the party. Cupcakes are a lot of fun at parties because they can also be decorated to match the theme. At a themed birthday party, the cupcakes can just finish off the décor and the vibe. Imagine how it will look on that dessert table, decorated perfectly to match the occasion?
These easy cakes make the perfect party ideas and there are so many things you can do with them, it's clearly the more flexible choice of party dessert. Let's look at some specific types of birthday cupcakes you might consider.
1. Pull-Apart cupcake cakes
Pull-apart cupcake cakes are growing in popularity because of how easy they are to make. Basically, instead of making a batch of separate cupcakes that bake separately and have to be iced separately, you gather them together and decorate them like one. Then just pull them apart and enjoy!
Pull-apart cupcakes can be designed for nearly any theme. They are easy and fun to make and a real treat to enjoy. Some people do a simple design with plain colors on the top and others like to get fancy and make the cupcakes a part of the design.
For example, you could make an animal like a dog, or a ladybug and the cupcakes can be part of the body that you pull away when it's time to eat. You could design a tree and let the cupcakes be the leaves that you pull away. There are just so many fun and exciting ideas for pull-apart cupcakes that you are sure to find one that matches your party theme.
2. Vanilla cupcakes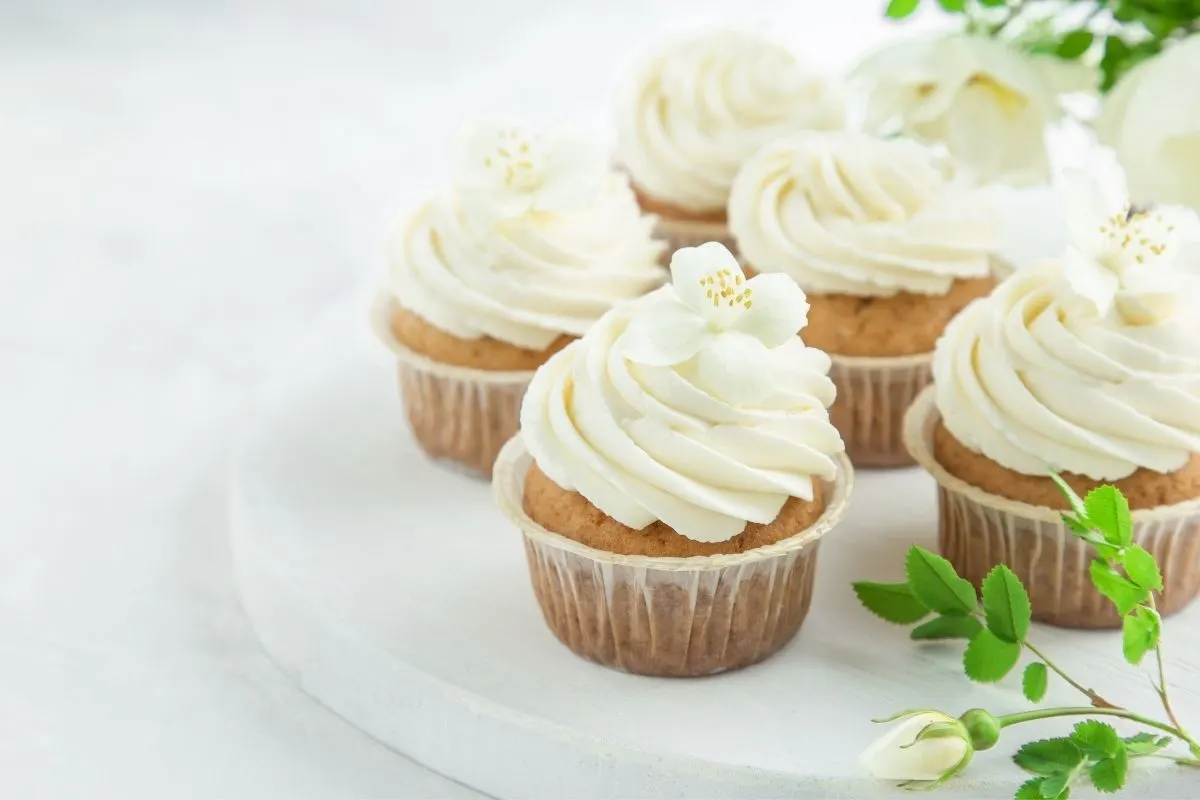 The classic vanilla cupcake is always a good choice but there are so many other things you can do to make it unique or different. For example, you can do a plain vanilla cupcake with a more elaborate or interesting frosting. Or you can keep the frosting plain, too, and go fancier with the cupcake toppers. This way, it's simple on the palate but pleasing to the eye.
3. Sprinkle cupcakes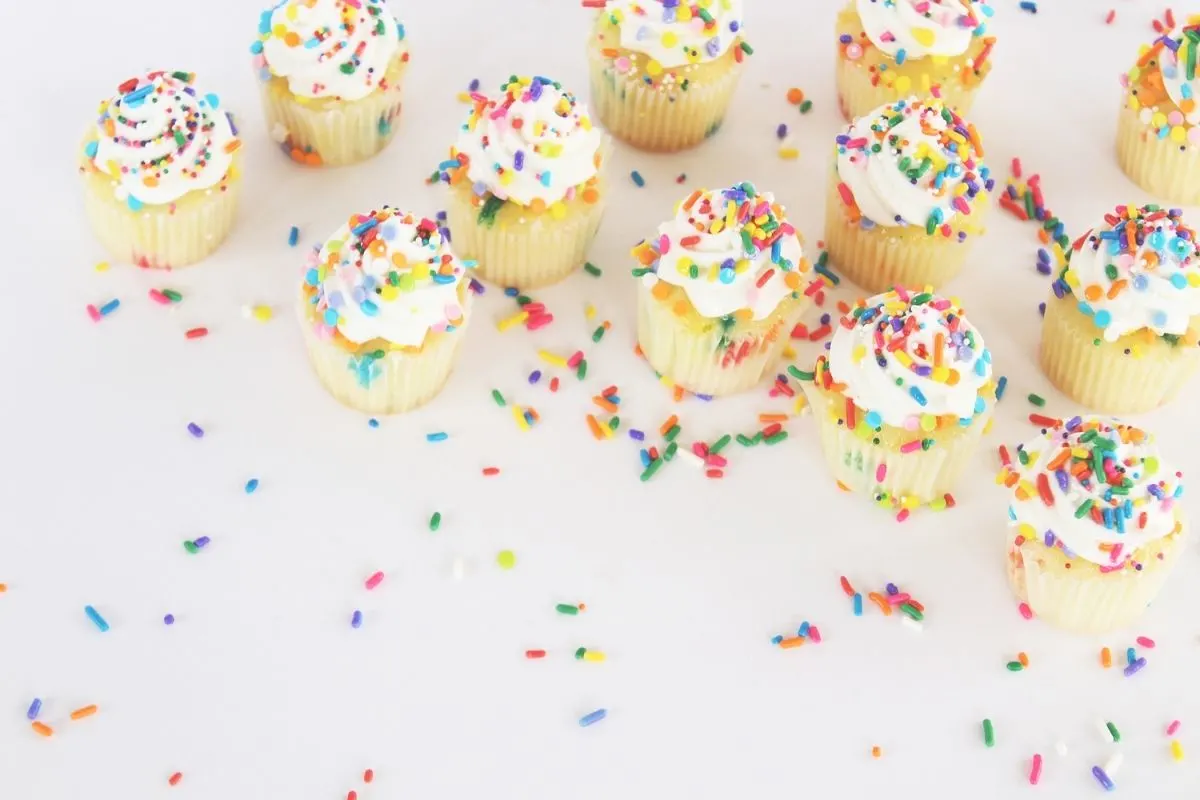 Sprinkle cupcakes are an old classic, and they remain a favorite for good reason. They are simple, tasty, and look pretty. You can get cake sprinkles in many different colors to match your theme, from traditional bold colors to rainbow sprinkles and pastels, to small and sparkly or larger, and so much more.
You can mix it up a bit and add sprinkles only to the edges of your cupcakes, for example. You can do a monochromatic theme where the sprinkles match the cake or use coordinating colors. Part of the fun of cupcakes is decorating them.
4. Tie-dye cupcakes
Exactly as the name says, you can also make tie-dye cupcakes. They are fun to make, pretty to look at, and they taste sweet and delicious.
If you make tie-dye cupcakes, use cupcake wrappers that are clear or white so that your guests can see the design of the cake inside. You can get as creative as you want with the frosting and toppings or keep it simple and let the cake speak for itself.
5. Stuffed cupcakes
Something you may not have realized is that you can also stuff your cupcakes. They can be stuffed with anything from additional frosting, sprinkles, donut filling or custard, or even pie filling. You could make an apple or cherry pie filling for similarly themed cupcakes to bring an adult feel to ordinary cupcakes.
6. Adorable cupcake cakes
When you want to go sweet and cute, try adorable cupcake cakes. You can make them look like cute animals, party dresses, a tiara or crown, and nearly anything else you can think of. It can also be considered cute and adorable to work your cake design into the theme of the party.
For example, you might make a baseball cupcake cake for a baseball-themed birthday party. It completes the whole package of the party décor when you can bring in a cake or cupcakes that also match the theme. How cute would that be?
It's also important to know that these cupcake ideas work for more than just birthdays. Let's explore some ideas on that.
Cupcakes for Other Occasions
As you can see, cupcakes are perfect for birthdays, but they can also be a great way to celebrate other holidays and events as well. You can use cupcakes instead of a sheet cake for a baby shower, for example. You can also use them for graduation from school or college.
If you're not good at baking yourself, or if you're worried you just can't pull off the special designs, have no fear! You don't have to end up a Pinterest Fail if you just outsource this part of the party to someone else. Local bakeries and independent cake decorators will be familiar with these popular designs and can make you any type of cupcake cake you desire.
Where to find cupcake recipes
If you want to make your birthday cupcakes yourself, you need to know where to find cupcake recipes. Thankfully, the internet has no shortage of ideas to help you out. Here are some basics you need to make cupcakes:
Food mixer
Non-stick cupcake trays
Kitchen digital scales for measuring
Mixing bowls
Measuring spoons
Wooden spoons
Cooling racks
Rubber spatula for icing
Pastry bag
Tools for piping and decorating
Cake flour or all-purpose flour
Butter or substitute
Milk or substitute
Eggs or egg substitute
Whether it's Betty Crocker from the box, or you're whipping up something extra special by hand from scratch, you can make amazing cupcakes every time with the right recipe.
The best cupcake cake ideas
There are so many great ideas for making a cupcake cake or pull apart cakes. We could write an entire article on this topic alone and still not cover them all, but I'd like to show you some to help you with ideas.
Here are some of my favorite ideas:
Ice cream cone cupcake cake
Fish cupcake cake
Baseball bat, glove, ball, or all three
Trees or forest theme
Rainbow
Flowers or bouquet of flowers
Bundle of balloons
Butterfly cake
With all of this, I hope you can find the perfect birthday cupcake idea for your next occasion.
Cupcake Birthday Cake Ideas – Conclusion
As you can see, there's a lot you can do with cupcakes. These cupcake birthday party cake ideas will help you plan the perfect birthday deserts every time. There are many popular recipes you can explore, or you can think of a great idea and hire a bakery to complete it for you.
What really matters is when you take your party to the next level and bring in the coolest, sweetest treats like the ones listed in this post. Pretty cupcakes are truly a wonderful way to show the birthday guest of honor how much you care and to allow all the guests to participate in the fun.
Now you're ready for the best cupcakes ever at your next party! What would you add to my list? Did you see your favorite cupcakes in my ideas?