Need a birthday gift for an expecting friend? This can be hard if you haven't been a mother yourself. But never fear, help is here! I've compiled a list of the best birthday gifts for pregnant women: gifts that are practical and that the new mom is definitely going to enjoy (and sometimes need).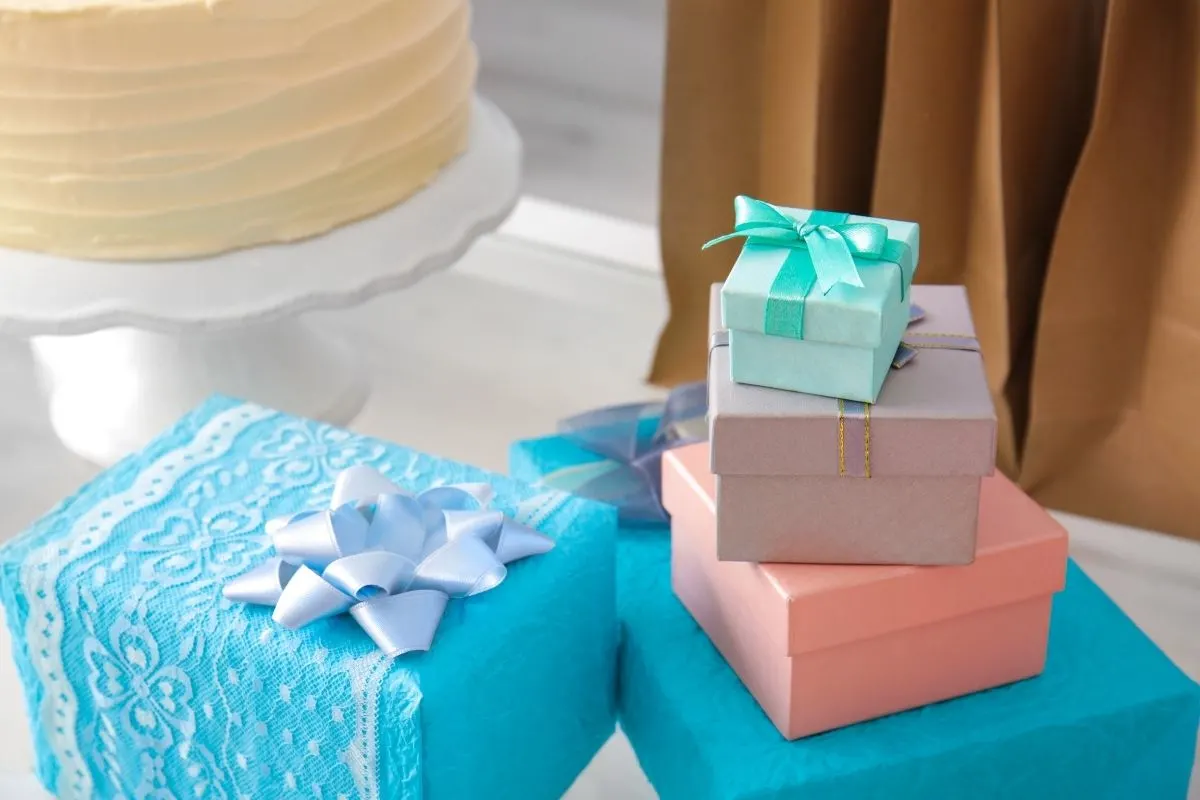 Best Birthday Gifts for Pregnant Women
These thoughtful birthday gift ideas for a pregnant friend are sure to help ease some of the stress of being preggo. From practical presents like special pregnancy pillows to luxurious skincare sets, our picks cover every budget and lifestyle preference.
1. Maternity robe
Maternity robes are a must-have for expecting mothers. Whether she's about to pop or still has a few months until the due date, your friend will appreciate this robe's soft material and the ease to put it on when needed.
2. Pregnancy journal
There's so much happening during a pregnancy! Journaling gives her a chance to write down things she'd like to remember later, organize prenatal visits, and includes a space for sonogram photos. The above journal is also beautifully designed.
3. Maternity body pillow
A pregnancy pillow will come in handy during pregnancy, by offering comfort and relief from uncomfortable positions. She's probably not going to buy one for herself, so this is a great gift idea!
4. Pregnancy-safe skincare items
Pregnancy produces so many changes in a woman's body! Help her manage it better with some natural beauty products that are intended for pregnant women. The moisturizer above will make her feel special while helping her belly stretch better to avoid stretch marks.
5. Scented candle
While your preggo friend can't celebrate with a glass of bubbly, she'll appreciate the sentiment behind this deliciously scented candle. This natural soy candle makes a thoughtful gift for any occasion.
6. Maternity dress
Your pal is going to be so happy wearing this cute maternity dress. Made from 100 percent cotton, it features clever ruched detailing to make you feel comfy throughout pregnancy and beyond. She'll love how easy it is to slip into after childbirth.
7. Pregnancy prayer cards
What a great idea for a gift! These cards include a week-by-week description of the pregnancy's progress, so you can pray specifically about the body part developing at any given moment. This is an especially good give for a first-time mom-to-be.
8. A set of maternity pajamas
Pregnancy makes you crave comfort more than ever! These soft, comfy PJs are sure to make your pregnant friend smile. She'll be able to relax while wearing them as she awaits the arrival of her bundle of joy.
9. Buy her diapers … seriously
Ask any lady who has been a mom before and she'll tell you that perhaps the biggest expense is purchasing diapers. There is a reason why diapers top the list of most-wished-for items by pregnant moms. Are they sexy? Definitely not. Is your gift going to be remembered for years to come? Probably not. But did you know that newborn babies go through 8 to 12 diapers EVERY DAY?
That means a conservative estimate of 56 diapers are needed every week, and that makes 240 diapers every month. If you really want to be remembered as an all-star gift-giver, purchase a monthly diaper subscription for the pregnant lady.
10. Don't forget the baby wipes!
Sure, baby wipes are usually thought of as diaper-related accessories. They come in handy when changing diapers. They can be used for cleaning hands and feet. They are also formulated to be safe for mom to use when the baby makes a mess on his face while feeding. Some diaper subscription services offer baby wipes as an additional offering.
11. Baby sound machine
Everybody knows crying babies can wreak havoc on mom and dad's chances of getting a good night's rest. Heck, even people who have never been parents before know that. The formerly energetic and always fresh-looking lady that has a baby can sometimes become better identified as tired, worn out, and bleary-eyed.
This happens because babies need to be fed and changed so many times every 24 hours. Anything you can do to make the baby sleep better and longer is a beautiful thing for mommy and daddy.
That makes this sound machine with a nightlight a great birthday gift for a pregnant lady. With over 25,000 positive reviews, it's a gift that she'll cherish.
12. Bibs and bottles are also welcomed birthday gifts for pregnant women
It doesn't matter if the birthday gal has one month or eight months to go before the big day, this type of gift-giving is all about preparation. You are helping her prepare for all those feeding sessions. Babies are messy: plain, and simple. That means reusable cloth or disposable bibs are a necessity. So are bottles, whether the mom-to-be chooses to formula-feed or breast-feed.
13. Portable, inflatable baby bathtub
Portable baby bathtubs make bath time easy. Think about the problems of washing a small infant in a standard-sized bathtub. There's just way too much room. This adds a danger hazard as well as making it difficult logistically.
The answer is one of these: Mommy's Helper Inflatable Bathtub. The white and green bathing tub in the Froggie collection is perfect for infants 6 to 24 months, and since it's inflatable, mom can take it with her when she and baby travel.
14. "Smart" baby monitor
Inexpensive baby monitors are better than nothing. They allow mom and dad to listen to their baby when they are in another room. That's great, but we all know a picture is worth a thousand words. That means you definitely want a smart baby monitor with Wi-Fi compatibility and video as well as audio.
That's what makes this one of the best birthday gifts for pregnant women. It gives parents peace of mind because they cannot only hear their baby, but they can see him as well.
15. Give the gift of knowledge
If you're a mother, you have knowledge that is priceless for the new mother-to-be. If the birthday gal hasn't had a child before, she's going to need lots of help. When you can't be there to help watch the child, change diapers, and offer other hands-on services, you can still help out. Let her know you're only a phone call or text away if she has any questions during her pregnancy or after her baby is born.
16. Gift card
If all else fails, a gift card is not a thoughtless present. A lot of people don't like giving gift cards or cash cards because they think they're impersonal. Let me share a little secret with you. Raising children means a lot of things, but it definitely means … unforeseen expenses. Make sure it's a gift card that can be used anywhere, like a Visa or MasterCard gift card, so it saves the day no matter what type of expense arises.
17. A day off at the right time is the perfect gift for a pregnant woman
The new mom is going to need diapers and plenty of them. She needs bibs and bottles, and she can definitely benefit from your experiences if you're a mother yourself. Sometimes though, a little time off from being a mom is a priceless gift.
On her birthday, give the pregnant mother-to-be a voucher that gives her a night out or a 24-hour time period where you will take over mommy duties. This gift might earn you a "greatest person ever" designation, and is sure to mean a lot when mommy needs to cash it in.
Bonus gifts 🙂
If you're still not sure what to get her, here are a few more ideas:
bath salts
bath bombs
belly butter
cozy socks
compression socks
foot cream
double electric breast pump
herbal teas
Best Birthday Gifts for Pregnant Women – Conclusion
As is a tradition on our lists of birthday gifts, it's time to choose the best of the best. This was easy. Buy diapers for the mom-to-be. This is hands-down the most requested birthday gift for pregnant women because the first year of the baby's life alone can mean thousands of dollars spent on diapers. Earn "best gift-giver ever" status when you pay for a diaper subscription service.