The best 60th birthday gifts for women are often those that evoke memories. Simply gathering family and friends over a few photo albums can make for a wonderful birthday celebration. You might decide to go for something practical or unique. In the list below you'll find 7 great gifts that run from practical to emotional to unique for the lady celebrating this important milestone.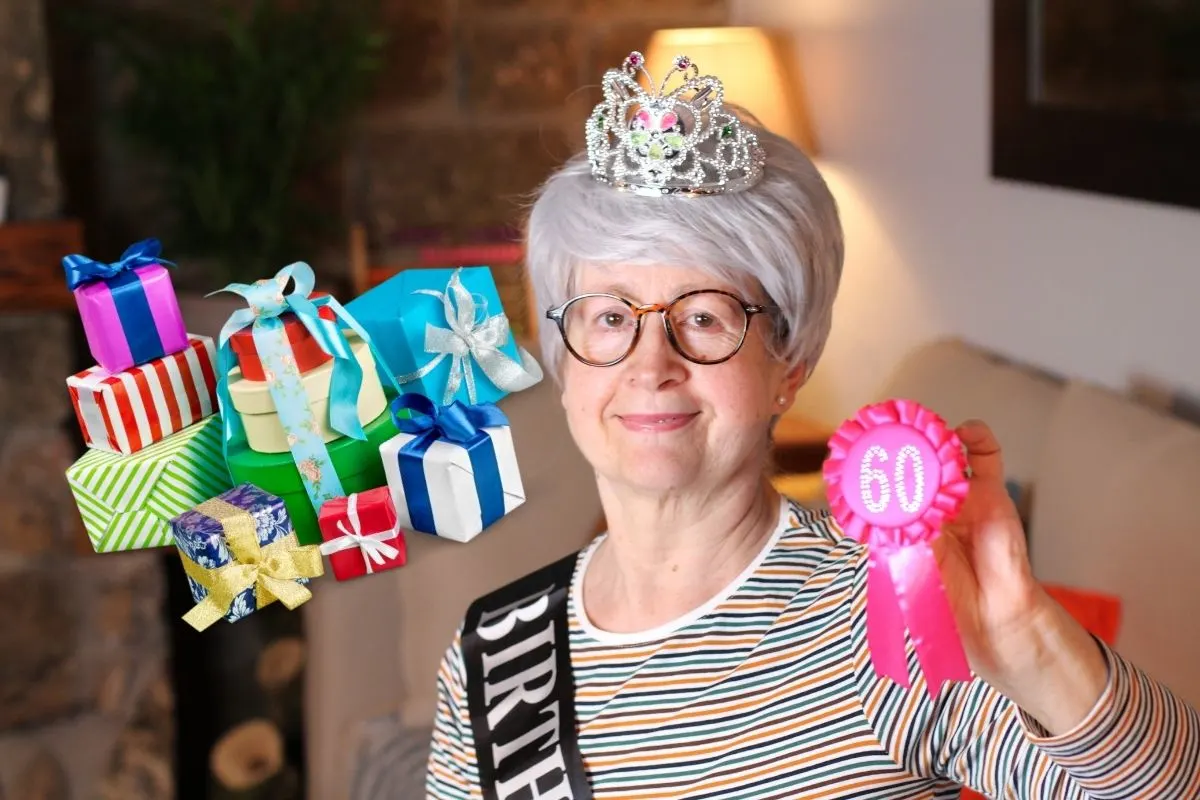 Fun 60th Birthday Gifts for Women
1. 100% pure silk pillowcase
If you've never experienced the feel of silk on your skin, you're really missing something. It feels so cozy and luxurious!
Silk conjures thoughts of elegance and glamour, and wouldn't those be great gifts to give the wonderful lady in your life that's turning 60? As a wonderful benefit, the product we're about to introduce was constructed to help the birthday girl retain moisture in her skin and hair that is usually absorbed by a cotton pillowcase.
This 100% pure mulberry silk pillowcase is also allergen-proof. The zipper is hidden away and this silk is a 600 thread count. It's often an Amazon's Choice selection out of all the pillowcases sold on the site. You might be surprised at the budget price tag for such an expensive-looking and elegant item.
2. Write a book about her for her 60th birthday
You may be thinking that writing a book is difficult. It takes a lot of time, research, and writing ability. In most cases, you would be right. What we have in mind is a lot easier for you to do. We're talking about a fill-in-the-blank book that you customize.
H. Clark has published such a book and she sells it on Amazon. It's called "I Wrote a Book About You", and is just as fun for you to fill out as it is for the birthday lady to receive.
What we really like is that this book is appropriate to give your mother or sister, friend or spouse, grandmother, or just about any lady in your life. You can create a uniquely wonderful story full of special memories. This is definitely a gift she'll remember, a perfect gift that will keep her thinking fondly of you.
3. Tea kettle infuser stovetop gift set
Mental health professionals and other experts who study such things will tell you that the sense of smell is linked to memories. Many believe memories are probably more closely linked to the sense of smell rather than any of the four senses. There's another reason why tea kettle gift sets make perfect 60th birthday gifts for women. The sense of smell is highly linked to emotions. Smells evoke emotions. They rekindle memories.
Cherry blossoms may remind your birthday lady of wonderful days playing in a field or forest as a child. Other smells might have accompanied the greatest experiences of her life. That means this simple gift is so much more than just the perfect way to make a cup of hot tea.
The Tea Kettle Infuser Stovetop Gift Set includes a glass teapot with removable stainless steel strainer, as well as 4 double-wall glass teacups and a loose leaf tea sampler. By the way, it's microwave and dishwasher safe, which is always a plus when it's time to clean up.
4. A digital picture frame, because photographs are perfect 60th birthday gifts for women
Your lady who's turning 60 probably remembers taking photographs the "old school" way. Physical cameras snapped photos and the film had to be processed. Then of course came the instant camera. This was a marvel of technology back in the day because the camera spits out a photo just a few seconds after taking it.
These days, capturing memories in photographs is as easy as whipping out your smartphone. Digital picture frames allow you to upload photos from your phone or any computer. They can store dozens or even hundreds of video clips and photographs the birthday girl can enjoy whenever she wants to take a trip down memory lane.
5. LoveBox color and photo love note messenger
This one might win "best birthday present ever". For the woman turning 60, memories and experiences are important. This gift is perfect for creating new memories and reminding her of wonderful experiences she shared with her loved ones.
The Color and Photo LoveBox allows the important people in her life to send her photos, messages, stickers, and drawings in real-time, no matter where they're located in the world.
The birthday lady grants access to anyone she wants to keep in touch with. Then those people can send her thoughts and messages, photos, and drawings through a mobile application. It sends them instantly even if the giver is thousands of miles away.
The Wi-Fi-connected gift box rotates a beautiful red heart located on the top of the box every time a new message is received. Giving this gift shows you care deeply about the birthday girl and want to keep in touch.
6. 60 and sexy t-shirt
There are a lot of versions of this shirt. A women's "60 and Sexy" T-shirt lets the wearer flaunt her six decades of looking great and feeling sexy. The one we have in mind lets everyone know that not only is your special lady 60 and sexy, but she's unique as well.
7. Blanket with pictures of the grandchildren
Your lady celebrating her 60th might be a grandmother. If that's the case, this could be the perfect birthday gift. Check your local seamstress or sewing shop to have this thoughtful gift made.
There are also services online (like the one above, from Amazon) that can craft a blanket with pictures of the grandchildren, children, and other loved ones the birthday gal cherishes. This is truly a gift that keeps on giving long after the birthday is over.
60th Birthday Gift Ideas For Women – Conclusion
A silk pillowcase and high-quality tea kettle set definitely qualify as some of the best 60th birthday gifts for women. If you forced us to pick one out of our list that we believe sticks out from the rest, it would be the LoveBox Color and Photo Love Note Messenger. Her loved ones can send her digital messages, notes, videos, and photos in real-time, no matter where they're located in the world. What a special way to keep in touch and let her know they're thinking about her.
Planning a 60th birthday party? Check out these fun centerpiece ideas.