Time flies when you're having fun, and the first year of your baby's life is sure to have disappeared in a blink of an eye! As much as I'm sure you wish you could stop time, the first birthday always rolls around quickly and you will want to be prepared for the occasion. Let's look at a few baby's 1st birthday cake concerns you might have, so you can prepare for that special day!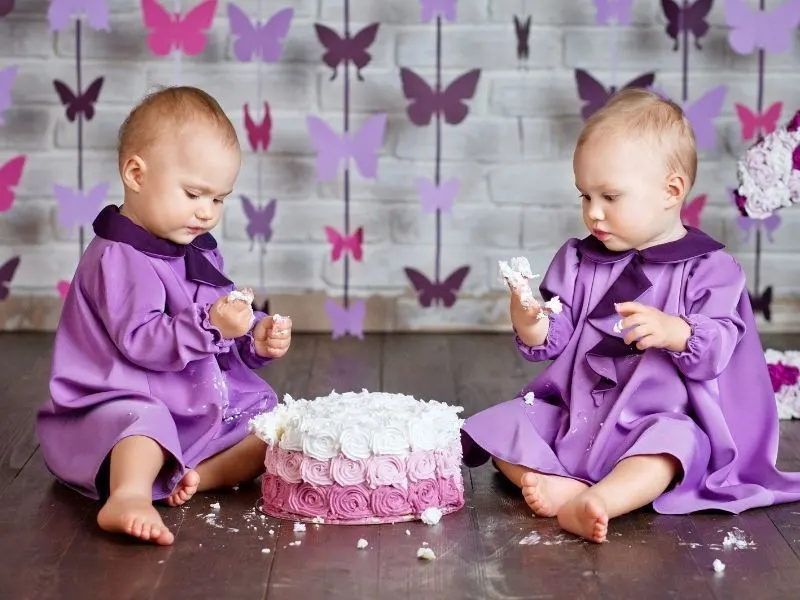 If your little one's birthday is coming up, it can be difficult to know what cake to give them for their first birthday. However, new parents don't need to panic – we're here to help.
In this article, we cover everything on your tot's first birthday cake, from flavor ideas to whether it is safe for your baby to eat cake for their first birthday.
Baby's 1st Birthday Cake
Your baby's first birthday is an important milestone. Celebrate it the way you like it: make it a big affair with lots of guests (both other babies, kids, and adults), or celebrate in a cozy family atmosphere. No matter which way you celebrate, you'll be making memories.
Baby's first birthday cake topper
Adorn the birthday cake with a nice topper you can later add to your baby's time capsule.
Here are a few cake toppers for the baby's first birthday cake to choose from.
1st Birthday Cake Topper
Mickey Mouse 1st Birthday Cake Topper
First Birthday Banner Cake Topper
1st Birthday Baby Cake Topper
What flavor cake is best for 1st birthday?
As a new parent, you have enough to stress about without planning a first birthday party. However, it's always nice to have a little get-together to celebrate the occasion, and what better way to celebrate than with a cake?
Introducing your baby to sugar can be nerve-wracking, so to save you the worry, let's keep the flavor profile simple. Whether you're a baker yourself or prefer to order in, here are five simple cake flavors to give you inspiration for your baby's first birthday!
Vanilla cake – It doesn't get simpler than vanilla, and it's a crowd-pleaser.
Chocolate cake – A-duh, the clue is in the name – the majority of people love chocolate!
Marble cake – You get the best of both worlds of vanilla and chocolate, what's not to love?
Funfetti cake – Nothing says birthday quite like the poster cake for the occasion: funfetti cake!
Vegan banana cake – For a dairy-free alternative, vegan banana cake is a yummy flavor and is a great way of incorporating fruit into your baby's cake for a slightly healthier, yet still delicious treat.
Whichever cake flavor you decide, choose something that you won't be worried about your little one eating, it's a day for celebration!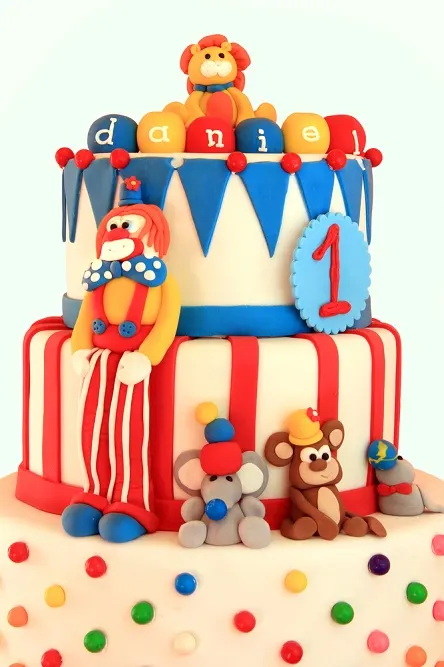 Can babies eat cake on their first birthday?
To answer this question, yes! Babies can absolutely eat cake for their first birthday. Introducing your baby to some sugar on their first birthday will not ruin their taste for healthy food!
It is incredibly important that your baby develops a healthy relationship with food from an early age. Remember, your little one is like a sponge at this age, and they're learning very quickly to absorb and mimic all sorts of behaviors that you exhibit.
Although as they grow older you should teach them about a balanced diet, a birthday should be celebrated and more importantly, enjoyed! Nurturing a 'good versus bad' dichotomy in regards to food is likely to have a negative effect and could even increase your child's risk of developing an eating disorder later on in life. We suggest not even talking about the food itself – just serve it, and enjoy!
If you are worried about giving your one-year-old cake for their first birthday, then you could always bake them a sugar-free or low-sugar alternative to fit in line with your lifestyle and preferences. However, giving your tot cake on their birthday isn't going to hurt them. After all, it's only one day.
Are sprinkles safe for a 1-year-old?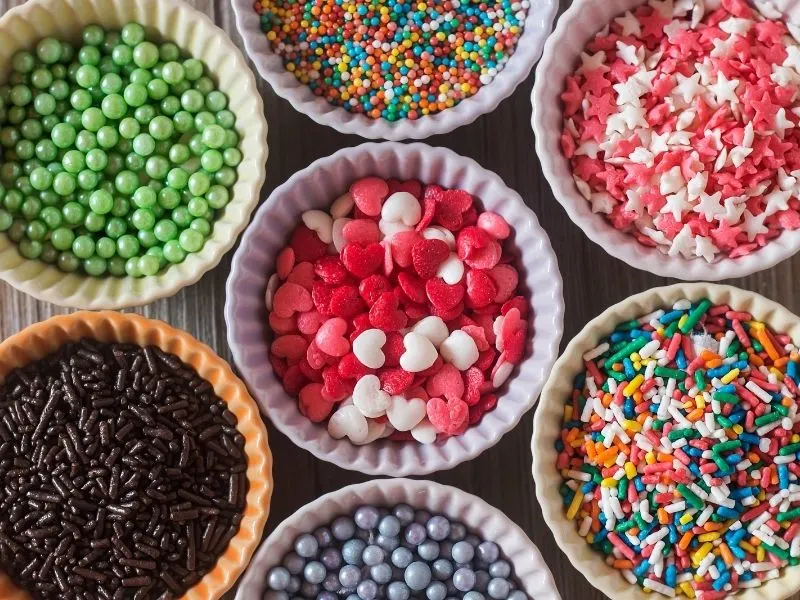 When using sprinkles in different cakes and bakes, they can often include larger styles that may be difficult for children to eat or could cause a potential hazard if you're not mindful of the size of sprinkles that you choose.
However, the likelihood of this occurring is fairly low if you use the plain tiny sprinkles (rather than the fancier ones older kids might enjoy), and if you indulge your tot with a smash cake, arguably more of it ends up on the ground than in their mouth!
Generally speaking, are long as you ensure the sprinkles that you choose are small enough, they are safe for your 1-year-old to eat. A funfetti cake, for example, is an incredibly popular choice for birthday occasions and is renowned for its iconic sprinkles.
However, that being said, sprinkles contain additional sugar, and typically contain artificial color and flavors. If you'd prefer your baby to eat a healthier alternative and if you're worried about feeding your baby sprinkles, then choose a cake without them for peace of mind!
You want to be able to enjoy the day and this will ensure that you can concentrate on them having the best time without you having to worry about the sugar in their cake.
Is Walmart's first birthday cake free?
Although smash cakes are all the rage for a baby's first birthday photoshoot, they can feel like a bit of a waste. After all, not much of the cake goes into your baby's mouth but instead ends up smooshed on the floor. But hey, the photos look super cute and it's a fun memory, right?
If you've got your heart set on a smash cake for your baby but can't necessarily afford to order in a bespoke cake from a bakery just for your tot to smash it up, a good tip is to get your little one's cake at Walmart.
At Walmart, when you place a bakery order for $14.98 or more, you can get a 6″ round smash cake in either white or chocolate cake entirely free (at the time we're writing this)! You just need to make sure that you place your order at least 24 hours before you plan to pick it up.
This way, you can order some other yummy treats for the rest of the party guests to enjoy and you won't feel too bad about your little one smashing up their free birthday cake!
How much is a 2-tier cake at Walmart?
Walmart allows you to choose from a wide variety of designs and styles to complement your celebration. They have a cake catalog that you can browse that is categorized by occasion, including a baby event category for you to browse all of their cakes for baby events with ease.
They have a variety of cake styles, including sheet cakes, cupcakes, 2-tier cakes, and more, with each style informing you on how many it serves. This makes it incredibly easy to choose when you know how many guests are going to be at your baby's first birthday party!
For a 2-tier cake at Walmart, you're looking at around $68 – $71, depending on the cake that you choose for your baby. It is worth mentioning that prices may vary from store to store and may be subject to change.
However, the great thing about ordering your baby's birthday cake at Walmart is that the choice is so varied. Whether you want to order a smash cake, a 2-tier cake, or a sheet cake to feed the whole family, they have your celebration covered!
In summary
We hope this article has given you some inspiration for your baby's 1st birthday cake, from flavors to tips.
Remember to relax and enjoy it, birthdays only happen once a year and it's not going to offset your child's diet to let them have a little sugar on their special day. They are only 1 once, so make the most of it!
Most importantly, have fun with your baby and make some unforgettable memories with your whole family!
Need gift ideas for baby's first year? Get some ideas below.