Your baby's one-year birthday is an important event, a day in which to celebrate the baby's first-ever birthday party, and the first year of life!
No matter how you decide to celebrate the birthday, you'll likely be wanting plenty of photos to document the occasion, so you can look back on them in the future as a precious keepsake.
But here's the thing, taking a few photos during the birthday party is all well and good, but they likely won't be frame-worthy. A great idea to properly capture the baby's first year anniversary is to plan a 1st birthday photo shoot!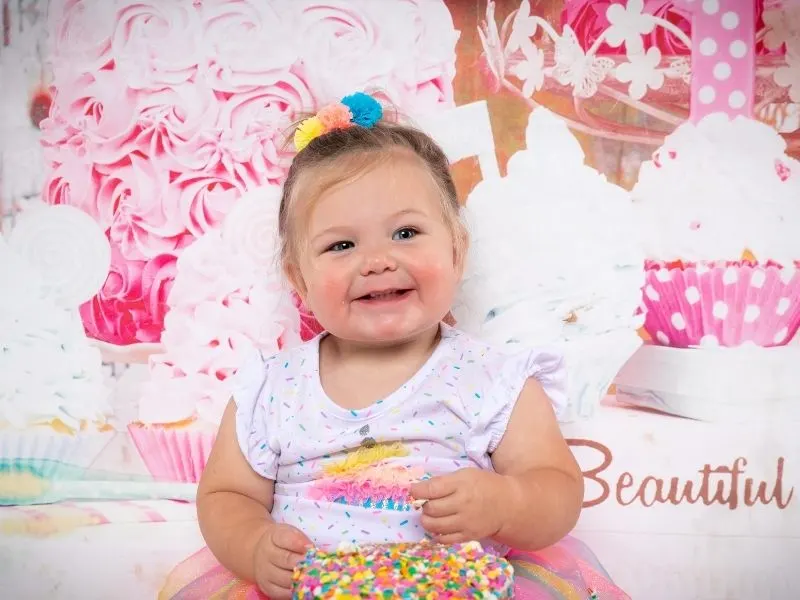 1st Birthday Photo Shoot
You can do the photo shoot yourself, by prepping and getting it ready, or you can hire a professional to do it so you can just sit back and enjoy your baby's experience of it. But whichever method you choose, you're going to need a photoshoot theme!
If you're looking for one of the cutest and most popular first birthday photoshoot ideas, then we recommend doing the cake smash! It's the perfect way to combine the birthday element, with your baby's unrestrained joy and fun. Check out these first birthday cake ideas.
(Plus it shows an accurate image of how your baby eats the birthday cake because let's face it, they might now be one year old, but they're still messy eaters!)
What is a cake smash photoshoot?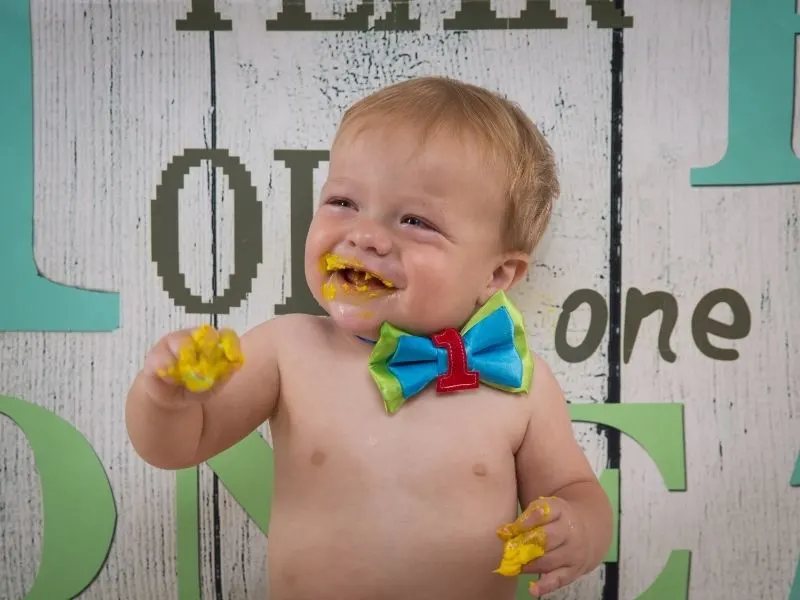 We've recommended you go for a cake smash photoshoot for your baby's first birthday. But what exactly is a cake smash photoshoot? The name suggests the smashing of a cake, so is that what it is?
The cake smash photo shoot is a trend that started in the US and has become increasingly popular in other parts of the world. And yes, just as the name suggests, it's a photoshoot of your baby smashing a birthday cake!
What's great about this type of photoshoot is that it is led by the baby. You just lay out a birthday cake, and encourage its smashing. Everything else is down to the birthday boy or girl!
It ends up becoming messy fun, and the photos can turn out absolutely amazing as they will capture the baby in full joy, in a candid and natural way. No forced posing, and no need to direct the baby. The baby just has a go at the cake, and photos are taken!
If you need a great backdrop for your birthday cake smash, Amazon has some amazing-looking ones here.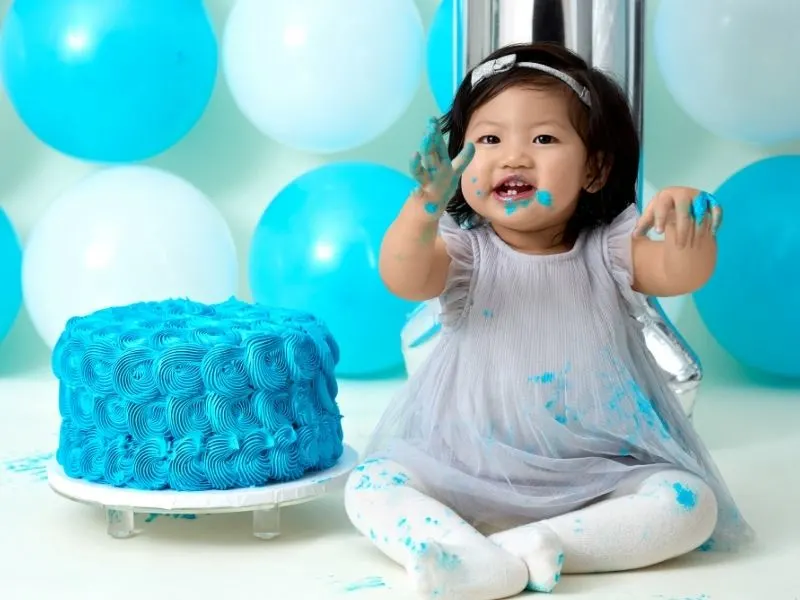 Some parents like to use the cake smash photos on the birthday card invitations, so you might want to get this photoshoot done before the actual birthday party. But you can also just have it on the very same day (just make sure you have another cake that can actually be eaten!)
It's also a good idea to get a few nice and neat photos before the baby starts smashing, as that way you have a before and after!
Which cake is best for cake smash?
If you're going to go ahead and plan a cake smashing photoshoot, you're going to need the right cake. Because no, not all cakes smash as nicely, or as aesthetically, and you want the photos to look as good (and as messy) as possible!
So what cake is best for cake smashing?
The best cakes for cake smashing are those that are soft and crumbly so that your baby can smash them with ease. The most commonly used cake for this is the good old vanilla sponge cake. It smashes really easily, and the baby will be able to crumble up the sponge to create a perfectly delightful mess for the photos.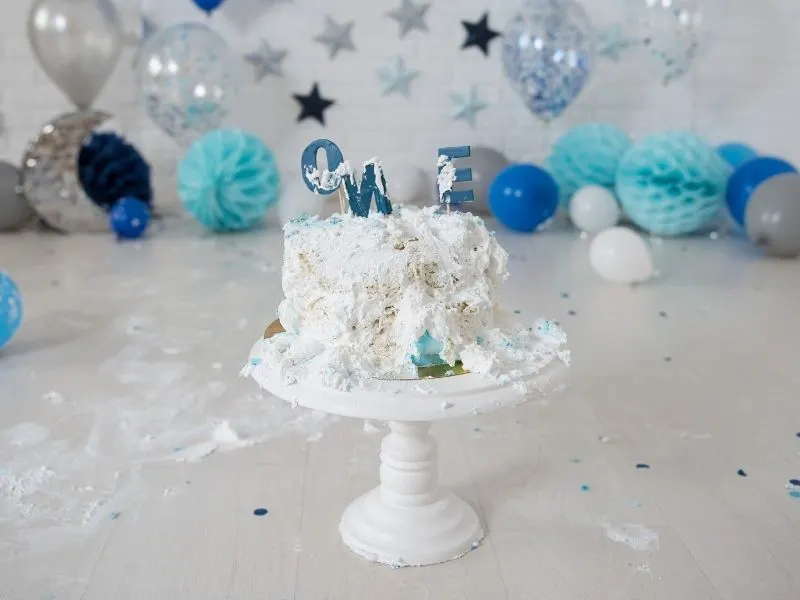 What's great about the vanilla sponge cake, is that you can add an icing of whatever color you want, to get the desired aesthetic and color scheme. However, some colors are better than others when it comes to a cake-smashing photoshoot!
We'd recommend that you avoid using red or brown icing on the cake. Red will make your baby look like a bloodthirsty vampire (which might be what you're going for, but if not then it's best to avoid it), and brown will look like the baby is eating…poop. Yup, not exactly a desired effect.
Instead, try colorful and vibrant icing colors such as blue, pink, green, or others! You could also have several colors so that the photos are even more colorful.
How do you make homemade smash cake?
Smash cakes can be made following many different cake recipes, as any cake can be a smash cake if you smash it. Plus, you can adapt the more traditional smash cake recipes to include the ingredients of your choosing.
But as we mentioned, the best cake for cake-smashing is the vanilla sponge cake, which you then add icing to for the color.
So here's a basic and easy recipe for a vanilla sponge cake, that can be turned into a beautiful smash-cake for your baby's first photoshoot:
Ingredients you will need:
2 cups of granulated sugar
1 cup of unsalted butter
4 eggs
2 tablespoons of vanilla extract
3 cups of flour
3 tablespoons of baking powder
1 and a half cups of milk
However, the ingredients can easily be adapted to adjust the recipe to your preferences or dietary needs. Any type of basic vanilla sponge cake will do!
As for the actual steps for baking the cake, here is a very simple summary:
Start by preheating the oven to 350 degrees, and prepare the baking pans.
Beat sugar and butter together, then add eggs and vanilla.
Add in the flour and the baking powder.
Add some milk, and mix until everything is properly combined.
Pour the mixture into the baking pans and bake for around 35 to 40 minutes.
Once baked, let it cool and add buttercream frosting and icing in the colors of your choosing, plus decorate!
The more important part of making the smash cake isn't the basic sponge cake base itself, but rather, the icing! Make sure you add vibrant color to the icing and spread it in between layers of the sponge cake and on top so that it comes out in a colorful mess when your baby smashes the cake!
How do you decorate a baby smash cake?
As the cake is for a photoshoot, it needs to look its absolute best (yes, even though it will just end up smashed up). That way your baby can pose with a gorgeous birthday cake, before turning it into a fun mess.
But how do you decorate a baby smash cake?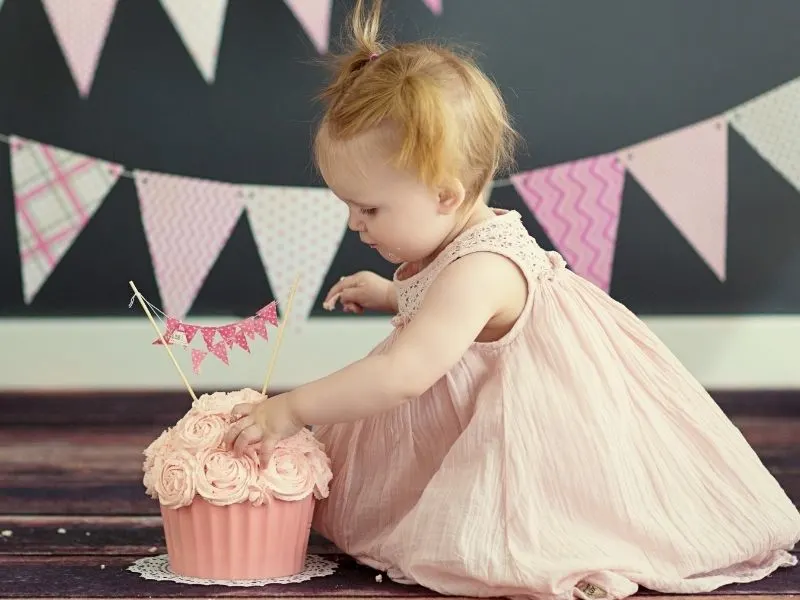 One of the main elements for decorating a baby smash cake is a lot of icing. Colored icing, to fit your color scheme and theme so that the cake is vibrant and fun!
You can't really light a candle for a smash cake, as it wouldn't be safe for the baby, but you can still have a small candle on top for decoration! Decorate the cake so that it's obvious that it's the first birthday, so have a huge number one and some sort of "happy birthday" on it!
You can also add plenty of cake accessories like flowers, sprinkles, little chocolate figures, extra icing…the bigger and more colorful the cake is, the better it will be for the cake smash photoshoot.
And for the smash to look as fun as possible, try mixing up several colors and adding plenty of extras. Just remember, the decorations should be easy to smash up, so the baby doesn't struggle to make a mess.