A baby's first birthday is a milestone worth celebrating, as it's the first proper party that you can throw! Your baby has made it 365 days, and it's time for the first-ever birthday cake and the first-ever birthday balloons, and many more firsts that can make for a wonderful day!
It makes sense, therefore, to try and make the day as memorable as possible, so that you can look back on it in the future as a keepsake!
You'll probably be wanting to take plenty of cute photos to frame later on, and that means you'll also be wanting to look your best. So, basically, you'll need to plan the first birthday outfit, both for your baby and for yourself!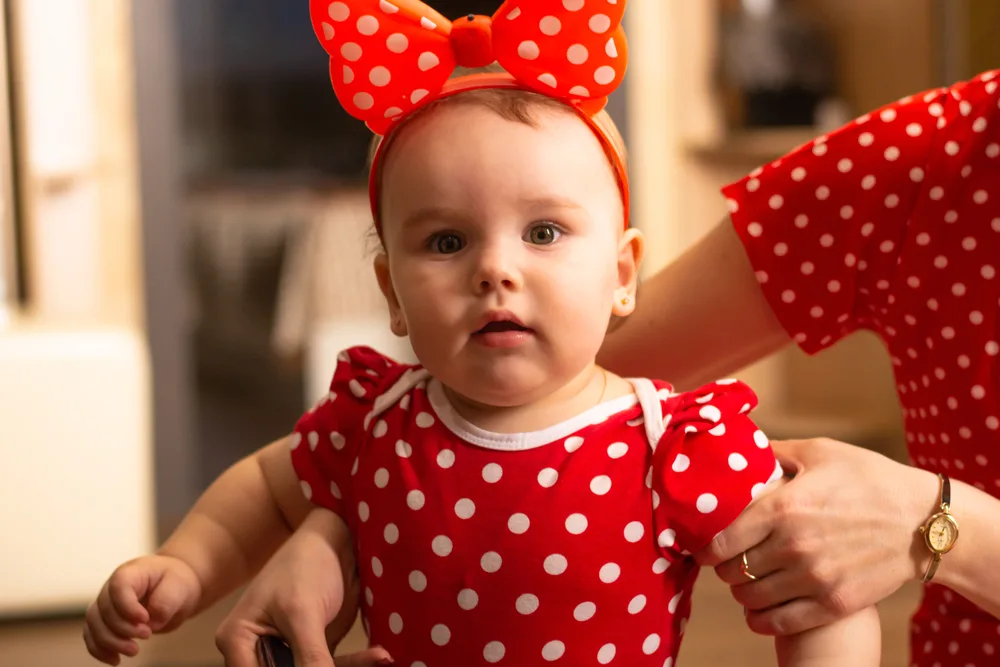 Coming up with a 1st birthday outfit can be a bit overwhelming, as there are too many options to choose from. Are you coming up with a birthday theme as a whole? Are you dressing up in costume?
Maybe doing a glam-up kind of outfit, or going for a chill and relaxed vibe…so many routes you can go down! But at the end of the day, it's up to you and your family to decide what kind of birthday you're throwing for the baby.
What should I wear for my baby's first birthday?
So you're throwing the first birthday party for your baby, or you've been invited to a baby's first birthday party. Either way, you need an outfit.
The first thing you need to be aware of is that a first birthday party is usually quite a hands-on event. It's all about having fun and interacting with the baby, so there will be plenty to do!
And what does this mean for your outfit? Essentially, you need to wear something that doesn't only look amazing and is in theme, but also something that is comfortable and that you don't mind possibly getting dirty.
Adult outfit for baby's first birthday
Here are a few things that you should consider, and that might determine the outfit that you can or cannot wear to the first birthday party.
Location
The location of the party can completely determine the suitability of an outfit, as you can't wear everything everywhere. You should know beforehand where the party is going to take place, or if the baby is yours, then you can plan it as you wish.
Is the party taking place at a park? In the garden? In the family pool? You won't dress the same for each of these places!
If in doubt, just wear something comfortable that can withstand getting wet or stained. After all, you're going to be surrounded by at least one baby!
Activities planned
A lot of first birthday parties will have a few activities planned, with a few fun games to make the event memorable.
What activities are planned for the party? That can also heavily determine and limit what you can wear. Will you be swimming? Rolling around in the garden? Chilling in a living room? Going to a more formal setting?
Theme
The best way to plan a first birthday party is to come up with a theme. Ideally, something that the baby loves! (Although babies will usually love almost everything, as everything is new and exciting).
Maybe the theme is a princess party or a dinosaur theme. In which case, you might be asked to come in costume! Or maybe there's a color theme so that everyone is more or less matching! Whatever the theme is, you should be told in advance so that you can plan the outfit with plenty of time!
Color scheme
Much like how a baby shower or a gender reveal party will have a color theme, the first birthday party can have so too! This is a really easy way to help people narrow down their outfit options, and gives the entire party, and its guests, a uniform look that is very aesthetically pleasing.
Weather
A cool and fresh outfit is ideal for summer but will cause you to freeze during the winter. Keeping in theme is important, but you also need to keep the weather in mind so that you feel comfortable and prepared!
Matching outfits
If the birthday party is for your own birthday, a great idea is to wear matching outfits! There are plenty of stores that sell 1st birthday t-shirts or overalls, for both the baby and the parents, so that you can take some adorable matching pictures! It's also a great way to help identify the baby, and the parents, so guests can easily spot you!
Baby Boy First Birthday Outfit?
Your baby boy is turning one year old, and it's time to dress him up for his first-ever birthday party.
It's a momentous occasion, and he should dress in a memorable way so that you can get the cutest memories ever as a keepsake of the day.
But what should your baby boy wear?
Well, he can wear anything you want, as long as he's comfortable, and you're happy with the result. But here are some of the main ideas for a 1st birthday baby boy outfit.
Age themed outfit
Your baby is turning one year old, so why not make that the theme? There are plenty of baby clothes and outfits that are in theme with the first birthday party, whether they have a giant number one on them, or a sentence that clarifies that it's their birthday. That way there's no doubt about him being the birthday boy!
Cute costume
Dressing up your baby in a cute costume is the best idea ever, and will make for some of the best birthday photos. For your baby boy, you can dress him as a beloved character, or as a little cute animal. You could also have him wear a normal-ish outfit, and then accessorize with a birthday party hat or a big 1st birthday badge!
A fancy outfit
Dress your little baby boy in a cute little suit so he can be all dressed up for his birthday party! You could even give him a gentleman's top hat!
Baby Girl First Birthday Outfit?
A girl only turns one year old once in her life, so it's important to make the most of the day, and get the cutest photos ever!
And yes, that includes wearing the best possible outfit, so that the day is memorable and your little baby girl completely steals the show.
But what should your baby girl wear?
Well, much like we mentioned previously, it's important that whatever she wears is comfortable and appropriate for the weather and location. But here are some of the most common and cutest ideas for her birthday outfit.
An outfit that shoes her age
Again, your baby is turning one year old, and that only happens once in a lifetime, so what better theme than the number itself? You can dress your little baby girl up as the number one best girl, and there are plenty of baby outfits and clothes with a giant number one or some sort of first birthday quote on them. Make it clear that she's the birthday girl, and that she's the center of attention!
Cute costume, like this unicorn tutu dress
Whether it's dressing her up as a little princess, giving her a cute little birthday tiara, or dressing her in a cute animal costume, you will get the best birthday photos if she's all dressed up in a costume outfit.
Dress her up fancy for the special occasion
If you want your baby girl to look like an absolute little queen on her special day, you can go all out and dress her in a big colorful dress, which you can then accessorize so she's the center of attention!