Buying a present for a baby can be incredibly difficult. Especially if they have yet to develop a distinct personality. It's also important to make sure you buy something that the parents will appreciate. So that's a big no to anything too noisy or messy.
It can also be difficult to navigate the ridiculous amount of baby toys. So, to help you find the best presents for any baby, we've put together a list of the top 1st birthday gift ideas.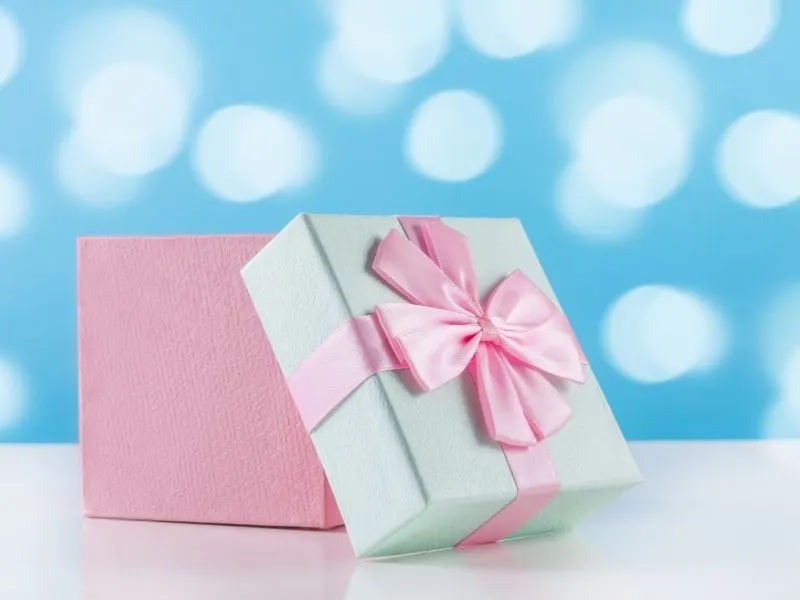 15 Best 1st Birthday Gift Ideas
It can be stressful to figure out the best gift for a first birthday, but don't worry: we got you covered. We came up with 15 great 1st birthday gift ideas that boys and girls will LOVE!
And if you'd rather look for specific gifts, here are gifts for boys and girls:
1. A stuffed toy
This one might seem a little obvious. But there is a reason why it's everyone's go-to and why it's our number one. Unlike most other toys, children will keep their stuffed toys for years. Some people will even keep them until they are an adult and can pass them onto their own children.
This is a perfect present if you're looking for a gift for a baby that is very close to you. They will cherish this stuffed toy forever as it will remind them of you.
If you have the skill, you can even make them a stuffed toy (this book will teach you how!). This can be difficult, so it's worth having a couple of tries first. But this will make the toy even more sentimental and valuable.
Stuffed toys are also great for babies developing a sense of company and friendship. Babies will of course understand that they aren't quite the same as a real person.
But they will still develop a sense of love and friendship toward their toy. Studies have also shown that stuffed animals and dolls can even help children to deal with separation anxiety.
2. Teething toys
This might seem like a boring and practical option. But, it is a toy that everyone will appreciate. The little tot will potentially be teething. So they will be in a lot of discomfort and pain.
Teething toys are a way to help them to relieve the pain while also helping them to have fun. The parents will also appreciate teething toys as they will help soothe their little ones (and hopefully stop them from crying).
Babies can begin teething anywhere from 4 months to 12 months old. Some babies are even born with some of their baby teeth. So make sure to buy toys that are intended for a one-year-old baby. Otherwise, the size and shape of the toy might not suit their mouths.
While it's unlikely that many companies will be producing teething toys made from toxic materials, it's worth doing some research. Make sure to look for teething toys that are labeled as non-toxic.
Even if it is in small amounts that come off just from sucking and chewing, babies can still ingest some small particles of the teething toys.
3. A music CD
We might all be used to streaming music nowadays (or perhaps you prefer a vinyl record). But a CD is an easy way to introduce a child to music. These can be fun songs, or they can be songs that help them to count or learn the sounds of animals.
If you don't think there is a CD player in the house, then you can easily find one to gift alongside it. You can find plenty of CD players that are designed for children. They come in lots of fun colors and some can even be decorated.
This is a great way of introducing a baby to music. Especially if they don't have the capacity to make music with instruments themselves. Playing music on a CD also makes it easier for parents to entertain their children.
Rather than try to make playlists to stream that require access to an electronic device, parents can put a CD on and leave their little ones to it.
4. A fun baby book set
While 1 year old might be a little young for them to start reading, a book is still a fantastic gift. Reading to children is important from even a very young age. And having them interact with a book and just seeing words and images is fantastic.
You can even gift a textured book. These are books that have different patches of material on every page. This can help small children to become more attuned to their senses.
It can also help them to understand why different things feel a certain way. Or they can just enjoy touching the nice soft thing.
Baby books can either be cardboard or soft like a stuffed toy. These are both apropriate for a one-year-old. If you want, you can even gift a selection of books. This will allow you to provide them a range of books with diverse characters.
If a child is introduced to diversity from a young age, especially through books, then it will be much more normal for them as they get older.
5. A personalized pillow
If you are crafty, then you could even make a birthday gift. A personalized pillowcase is something that a child will love at every age. When they are small, they will enjoy having a pillow that is just theirs. This is especially true if you use very soft material that is soothing to lie on.
But, when they are older, they will appreciate the effort you went to create something for them. They will also be more appreciative of how much care went into considering what they would like best and how much you thought of them.
The pillow can be personalized with their name or their initials. Or even just with images or a pattern they enjoy. Making a pillowcase is one of the easiest crafts.
All you need to do is sew together two pieces of fabric and stuff it. So you can easily make something special and precious. And something that will be treasured for years to come.
6. A toy chest
If you're shopping for a little one who already seems to have masses of toys, then buying them one more to add to the heap might not be the best idea. But a toy chest is a much better option. A toy chest will make taking out a toy super exciting as it will be like finding buried treasure.
It will also help them to become more responsible as they get older. They will have somewhere that they need to put away all of their toys once they have finished playing.
Extra storage will also definitely be appreciated by any parent. Just make sure you don't fill it with any extra toys!
7. A cute photo frame
This is another present that will be best appreciated by a child when they get older. But it will be a lovely symbol of how much you care for them now. It will also be appreciated by the parents.
They will be able to fill it with a photo from their baby's first birthday which will be something they cherish forever. It might sound cheesy, but it will be a way for them to capture a truly special moment. Especially if they're spending most of the day rushing around trying to host a party.
You can choose between a single photo frame or a frame that allows you to include multiple photos. This will be a great way to commemorate the day.
8. A soft baby photo album
If a photo frame just isn't enough, then a photo album will be the next best thing. We all have countless photos on our phones. But having them safely tucked into a photo album to carefully look through is much nicer than swiping through.
A nice idea would be to gift a photo album that is partly full. You can add in some of your favorite photos. But then the parents can add their own photos over the years.
A similar option to a photo album is a baby book or a scrapbook. Baby books include pages for photos. But they also track the date of the first tooth, first steps, first word, and other milestones. These are usually started when the baby is born. But they often finish when their baby reaches a year old.
But anyone can tell you that babies do not stop reaching milestones when they turn one. So a baby book to track other milestones will also be appreciated.
A scrapbook is a similar option. But allows for greater creativity. A scrapbook won't restrict the parents from writing about certain milestones. So they can come up with their own. Or just fill it with photos and other mementos instead.
9. A keepsake box
Lots of parents make baby boxes for their newborns. But some just don't have the time or energy. Gifting a personalized keepsake box will allow them to keep cherished objects and memories safe.
Keeping them in a special box means that there is much less risk of precious photos and items going missing or being accidentally thrown away.
Getting the box personalized will also make the child feel special when they are older. Finding that you have a special box of things dedicated to how loved you are will do amazing things for them. They can also learn about their early years which they certainly won't be able to remember.
You can even get the baby to help decorate the box. This will be a lovely way of connecting their younger self with their older self. We're not saying they will be able to decorate it with any kind of skill. But it will be a fun craft project that a one-year-old can enjoy.
10. A puzzle
This is another gift that can be both educational and fun. Very simple puzzles are great for a small child's cognitive development. Baby puzzles are usually incredibly simple. They won't have very many pieces. And all pieces will be very large.
We're definitely not suggesting you gift a one-year-old baby a 1,000-piece jigsaw puzzle. Most puzzles are intended for older children or adults.
Puzzles are also great for teaching small children other things. For example, a lot of puzzles have images of animals. Matching the shapes to the gaps can also allow the baby to learn to recognize different animals.
Even if the puzzle just has a few colored shapes, this will be great for their development. They will also really enjoy it. Especially if the puzzle has lots of colors.
Try to find a puzzle that is primarily made from wood. This is much easier than it used to be. Wood isn't the best for the environment. But it is definitely better than plastic. Wood is also less likely to be toxic for the baby. Wooden toys are also just generally nicer to play with and have around the house.
11. A Musical Instrument
Now, it's important to be careful with the kind of instrument you choose. Introducing children to music at a young age is incredibly important. But, there aren't a lot of parents clamoring for more noisy toys.
So, it's best to choose an instrument that the baby's parents can play with as well. This means that they can choose when they want to play music. And will stop their little one constantly hitting the same note on a xylophone for hours on end.
Xylophones are one of the most common instruments designed for babies. This is mostly because of how simple they are. But it's important to find an instrument that doesn't have any small pieces.
And you definitely shouldn't gift anything that needs to go in a baby's mouth. This can be dangerous. But also pointless as it will be a little while longer before a baby will understand how to blow into an instrument.
12. Activity equipment
Exercise and staying active are so important for a baby. This gift can just be a ball they can kick about or use to play catch. Or, a small moving car or tricycle. Human beings are meant to be active. So encouraging physical activity from a young age is essential.
This gift can even spark an interest in a sport that they will carry on throughout their lives. Gifting a toy ball can also help them to become a lifelong supporter of sports. We're not saying that gifting a toy ball will make them a star athlete. But interest in sport is so important.
As well as a football, a football jersey will also look super cute. So you can buy the whole set. Especially if their parents support a specific team. (Or if you support a team that the parents really should be supporting).
13. A swing set
This might seem like an extravagant gift, but it is definitely one that will be appreciated. We're not suggesting you invest in a huge swing set for the backyard. But there are plenty of tiny baby-sized playsets available.
These can include slides, swings, tunnels, and other playthings. Depending on the size, you can even find one to fit in a small bedroom. For a one-year-old, a slide more than a foot high is exciting.
If this is a little too much, you can always buy other playground equipment. This can be a collapsible tunnel. Or even an inflatable ball pit. These are all fantastic ways for a one-year-old to have fun. (Just don't forget the plastic balls!)
These will also be great for the parents. These are great for indoor play when the actual playground is too wet. They can easily make a day of these indoor playgrounds when they otherwise can't go outside.
14. A bike or tricycle
This might sound a little advanced for a one-year-old. But there are plenty of toy bikes and tricycles that are suitable for toddlers. These are usually small wooden tricycles intended to stay indoors. Think of a rocking horse but with wheels.
These are great for helping children develop spatial awareness. They can be great exercise and get them interested in physical activity. Plus, they're really fun and cute!
If you don't want to risk a proper bike or tricycle, then you can buy a stroller with pedals. These are great as they will allow the parents to really be in control of the wheels. But their little one can be convinced it's really them. (Which is a much safer option).
These 2-in-1 strollers also mean the parents won't be stuck carrying the bike once the baby inevitably becomes bored or tired. But, just make sure to double-check whether they need a new stroller. If space is an issue, they might not be thrilled with the addition of a second stroller.
15. Baby walker or bouncer
If you're shopping for a one-year-old who isn't quite advanced enough for pedals, a baby walker or bouncer is a great alternative. These are great for keeping a little one active and entertained. Without their parents having to be constantly supporting them.
A lot of baby walkers and bouncers are intended for babies under one. So make sure to double-check the age range when shopping. You don't want to buy something only to find that the baby can't fit into it.
Some baby walkers can even double as other toys. These are shaped very differently from the kind of walker that you might be imagining. Walkers for very small babies require the baby to sit in a chair and then push themselves around.
With walkers for older babies, they simply need to stand up and hold onto a handle or bar. Just as you would with a stroller. This is much better for a one-year-old as they will likely have developed more and not need as much support.
These strollers can be shaped like houses and double as dolls' houses. Or they can have puzzles on the front. Some walkers are shaped like a shopping cart and have different puzzles across each side. These are perfect for an active baby.
Top Tips For Gift-Giving to One-Year-Olds
So, there you have it! 15 of the best gifts you can buy for a baby's 1st birthday. But, if you're still struggling with what to buy, here are a few tips for getting it right.
If in doubt, ask the parents. If you're unsure of whether a toy is suitable for a one-year-old, or just if it will be appreciated and not take up space, it's fine to ask the parents. Even if you want to surprise them. It will be better to get an okay to go ahead with a gift than have them open it and seem disappointed.
It's okay to just ask! If you still have no idea what to buy this particular one-year-old, it is okay to ask the parents. If you ask them what they need or want, then whatever you buy them will be much more appreciated.
If you buy something practical that they need, you can still gift the baby something sentimental. For example, the parents might ask for teething toys. And they will be grateful if you gift them to the baby. But they will also definitely appreciate something sentimental like a keepsake box.
If you don't know them well, go basic. A lot of people will be reading this list because they have no idea what you're supposed to buy a one-year-old baby. But, if you're reading this because you don't know the parents that well and aren't sure what they would appreciate, that's a whole other issue.
But, it's not one that you should worry about. First of all, the parents will likely be so overwhelmed and busied by the party, they might not get around to opening presents while you're there. So, if you're feeling anxious about other guests judging you, it's okay!
If you have no idea what to buy any one-year-old and aren't sure what this family will appreciate, then go small and simple. Clothes will always be appreciated.
Especially if they are of good quality and a little more expensive than the average. Few parents will want to spend a lot of money on clothes their baby will grow out of in a month. So this is an opportunity to get the baby something super nice.