Turning 50 is no joke! (or is it?) This is why you HAVE to have these Over the Hil Party Games at the birthday party celebration. This is a birthday year that is of extreme importance!
You can bust out these over the hill party games if you really want to poke fun at your fifty-year-old friend's birthday party!
When we think of seniors we think typically of hobbies and games. You can use some of these in your party plans as a good joke or a gentle way of poking fun.
But make certain to know your guest of honor. It won't be as funny to them if they already love the hobby. And you don't want to hurt their feelings or be offensive.
You may be worried that these will be too boring for a party – but we have taken care of that!
Use our "senior party games"turned interesting at your 50th birthday celebration.
Quilt Making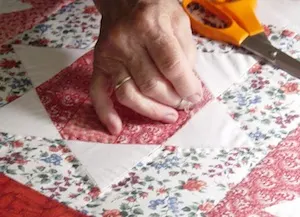 Many older ladies take up quilt making – you especially see this in nursing homes.
Set up: Have a large table set up with chairs surrounding it. In the center have a bin full of all the quilt-making supplies.
For quilt making you need things like:
Fabric (many different designs and colors).
Shears and scissors.
Sewing needle and thread. (Sewing machines can make it easier)
Above or around the table you should make a banner that says "Quilt-making Station".
If you are not sure how to make quilts, there are many guides on the Internet with the search for "quilt making".
To make sure this game has a real old lady feel, have all the chairs decorated with wool blankets and cardigans, and have some high magnification glasses at each station.
ADD SOME FUN TO THESE OVER THE HILL PARTY GAMES
Make this into a group gift for the birthday person. You can have everyone work together to make the quilt. Grab some fabric markers and get each person to write something personal in a square on the quilt.
Or to make it even more interesting, have each guest bring a pre-made quilt square to the party and have the guests join them together at the quilt-making station.
This game works best if you really know all the guests and how they might feel about an activity like this. It will be great practice for them (wink wink).
BINGO!
Bingo is a classic seniors game that can be a fun over the hill party game for your 50th birthday.
Bingo is very common for all ages. If you go into any bingo hall though, there seems to be a larger seniors population.
If you don't have the time to make up a bingo set, you can order a fully equipped bingo game set
Set-Up: Put one large table with the bingo numbers (and the bingo caller). Surround it with chairs for the game players. Tables are not needed at each if you create hard backed cards, but if needed at a TV table in front of each chair.
On the main table, have a banner with a catchy bingo hall name. Also, have a microphone or megaphone, so everyone can hear the numbers you are calling out. If you are going to show the numbers, make them super-sized for those with poor eye sight.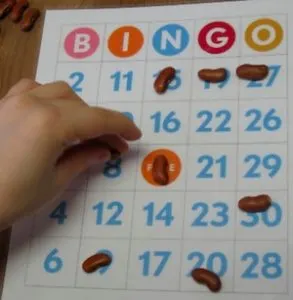 On each chair, have the bingo card and dabber, as well as a bottle of prune juice, a pair of glasses on a chain, and make sure the cards are super-sized as well.
ADD SOME FUN!
Make the bingo about the birthday person.
Instead of bingo, use their name, and instead of numbers use different aged pictures.
For Example: "B" can be baby pictures, "I" the childhood years, "N" teenage drama years, "G" the young adult years, and "O" current pictures.
Bridge/Crib/Euchre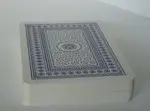 Yet another set of over the hill party games that are a great speed for the aging adults.
Set-Up: Have numerous tables set up for different games to go on at once, kind of like a tournament style. (Pick one of the three above card games)
ADD SOME FUN!
Have a speed tournament! Set up a timer and at "time's up" the person at each table with the most points moves on. Continue this process until you are down to a final table.
The winner can get a prize – something like a little trophy that says "Best at Bridge" or "Euchre Champion".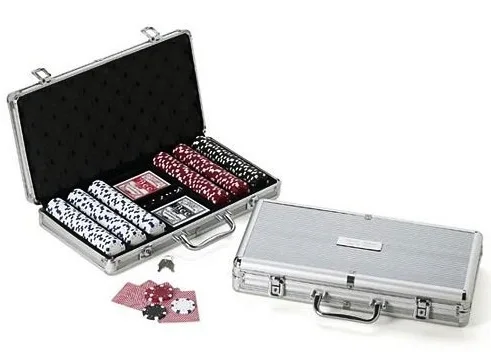 If these games seem a bit tame for your group, just tease them a little as you play the first few hands, and then break out the poker supplies and really get it going.
A professional poker kit makes it a really cool game and adds to the atmosphere of a poker competition.
Especially good for a men's game, but some ladies might surprise everyone!
---
These over the hill party games may be games that many seniors play but it's not because they are old, its because the games are timeless and FUN!
With a little extra thought and preparation, you can make these games even more fun!