Check out this classic Red Velvet adult birthday cake recipe. It not only tastes good, but the color has a huge impact on the appearance of your cake. If you want a wow factor, red velvet is the way to go!
I have sweet memories from when I was first married, years ago, of my Aunt Claire teaching me all about baking.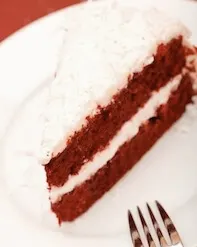 A red velvet cake was her favorite dessert for a Sunday dinner with the family.
We spent hours in her country kitchen mixing and then baking cakes, or I would just watch her at whatever she happened to be doing.
It might have been canning tomatoes or making pickles.
She also taught me a few things about sewing, but that's for another topic.
I still have the big yellow mixing bowl she gave me since I didn't have one big enough for making her Red Velvet recipe.
Here is the one that has been my favorite ever since, and I know several people who would choose this cake for their 50th birthday celebration!
The Best Adult Birthday Cake Choice
Classic Red Velvet Cake
3/4 c shortening
1 1/2 c sugar
2 eggs
2 tbsp cocoa
1 ounce red food coloring
1 tbsp water
2 1/4 c cake flour
1/8 tsp salt
1 tsp vanilla
1 c buttermilk
1 tsp baking soda
1 tbsp vinegar
Cream shortening until light, then beat in sugar.
Add eggs 1 at a time, beating after each addition.
Make a paste from the cocoa, food coloring, and water, then stir into the mix.
Mix the dry ingredients together and add to the creamed mixture, alternating with the buttermilk.
Sprinkle in the soda, then the vinegar.
Stir gently until mixed, but don't beat.
Pour into 3 layer pans, 9 inch.
Bake at 325 for 25 minutes.
Cool on wire racks, then frost as desired. Cream cheese frosting is perfect with it.
Enjoy these simple and elegant red velvet 50th birthday cake recipes. They will make a great impact with that vibrant red color!
---
Variations for Something New
Here's an idea that I'm planning to try for the next birthday cake I make: Red velvet cake with vanilla and mocha ice cream layers, with a whipped cream frosting and dark chocolate shavings.
Doesn't that sound fantastic? I can't wait to try it.
Other Adult Birthday Cake Recipe Choices
My favorite elegant birthday cake recipe is the Williamsburg Orange Cake with Williamsburg Orange Butter Frosting.
Cheesecakes with elegant fondant decorations are also great choices that every adult will appreciate.
We are busy adding more recipes to the site, so check back here for new ones every week or so.
Since we're focused on the very adult age of 50, all of our cake recipes are good adult cake choices.
Want more cake ideas? Check out these pages:
---