A Williamsburg Orange Cake is one of the most elegant birthday cakes I've ever made, and it was delicious, too. If you like making cakes from scratch, this is a great choice.
It's also a unique birthday cake that your guests may not have experienced before. The Cointreau for orange flavoring makes this a perfect adult birthday cake choice for a 50th birthday party, too.
You can achieve an elegant cake design with this recipe by making three layers and covering it with swirls of the Williamsburg Orange Butter Frosting, and then decorating it with curls of orange peel on top.
Of course, it can be made in other cake shapes, but it might not have the same stately appearance.
Other elegant birthday cakes include the Red Velvet cake, almost any cheesecake, and fondant-decorated cakes.
Check back for more of these coming soon.
Williamsburg Orange Cake Recipe
This is the Williamsburg Orange Cake with
Orange Buttercream frosting. It is decorated
with orange rind curls on top and shaved
orange rind around the base.
Williamsburg Orange Butter Frosting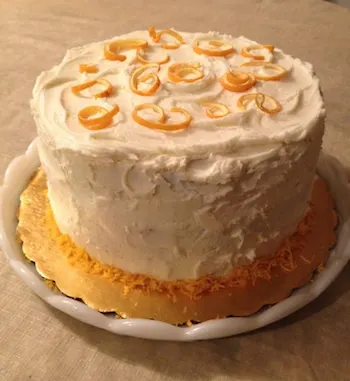 1/2 c soft butter
4 1/2 c confectioner's sugar
4 or 5 tbsp Cointreau or orange juice
1 tbsp grated orange peel
Blend together sugar and butter. Add orange flavoring and peel, and beat again till smooth. This recipe will cover 3 layers.
Williamsburg Orange Cake Recipe
2 3/4 c cake flour
1 1/2 c sugar
3/4 tsp salt
1 1/2 tsp soda
1 1/2 c buttermilk
3 eggs
1/4 c shortening
1/2 c softened butter
1/4 c shortening
1 1/2 tsp vanilla
1 tbsp grated orange peel
1 c golden raisins, chopped
1/2 c finely chopped nuts
Oven: 350 degrees
Pans: 3 layer pans, 8 inch; 2 layer pans 9 inch; or 13 x 9 inch
Add all ingredients to a large bowl. Blend 1/2 minute on low, then 3 minutes on high.
Pour into pans and bake layers 30-35 minutes, oblong 45-50 minutes.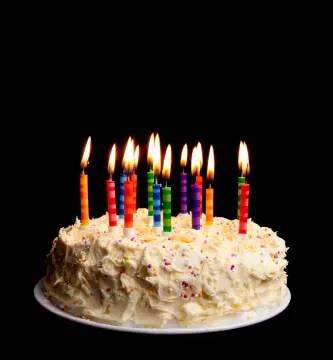 Elegant Birthday Cakes are Beautiful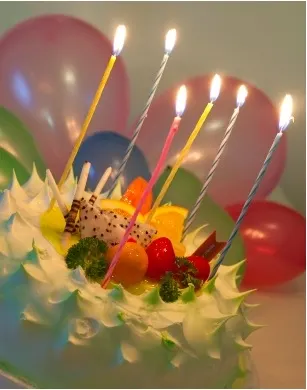 I don't have the recipe or instructions for this one, but I had to share it on this page because it is the picture of elegance!
I would do this one with an angel cake bundt pan and either whipped cream or meringue frosting.
The brightly colored fruit and tall candles really set it off nicely.
---
If you need other ideas for elegant cakes, look at the pictures on our birthday cake design page, too.
If you are looking for something specific and we can help, drop us a note at Ask the Expert.
Want more great cake ideas? Take a look at these pages:
---