Finding gifts for your dad can be notoriously difficult. Not only will he claim that he has everything he could ever want, but he's unlikely to share his hobbies and interests with you in much detail. What's more, finding a gift that shows how much you appreciate everything he's done for you over the years probably feels impossible. However, before you revert to a classic pair of novelty socks this year, give our list of 14 unique 50th birthday gift ideas for dad from daughter a closer look.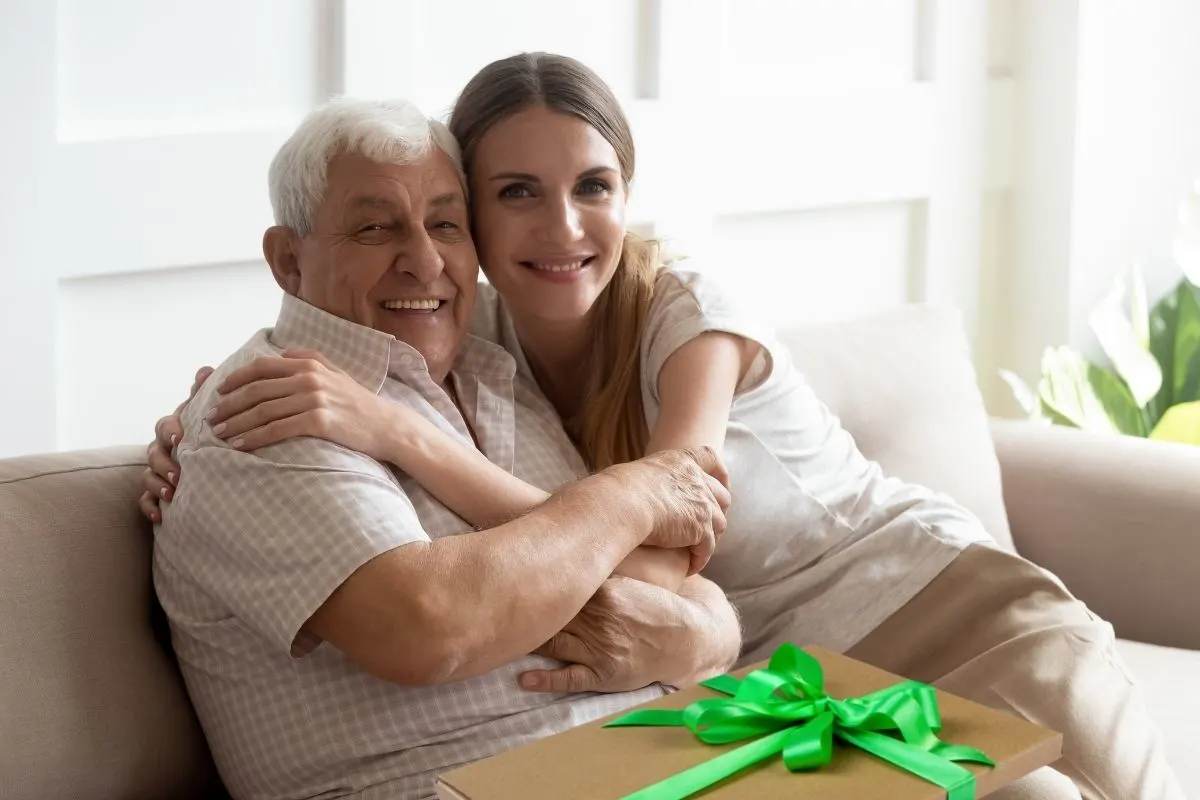 In this detailed list, you'll find a range of interesting ideas that speak to the beauty of a father-daughter relationship. Whether you're looking for something to put together in advance or need a few last-minute Amazon picks for super-fast delivery, we've got you covered.
So, are you ready to find the best 50th birthday gift ideas for dads from daughters?
Let's go!
Need help with his 50th birthday party? Here's some help!
How to Choose the Right Gift
We completely understand that shopping for your dad feels like a minefield every year. However, as you're his daughter, try to take the pressure off yourself slightly. After all, you've got a lifetime of love as a buffer for any lousy gifts.
However, if you want to nail things this time around, keep his hobbies, interests, and sense of humor in mind. With dads, it's not usually the price of the gift that counts. It's whether the gift is useful and thoughtful that makes it a success!
Material gifts
1. Stylish sunglasses
If your dad is looking for new sunglasses, why not grab him a stylish pair for his 50th birthday? Equal parts useful, protective, and fashion-forward, there's no way this gift will fall flat. Whether he's always doing yard work or is clocking up miles on the road as a trucker, he'll need to shield his eyes from the sun's rays at some point!
Should you be unsure of what style would suit him best, don't be afraid to head to your local department store for some assistance. The retail workers will probably ask you a few questions about your dad's style, hobbies, and day-to-day life before recommending a pair.
If you're unable to do this, prioritize function over form. Ray-Ban sunglasses usually balance style with excellent polarized lenses, but sporty dads may appreciate wraparound, contoured glasses that are designed for active days out.
Whichever style you choose, it's always wise to keep hold of the gift receipt. Although he's bound to love your carefully-selected pair, he'll probably appreciate the option to pick out his perfect shades!
2. A home assistant
Is your dad on the hunt for a smart device that will make chores around the house slightly easier? If so, you should consider purchasing him a home assistant.
If you're on a budget, stick with the tried-and-true Amazon Alexa. Affordable and able to perform basic tasks like alarm-setting, music-playing, and weather-checking, this little device is bound to add value to his life.
If you can stretch your cash slightly further, a Google Nest or Amazon Echo may be a better choice. Giving your dad the ability to order a pizza, play white noise, and even turn off his bedroom lights, he'll wonder how he ever got by without this gift!
3. A new tie
Your dad's closet may be overflowing with formalwear for the office, but nothing spices up a tired outfit like a new tie.
This is one of the best 50th birthday gift ideas for a dad from a daughter, as it doesn't require you to deeply understand his hobbies or personal tastes. Of course, it's great if you know his favorite colors and materials. However, you can purchase pretty much any style and it will still look dapper– phew!
If you'd like to turn this material gift into something more amusing, consider getting your dad a novelty tie. Whether you're always poking fun at his fondness for Christmas, his love of Shakespearean plays, or his LEGO obsession, he's bound to appreciate the personal touch!
Thoughtful gifts
4. What I Love About Dad book
Sometimes, it truly is the thought that counts. So, if you're looking for a unique and thoughtful gift for your dad this year, you can't do better than this What I Love About Dad book. Packed with fill-in-the-blank spaces for you to detail your favorite things about him, he's bound to shed a tear when he opens this gem of a gift.
We thought we'd mention that this special gift requires a bit of time on your part (you'll need to fill out all 112 pages, after all!). However, if you persevere it may prove to be the best gift that he's ever received.
5. Customized portrait
If you're close to your dad, it's worth investing in a wonderful Daddy-Daughter portrait that he can hang in his home. He probably has a favorite photo of you two from years gone by, and turning this into a watercolor or oil painting is possibly the most thoughtful gift of all time.
Depending on your budget, you can commission a local artist to recreate the image or head to Etsy for a slightly more affordable version. However you choose to immortalize your special photograph, he's sure to treasure it for the rest of his days.
6. Movie scratch-off poster
Dads wanting to spend more quality time with their daughters will appreciate this incredible movie scratch-off poster. Containing a selection of 100 blockbusters that have broken box-office records, you can tick off each one until you've covered them all.
With everything from The Godfather to The Lion King making the shortlist, you'll be able to relive classic childhood favorites while discovering flicks that are new to you both!
In case the concept wasn't enough to sway you, this is also one of the cheapest 50th birthday gift ideas for dads from daughters. This makes it an ideal choice for struggling college students or younger girls who can't stretch their budget to more extravagant gifts.
Funny gifts
7. Dad bod shirt
If your dad is constantly cracking jokes about his beer belly, make him laugh with this hilarious Dad Bod Shirt. Proudly declaring that "It's Not a Dad Bod, it's a Father Figure", this gift is bound to elicit a few chuckles from every member of the family.
Cheap, cheerful, and unique, this is a creative gift idea that's perfect for men who aren't afraid to laugh at themselves. Just tread lightly with dads that are self-conscious about their dad bods, as the last thing you want to do is dampen the mood on his milestone birthday!
8. Dad jokes
Does your dad think he's always the funniest man in the room? If you answered "YES" to that question, then he's bound to love a dedicated box of dad jokes.
The beauty of dad jokes lies in the fact that they're always bad. Although they may land well with a small percentage of the population, they're more likely to cause people to cringe than burst out laughing.
To spice up his 50th birthday bash, grab him this book of Terribly Good Dad Jokes. Covering established classics like "what is the best time to go to the dentist" to niche puns that you may not have heard before, he'll have enough ammunition to keep you on your toes for years.
9. Money tree
If your dad is always saying "I'm not made of money" or that "money doesn't grow on trees", you can make him chuckle with his very own money tree!
Native to South America, the Guiana Chestnut tree is said to symbolize good luck and prosperity. So, if he's been feeling down on his investments in recent years, you may just turn the tide.
Surprisingly, these trees aren't expensive and can be purchased in small, medium, and large sizes to suit any home. When paired with a gorgeous plant pot and the right love and care, this gift will continue to bring him joy (and hopefully, money!).
Practical gifts
10. Engraved wallet
Busy men rarely replace their possessions when they wear out. If you've noticed your dad's wallet looking ragged and worn, take it upon yourself to switch it out with a brand-new engraved version!
Although you can certainly grab a 100% leather option from one of the world's top designers, a low-budget option is bound to please him just as much. If possible, sneak a peek at his current leather goods collection. If his belts and shoes are all one tone, try and purchase a wallet that matches his existing color scheme.
11. Waterproof messenger bag
There's nothing worse than ruining an incredible leather messenger bag by getting caught in a storm. If your dad has ruined one too many work bags over the years, consider upgrading his current one by making it waterproof.
Not only will these hardy bags keep his belongings bone-dry during a downpour, but they'll look stylish while doing so! When searching for the perfect option, stick to reliable brands like Patagonia and Filson. Typically made to look attractive while staying durable and functional, they're more likely to stand the test of time than cheaper alternatives.
12. Personalized golf ball marker
Avid golfers are always looking for more golfing accessories, so why not add some personal flair to your dad's game with a personalized golf ball marker? If you're not sure what these things are, they're essentially tiny objects that are used to mark the position of a golf ball on the green.
Now that you've got some context, it's time to shop. If you're short on time, you can stick with more generic (but amusing!) options like "World's Best Golfer" or "#1 Dad". However, if you have time to spare, it's worth getting a marker that says something like "May the Course Be With You" or "Best Daddy By Par" with your family's names underneath.
Adorably kitsch and totally unique, he'll be showing off his marker at the club for years to come!
Experience gifts
13. Segway tour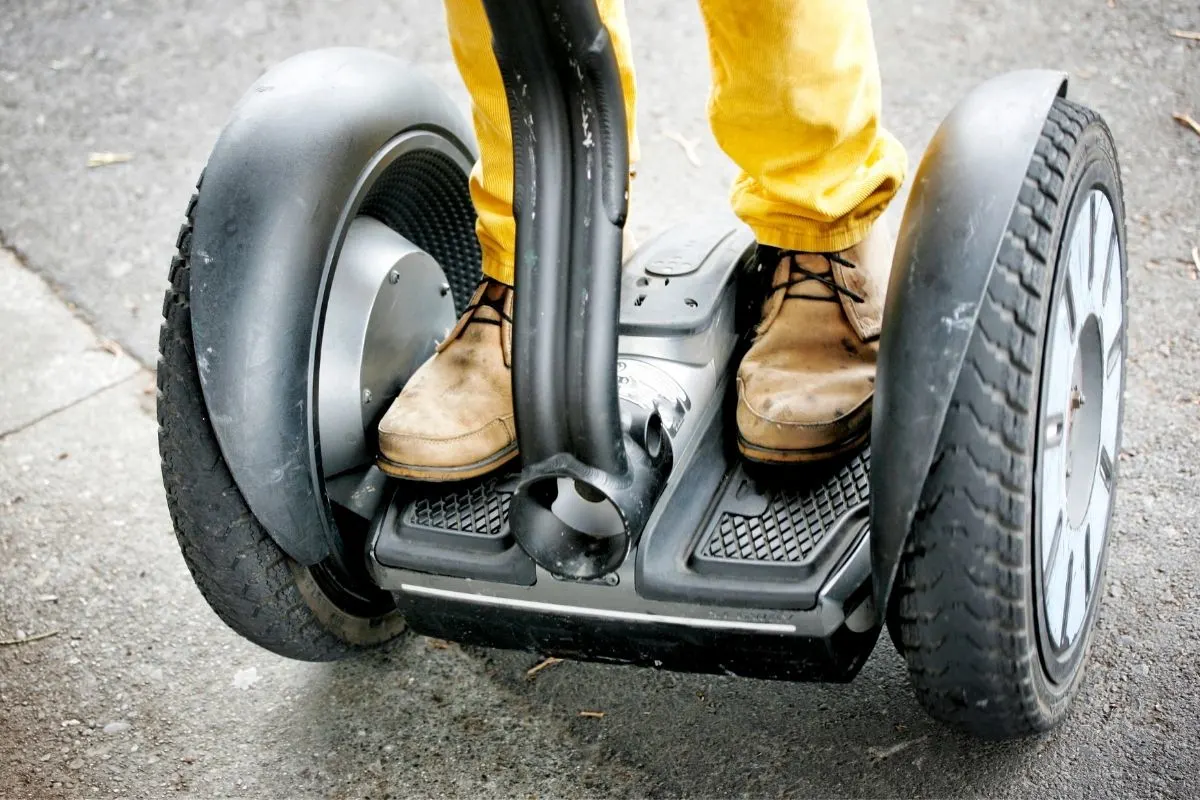 Riding on a Segway is great fun at any age, but there's something so dad-like about heading on a dedicated Segway tour. If he's been looking for exciting ways to explore his local area, investigate whether there's a local business that runs Segway sightseeing tours.
This is more common in beachside towns, but you'd be surprised at how many big cities run educational and entertaining tours. Whether you're based in Washington DC or midtown Atlanta, there's bound to be a Segway tour just waiting to host your dad!
Just one tip – make sure you get the guide to take plenty of photos if you're not tagging along. As many tours require riders to wear helmets, they can make for amusing framed photos and Christmas cards!
Talk about the gift that keeps on giving.
14. A trip to an amusement park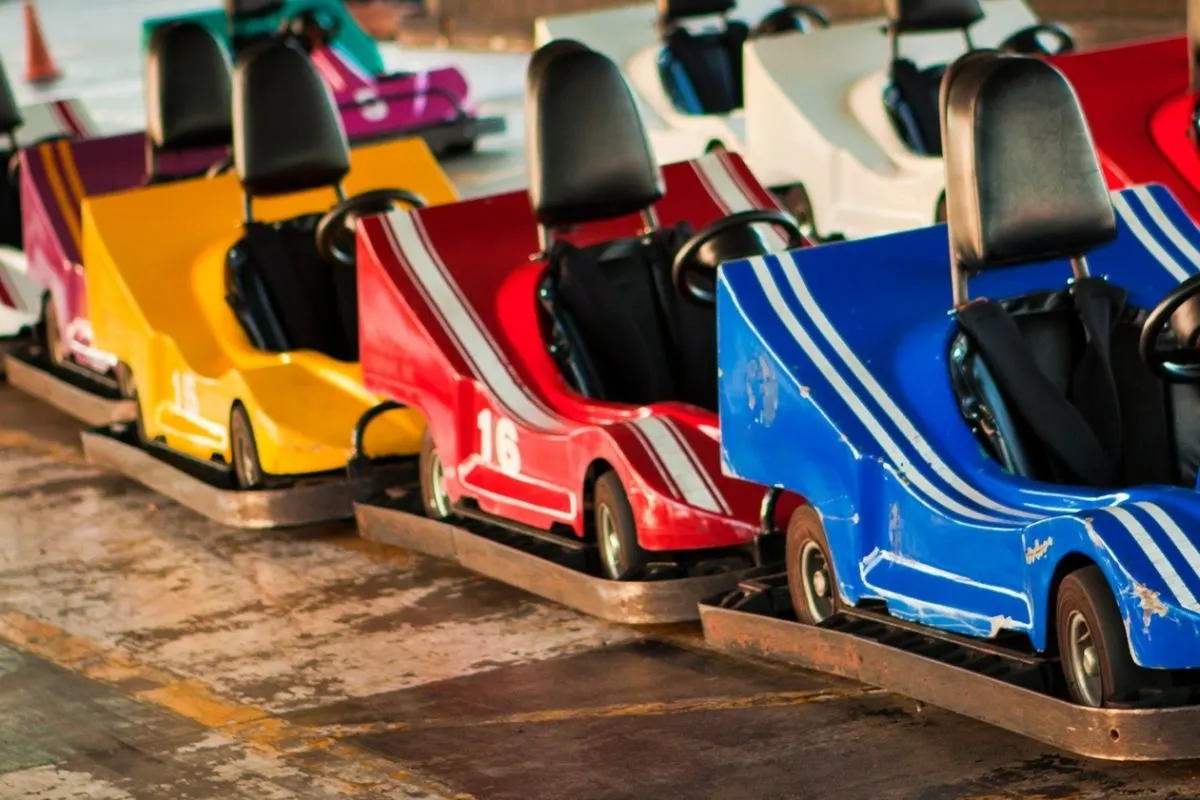 If your dad is a kid at heart, he's bound to revel in the opportunity to visit an amusement park with you. Whether you were Disney fanatics back in the day or prefer the stomach-churning rollercoasters of Six Flags, reliving your best memories together is bound to bring him joy.
It's ideal if you live near the country's biggest theme parks, but you can also make a vacation out of things by staying in a hotel for a few days. Depending on your budget, you can pose the idea and split the cost of a trip or use your cash to plan an exciting getaway. If you can afford it, encourage the whole family to tag along!
50th Birthday Gift Ideas for Dad from Daughter – Conclusion
We hope this list of the best 50th birthday gift ideas for a dad from a daughter has been useful. Finding gifts that your dad doesn't already own is tricky, so we hope our unique picks have stoked the fires of inspiration!
Have you recently purchased an incredible gift for your dad?
If so, let us know so that we can give our readers even more excellent ideas!