You've known each other for most of your lives, so why is it so difficult to shop for your siblings?! Gone are the days when you could get each other low-effort gifts like candy and coloring books. Now that you've grown up, you're expected to have the best 50th birthday gift ideas for a brother or sister.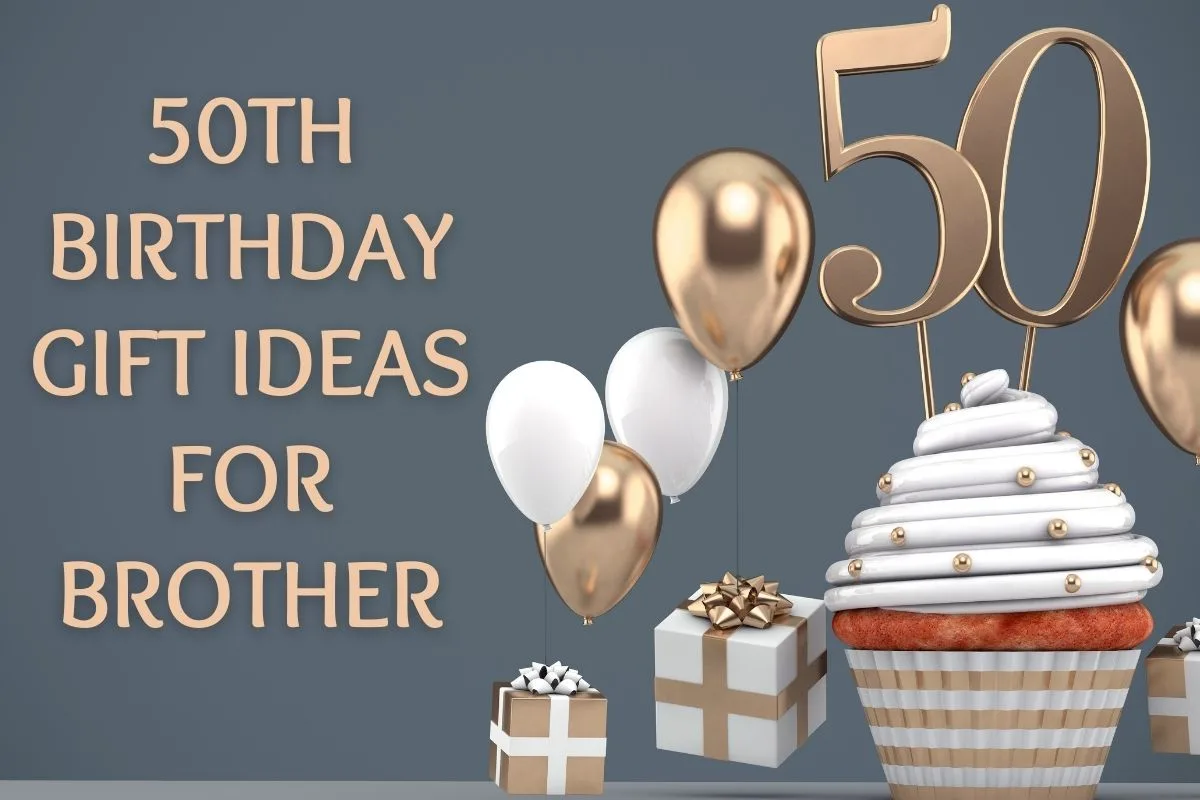 Never fear if you're scratching your head at what to buy for that special milestone birthday. We've created a fantastic list of gifts for middle-aged men that will turn any frown about reaching the big 5-0 upside down. I promise!
Covering everything from practical presents to mind-blowing experience gifts, there's sure to be something on this carefully curated list to pique his interest.
Now, without further ado, let's dive into our list of excellent birthday gifts for brothers far and wide!
If you need a 50th birthday card, check out these easily customizable ones:
How to Choose the Right Gift For Your Brother
Choosing the right gift for your brother can be tricky.
You'll want to get him something he likes, but you can't revert to "classic gifts for guys" as his partner probably got there first!
To choose the best gift for your middle-aged sibling, you should stick to thoughtful gifts to make their lives easier. Whether that's something to aid them with a DIY project or simply keep their coffee warm, gifts that serve a purpose are always appreciated.
On the other hand, if you have a close relationship, you may wish to go down the thoughtful route with memory books or an experience they've always dreamed of. Whatever option you choose, it's the thought that counts.
The Top 50th Birthday Gift Ideas for Brother
Practical gifts
1. An insulated camping mug
If he's a happy camper, then he's sure to appreciate an insulated mug for long journeys into the wilderness. Not only will this gift prove useful when his older kids are clamoring about being dragged on yet another family adventure, but it should keep his concentration firmly on the road ahead.
Depending on the size you choose, it will hold anything from small hot drinks to entire cans of soup. Trust me when I say that this is one of the 50th gift ideas for a brother that will be a godsend on long nature trails! Just as a heads up – although these products are designed to hold hot beverages, they will also keep drinks ice-cold for hours. So, if his trusty water bottle starts leaking mid-trip, he'll have an excellent backup to hand.
If that wasn't enough to convince you to take the plunge, this gift is a great addition to any man's daily commute. Most mugs are designed to fit neatly into car cupholders and are often leakproof too, making them ideal for jolting train journeys.
It's wise to stick with brands like YETI, Montbell, and Hydro Flask, as each of these Thermos giants produces leak-resistant, high-quality products with generous warranties (should anything go wrong).
Phew!
2. A personalized chopping board
Middle-aged men are the kings of practicality, so why not add some luxury to his life with a personalized chopping board? Wooden chopping boards are inherently useful, but when you add some engraved initials to the mix, things suddenly get much more bougie.
The exact design you choose depends on your brother's taste. If he likes bold kitchenware, then large initials in a dark hue will go over well. If he prefers subtlety, go for a small engraving at the corner of the board. If you head to a store like Etsy or Amazon, you can typically customize your gift even further with patterns and dates. For men with a sense of humor, don't be afraid to keep things jovial with a funny quote encouraging them to mind their fingers when chopping!
To make this gift more meaningful, add some artisan cheeses or a high-quality knife set to the mix. Not only is your brother bound to appreciate the thought, but it gives you an excuse to catch up on his milestone birthday over a delicious cheeseboard.
Talk about a win-win!
3. A Swiss army knife
For men who struggle to find the tools they need day-to-day, a Swiss army knife is an excellent gift idea. Including everything from a pocketknife to a useful screwdriver, he'll never be caught off guard when it comes to DIY again! Whether he needs tiny scissors to cut loose threads from his business suit or a nail file for an overgrown toenail, there's so much more to these fascinating gadgets than meets the eye.
I recommend investing in a high-quality option if you can stretch your budget a little. Although many knives look similar, cheaper alternatives tend to have poor features or break easily – no bueno! Victorinox offers some of the best knives on the market, and you'll be able to scour through their catalog to find appropriate options for your brother.
If in doubt, it's worth talking this gift through with him before making a purchase as his needs may be quite specific. For example, an avid fisherman is likely to need something slightly different from a corporate lawyer! To maintain the element of surprise, just keep the gift receipt so that he can choose his perfect match.
4. Charging station
In the 21st-century, most people have more gadgets than they can count. To keep his tech ticking along smoothly, why not invest in a functional charging station for his work desk? There's nothing worse than being stuck without any juice in your phone at the end of a long day, so keep his frustrations to a minimum with a multi-device option.
Most docking stations on the market can charge up to 5 devices at a time and are typically limited to small devices like phones, headphones, and smartwatches. However, you can find impressive stations that will charge tablets and laptops too. Just be aware that larger stations will naturally take up more room on his desk – so, minimalists – beware!
Thoughtful gifts
5. A milestone book
If you're on the hunt for a thoughtful 50th birthday gift idea for your brother this year, a memory book is a solid option. You'll need to know him well to create this gift, but it can be extremely impactful when done right. Fill the book with printed photos, personalized clippings from his birth year, news reports from major events throughout his life, and facts about their star sign (if he's interested in astrology, that is!).
This gift requires a significant time investment, but it's one of the most impressive 50th birthday gift ideas around when done right. Depending on whether you're the older or younger sibling, you will have spent much of your life with your brother. So, I expect this trip down memory lane to produce a couple of tears from even the most indifferent middle-aged eyes!
6. Coffee warmer pad
Is there anything worse than a lukewarm cup of coffee? I didn't think so. If he's constantly on the go at work, he may struggle to keep his coffee piping hot. It may sound trivial but gifting your brother a hot cup of coffee has the potential to change his days at work. To do this, purchase a coffee warmer pad that's specifically designed to keep drinks at the perfect drinking temperature.
Depending on your budget, you can go for a simple heating pad or dial things up with an app-controlled smart device that lets you know just how hot your coffee is (to the degree!). In theory, every design on the market will keep your coffee hot for as long as you leave it on the coaster. However, I can't promise how fresh it'll taste after a couple of hours!
If you choose this gift, make sure he knows to use a flat-bottomed mug. The instructions will probably remind him to do so, but the last thing you'll want is for him to think you've gifted a total dud!
Amusing gifts
7. Personalized apron
If he's the king of the kitchen, a personalized apron is a great way to make him laugh. The options here are endless; if you go purchase an apron online, you'll be able to use everything from embarrassing pictures to amusing quotes to make a statement. You should keep things PG if you're delivering the gift during a family get-together, but a hint of playfulness is usually welcome.
Should you feel the need to get your brother more, you can pair this gift with a recipe book, meal subscription kit, or a set of pots and pans. If he's passionate about cooking, any of these add-ons are sure to be appreciated!
8. A book of dad jokes
Does he consider himself God's gift to comedy? Do his kids agree? If the answer to the first question was "YES" and the second was a resounding "NO", then A Book of Dad Jokes is bound to go down well in his household. There are several versions of this gift available, but most feature several jokes that will have his family cringing. I mean, come on – that's the point!
This gift is incredibly cheap, making it an excellent choice for siblings on a budget. To make this gift more personal, feel free to write a small note on the inside cover so he takes the hint that his family is done with his jokes.
Whatever your reason behind the gift, he's sure to whip out a few gems at his birthday dinner. Just smile, nod, and pray for it all to be over. It'll be worth it in the long run, I assure you!
Experience gifts
9. Radical racecar ride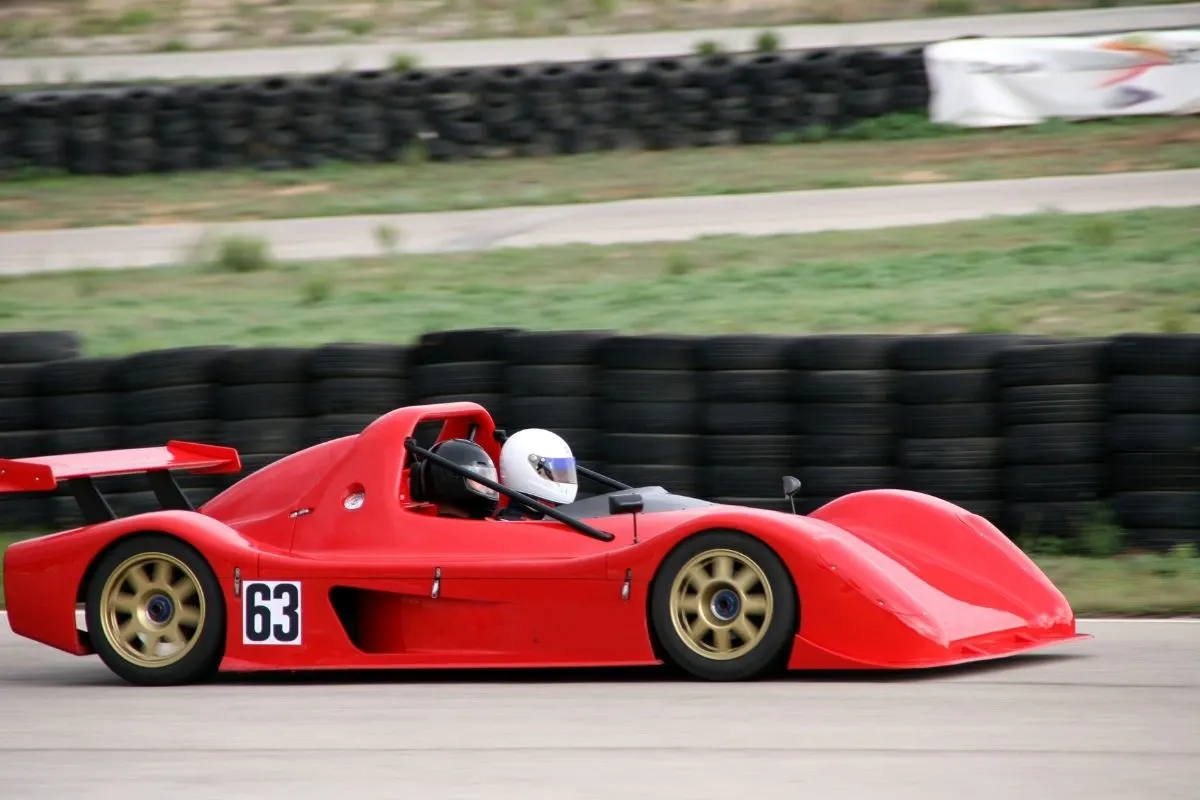 When men reach middle-age, they want to do things that they couldn't afford to do when they were younger. If you want to make all his teenage fantasies come true, present him with a gift card to a professional race track experience.
There are several experiences available, but the most popular is the NASCAR Racing Experience. It'll cost a pretty penny (I'm talking upwards of $500 for 5 minutes of track time!), but the experience will let him drive a NASCAR Race Car alone, learn more about pitstops, and teach him plenty about the history of racecar driving. If he's a racing fan, it's well worth the price.
10. Sunrise hot air balloon ride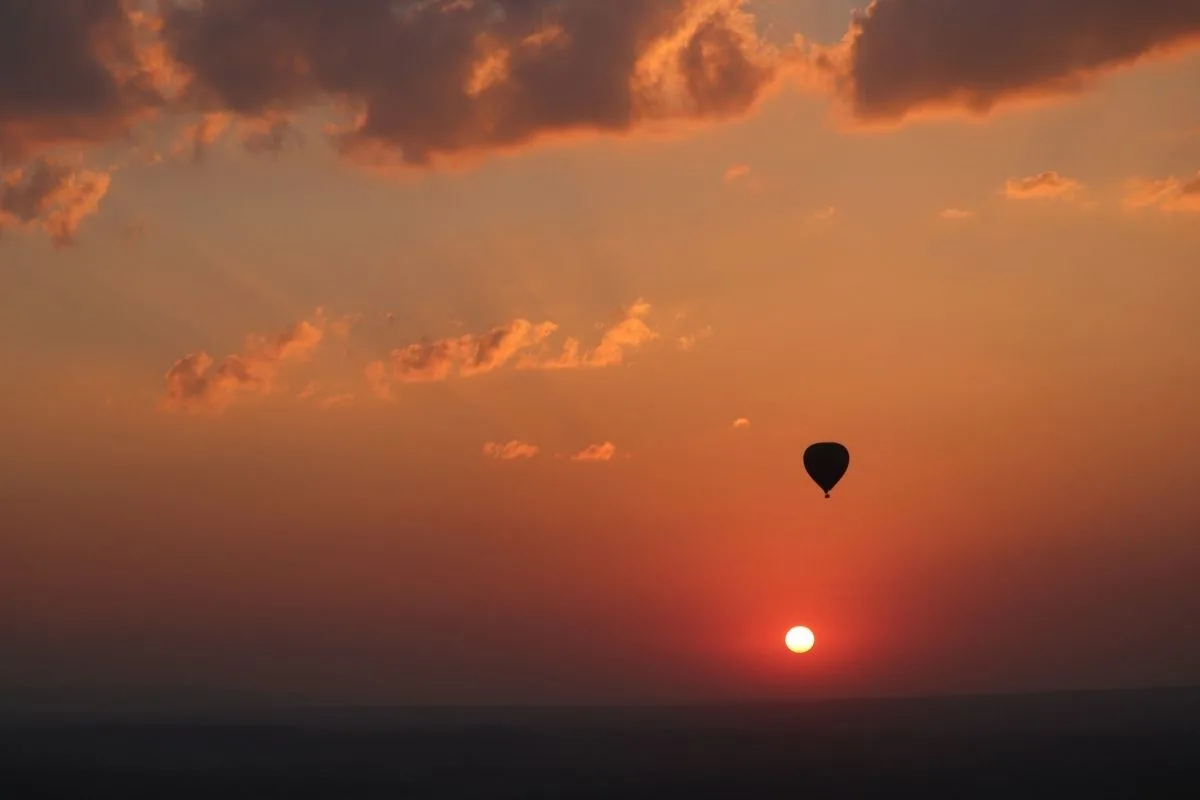 The final item on our list of the top 50th birthday gift ideas for brothers is a sunrise hot air balloon ride. This is a once-in-a-lifetime experience that can be used in several different ways. You can either go on an unforgettable sibling trip and chat while you soar over your surroundings, or you can offer the experience to him and a significant other. For obvious reasons, one is bound to be far more romantic than the other.
Despite being an incredible experience, you'd be surprised at how reasonable hot air balloon rides can be. To keep costs down, go for a shorter ride and go for food and drink on the ground. For the ultimate birthday gift, shop around for options that include dinner and a couple of hours in the air.
Perfect.
50th Birthday Gift Ideas For Brother – Conclusion
This list of 50th birthday gifts for brothers has presents that are not only thoughtful but also practical. They will help him feel appreciated and loved. So, go ahead and pick out something special for his big day.