This theme comes from our collection of 50th birthday themes. This "Everything You" theme is all about them.
This is a great theme to use as an "ode" to the guest of honor. You can use these 50th birthday party themes to show everything great about the birthday boy/girl.
Not only will they feel extra-special with everything being about them, it will also show how much you care … and show how much you really know about them!
The "Everything You" 50th Birthday Themes
… are also a lot of fun. It's a way to exhibit them and their experiences and accomplishments.
It provides a way for great laughs when you share their life stories — the funny times, the good times, the embarrassing times.
With this type of theme, there are no specific colors to use. Gold is traditional, but black and white is also common.
Another idea is to use a color scheme that is a favorite to the birthday boy/girl. For example, some people like pink or teal. So a good scheme for them would be pink and match it with white or black or teal with black and white.
50th Birthday Decorations
Balloons: Follow your desired color scheme and fill the room with balloons. You can also get personalized balloons to make the them more specific to the person. On personalized balloons, you can have pictures printed on them. Print your favorite pictures of the birthday person or pictures from their life.
You can also have words printed on them – use things like their nickname, their name, their birthday, sayings they use, etc.
Streamers & Banners: For the streamers and balloons in these Everything You 50th birthday themes you can use your specified color scheme for the streamers. For the banners, you can put the usual "Happy 50th Birthday!".
You can also make one big banner and have all the birthday guests sign it and write in their favorite time with the guest of honor. This is the stuff memories are made of, folks!
Dinnerware & Utensils: For the utensils, you can use the color theme you have chosen (which is their favorite colors). For the plates, you can imprint them with their picture. That way, as everyone eats, they get to see the guest of honor. You can pick one picture of them, or fill the plates with many different pictures of great times with the guest of honor.
The 50th Birthday Cake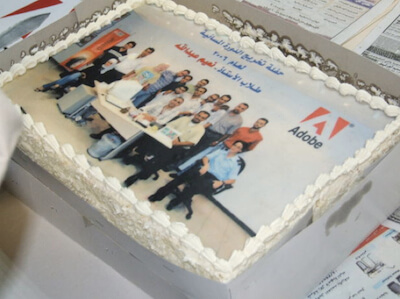 For your "everything you" cake, you can do many things. There is now the option to have pictures printed onto cakes. Pictures that are edible. You can select one favorite picture of the birthday person and have it printed.
You could also create your own collage with a graphic program and have them print that collage onto the cake.
Another option is to have a cartoon drawn of the guest of honor out of icing.
Or you could get a cake made to match their favorite pastime or hobby.
For example, men might like a fishing cake, a hunting theme cake, a race car themed cake, etc.
50th Birthday Themes for Centerpieces

Centerpieces: To create nice centerpieces, you can do something simple like balloons with the theme colors.
Or you can buy photo frames – or there are things like cubes that hold pictures. Fill those frames with pictures of the birthday person.
You can buy or borrow digital frames or tablets and load them with numerous pictures of the person and place them on the table so the entire table can see the different pictures.
A photo tree can make a really interesting centerpiece. Have friends and family contribute copies of photos featuring the birthday person and fill the tree with these pictures. Everyone will love this unique look at the person of the day!
You could even create a slideshow of the photos and put them on a big screen, or a laptop screen beside the birthday cake.
50th Birthday Favors and Keepsakes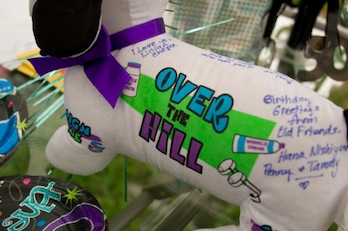 For a keepsake from the Everything You 50th birthday themes, you can give away the centerpieces. Another idea is to get key chains in which you can place pictures.
Try to find pictures that each person can relate to. For example, events they attended with the guest of honor, or if possible, pictures of the birthday girl/boy with that specific guest.
A keepsake for the birthday person could be as simple as a birthday card that everyone signed, maybe extra large. Or it could be something a little more interesting like a signature "mascot".
This theme is very versatile and gives a lot of insight into the birthday person.
It truly makes it their day – special and all about them! It builds memories that will be cherished for years to come.
You are here: