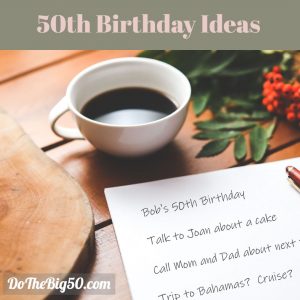 Looking for fun and unique 50th birthday ideas to give that special someone a one-of-a-kind day?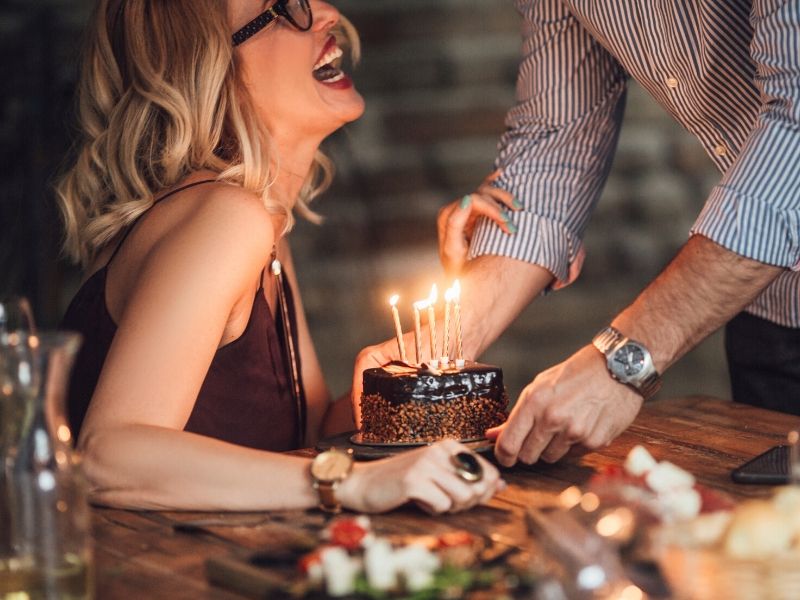 These ideas are not for gifts to give, parties to throw, or cards to make. If you're looking for those things, follow those thinks. This page is all 50th birthday ideas to top off the celebration. They're ideas for ways to make them feel extra special on their big day!  If you're looking for super creative birthday party theme ideas, check out this page.
Announcements
There are things you can do to promote the big day.  I've divided these ideas up into the usual genres of announcements you might be interested in – newspapers, front lawn, work, telegrams, and other attention-getters.
This is a very special birthday and it deserves extra special attention.
Everyone needs to know they are turning 50!
Advertise, announce, and promote it!
Newspaper Announcements
These 50th birthday ideas are a lot of fun and a lot of people get to see it – even if they don't know you! These types of announcements are not usually very expensive, and you can have them printed on the day of their birthday. If they read a certain newspaper, make sure you post it in there so they see it – or at least leave a paper at their door or deliver one, so they get to see. Here are some tips to use to make the announcement fun:
Get a picture from their awkward teenage years or from when they were a baby and use it in this announcement.
List different information like the date, time and year of birth (but maybe leave out their full name). Also, you can put the hospital or city of birth.
Add their nickname, or pet names they hate being called.
Of course, it's nice to add some birthday wishes or fun birthday sayings, too.
Add a short blurb with a funny memory you have with them.
These newspaper announcements are a lot of fun, and a great keepsake they can cut out and keep for ages as well. They're pretty inexpensive,  but make a great impact on the day.
Would you or your birthday person prefer not to have a party? If so, we have ideas for great celebrations, just for the two of you.
We also have more of these ideas for 50th birthday party fun for family, just for the girls, and just for guys.
Lawn Decorations
The lawn ornaments are a common way many birthdays are announced at any age. 50 is a pretty special milestone so why not let all the neighbors know!! This is one of the great 50th birthday ideas. These lawn ornaments can be set up and arranged though party companies or you can create your own. The nice benefit of using a party company is that they usually get everything set up at the crack of dawn, while you're still warm in bed – also, there's no evidence that you arranged for this lawn surprise. These companies will also come and dismantle everything at the end of the day – a lot less work for you, especially if they have a winter birthday (and you're from an area that gets snow).
Here are some 50th birthday ideas:
"It's your birthday so we thought we'd stick it to you. Happy 50th Birthday!"
Then use the figure of a hockey player hanging butt-first over a board, surrounded by 50 wood cutouts of pucks with smiling faces.
"Holy Cow Johnny's 50 now! Happy Birthday!"
Then place 50 cutouts of cows all over the lawn.
"Three cheers for 50 years and many more beers! Happy Birthday!"
50 cutouts of beer glasses all over the lawn.
"Honk, Johnny's 50!"
With 50 balloons all over the lawn.
There's always the usual culprits for this announcement, like Flamingos, balloons, or anything bright and noticeable. Of course, always have 50 of them on the lawn. This is a very fun way to tell the world about their birthday.
50th Birthday Ideas for the Workplace
Bringing their birthday to work is one of the great 50th birthday ideas to use. It is always fun to bring a birthday into work, especially in a high traffic, or high stress job.  It lightens up the day, not only for the birthday person, but for everyone. After all, who can complain about birthday cake?
If they have a cubicle or office, you can decorate it with balloons and streamers. You can also post a bristol board to have co-workers sign as they go by.
Or you can pass around a card to have everyone sign and of course, a cake to feed everyone in the office!
If there is an intercom system, you can announce their birthday over the intercom – this is fun in a retail setting.
You can arrange for everyone to start singing happy birthday at once throughout the entire office. If their time of birth was during business hours you can time it for that exact schedule.
If they have an office, you can fill it with balloons – and I mean fill it completely, all the way to the top.
Make them wear a helium balloon tied up around their waist for the day. Or something that labels them the "Birthday Boy/Girl," like a button, an ID badge/sticker or an imprinted tee shirt.
Another idea for the right environment, have the group wear a t-shirt advertising the birthday event, and make sure there's a good one for the birthday boy or girl, too.
Telegram
A telegram sounds like a very dated technology, since it was a major mode of communication in the old days. But they can be really fun and different for a 50th birthday. In part, they are bringing back the old days – a play on their age – but it's also just something fun to do!
You can arrange to have a singing telegram sent to their home or work. Singing telegrams can be more fun when performed in public, like while they are at work. If they have a daily routine, like go to the gym or store, you can arrange to meet them there and have this singing telegram delivered.
There's also the option of a delivery made by a costumed person. For example, you can have balloons and flowers delivered by a human-sized gorilla or clown.
At a Restaurant
These are classic events for a lot of birthdays – for all ages.
Arrange to go to their favorite restaurant and speak with the staff before hand. Most places will bring out all the staff and a little cupcake and sing to them in front of the whole restaurant.
You can supply the cake and ask them to bring it out singing. I know of a restaurant  that will not only bring out a cupcake and sing, they will also provide the guest of honor with tin foil donkey ears and make them stand on a chair and do the tea pot dance, or some other embarrassing dance.  Not everyone will like this, though.
These 50th birthday ideas can be a ton of fun, just be sure that the birthday person is comfortable with this amount of attention – some people may be more upset than pleased with some of these – so ensure they are a good sport for it!
These are just a few of the many 50th birthday ideas you can use to get everyone's attention and turn it towards that special birthday person.
50 is a big one. Make sure the world knows!