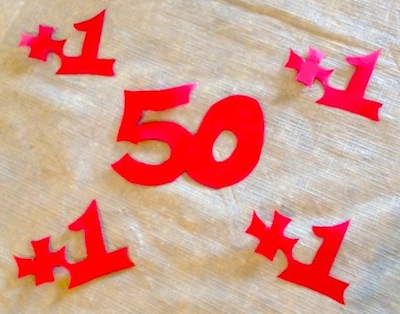 Example of a 50+1 decoration idea
I WOULD LIKE TO DO A 50 PLUS 1 BIRTHDAY PARTY FOR MY HUSBAND> ANY CUTE IDEAS USING THE 50 PLUS 1 THEME?
Hi,
Here are a few ideas that come to mind:
Idea 1 – 50 +1 Theme
The cake could have an elaborate 5-0 or the word Fifty drawn or airbrushed onto the frosting, and instead of 50 or 51 candles, use the letters PLUS 1 standing on top, or if you can find or make a plus symbol use a +1 (reminds me of Google's +1, in case that sparks any ideas.)
If you want to make an edible "+1" or "PLUS 1", you could use cookie dough. Shortbread doesn't rise, and you could color it, frost it, or decorate with sprinkles.
Another cake option would be to make the cake itself in the shape of "50" with the "+1" on top, or vice versa.
For decorations, you could make a string type banner with "5 0" in the center and "+1″s on each side of it, maybe using gold for one and black for the other, or some meaningful and dramatic color combination.
Even more decorative than the banner, if you have a large wall space to decorate, put a large 50 in the center and +1's all around it, similar to the picture above, but with better materials.
You could have a bunch of balloons with "+1" on them and one large center balloon with "50" on it.
For invitations and table decorations just repeat the same idea. Cut out shiny little "50"s and "+1″s and scatter them over the tables.
A small variation could be to mix "+1″s and "#1″s in the decorations, but that's just a thought.
Idea 2 – Starting the second half century
This idea doesn't work as easily as the first, but something along the lines of "start of the next 50 years."
With this one, you are celebrating the first birthday of the next 50 years, so you can adapt party supplies based on a first birthday.
You might be able to brainstorm this into something fun, but it would only work with the right personalities.
I hope these ideas will help you get your creative thinking started! Let us know what you decide. I'm sure it will be cute and fun!
Join in and write your own page! It's easy to do. How? Simply click here to return to Ask a 50th Birthday Party Expert.