Sounds expensive, but a gold fiftieth birthday party theme is filled with class! Now, keep in mind there are many tricks to making things look like gold – no need to sell your house to have a gold party theme!
Gold is the color of the 50th milestone, so its a perfect theme to use for the 50th birthday. A complimentary color to this gold fiftieth birthday party theme is something simple, like white. Gold is pretty flashy and you don't want to put it with other loud or flashy colors – so keep the secondary colors simple – white is perfect!
Balloons: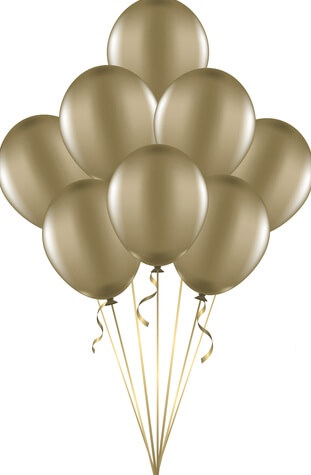 Fill the room with helium filled gold colored balloons, and if you like, compliment these with some white ones as well. You could also purchase a few of the foil helium balloons that have sayings on them indicating it's a 50th birthday – something as simple as "50" printed on them. These foil balloons can also be purchased with gold coloring on them. Tie these balloons up with gold ribbon as well.
Streamers & Banners:
For a gold fiftieth birthday party theme you can purchase gold colored streamers and intertwine them with whites and drape them in between the sections of balloons.
For example, if you are in a square room you can have balloons in every corner and streamers draping from corner to corner. Any banners that you want to have can be white with gold writing, or vice versa – gold with white writing.
Party Favors:
As a give away at the end of the party, you can give a framed picture (make the frame gold). Some other ideas are:
– Champagne flutes with gold ribbon or decorations on them
– Little gold boxes filled with chocolates
– little candles with gold 5-0 on them
The base of the gold fiftieth birthday party theme is just to use some basic colors in all aspects of the party – gold being the dominant color.
Dinnerware & Utensils:
You can purchase plates and napkins in gold and white. Always make sure to alternate the two colors, don't have too much of one color. For example, you can have gold plates with white utensils. Add in white napkins with a gold border on them. You could also get white plates with the 5-0 in gold writing.
Cakes:
You can use any style of cake. It can be a simple 1 tier cake, or elaborate with many tiers. There is an edible paint you can use – to paint it gold. You can make the entire cake gold, or use a white cake with gold icing and writing.
You could also use just a simple white cake with gold candles and trim with gold icing. The gold icing and colors make the cakes look very elegant, people may think its so pretty they don't want to eat it – just re-assure them with how good it tastes as well!
For more cake ideas, see our page 50th birthday cake ideas and Men's birthday cake ideas.
Centerpieces:
Use balloons as centerpieces. You can have 3 balloons, two gold and a white. Use gold and white ribbon on them. At a weigh, you can purchase foil wrapped weighs from any party store – get this foil in gold. This way the balloons can be weighted down to each table. This is an inexpensive way to have centerpieces at every table.
If you don't want balloons, you can just purchase the gold foiled weights with streamers and confetti style stuff sticking out of it – they usually have stars or 5-0 attached to wire and sticking up.
Instead of a centerpiece you can use confetti all over the table. Have confetti that has 5-0's in it and stars and balloons – again these are best in gold, maybe some white if you can get it.

Invitations:
You can get gold colored paper to print your own invitations, or you can use white paper with a gold writing on it. If you want to add stuff to it, you can always add gold ribbons, or in the envelope you can put gold confetti on them… if you have that kind of time!