50th Birthday Cake Designs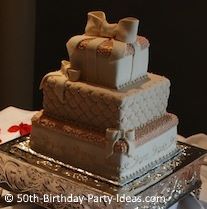 There are tons of different 50th birthday cake designs that will perfectly fit your birthday person and the celebration you have in mind. The cake is usually the centerpiece of a birthday party, at least the food portion of it. So make it worthy of all that attention!
Dozens of cake styles, decoration styles, and flavor combinations. How do you decide? We'll list them and show you pictures of several designs to help you narrow it down. You'll love our birthday cake pictures, and we also have practical tips to consider.
50th Birthday Cake Designs: Shapes and Styles
The style of cake you choose might be determined by how many servings you need.
In this list of cake styles you will find a rule of thumb for servings per cake to help you choose from the best cake designs for your party.
Traditional layer cake – serves 12-18 depending on 2 or 3 layers
Cheesecake – serves 16
Sheet cake – full sheet is 108 servings, also consider 1/4 or 1/2 sheet sizes
Swiss roll – serves 12-16
Stacked cake – varies
Cupcakes – 1 or 2 per person
Constructed cake designs arranged into shapes like numbers, animals, cars, etc. – varies
Bundt cake – serves 12-16
Cake Designs: Decoration Styles
You don't have to be an expert cake maker to create fabulous cakes. A little of this and a little of that works well with these designs. Meaning, a little of your own style and a little bit of help makes a wonderful cake. Take a look.
Whipped buttercream or sugar frostings with piped decorations
Glazes
Fruit, whole or sliced
Live flowers
Fondant covering, sculptures for smooth professional look
Cake Designs: Flavors
Sometimes cake flavors will dictate some of the other choices you will make in your cake designs. For example, you might not plan to use a pink cake with an orange flavor.
Chocolate cake with whipped cream, fudge, caramel, cream cheese, or orange frosting
Yellow cake with chocolate, white/vanilla, strawberry, cherry
White cake with any flavors
Orange spice with orange frosting
Carrot cake with cream cheese frosting
Cheesecake with fruit toppings, chocolate, caramel
Cake alternated with mousse filling
Lemon cake with white frosting
White cake with lemon frosting
Lime cake with coconut frosting
Pineapple cake with coconut frosting
Pumpkin cake with cream cheese frosting
Bundt cake with powdered sugar or cocoa, whipped cream for topping
We hope you enjoyed these birthday cake pictures, designs, and ideas. If we helped you, we would love to hear from you here with a comment.