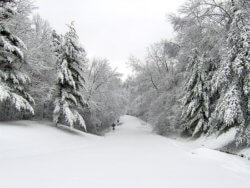 BRRR!! Cold or not, here's a winter birthday theme that would be great for your 50th birthday.
When it's December, and it's cold and you're turning 50, your important day needs to be celebrated no matter the weather!
Well, look no further! I have a detailed blueprint of a great winter birthday theme for your 50th birthday! Read on!
The overall idea of this theme revolves around winter.
This theme provides a way to celebrate, even in the snow and cold.
Winter is not just about bitter cold and frosty, wet snow.
Winter can be a ton of fun, too. It has a variety of activities and very nice scenery (as see to the left).
Location & Venue Ideas
Local Farm: Many cities have farms that host events, or groups. They will provide a warm area for meals, sleigh rides, ice skating, etc. For example, I have been to a maple farm in Quebec that offered all of the above as well as tapping maple from the trees and making maple syrup lollipops in (fresh) snow.
Hockey or Skating Arena: Most arenas have banquet halls upstairs. You can rent both. Rent the hall for a longer period, but get the rink itself for an hour or two for some fun skating, or a hockey game.
Ski Hill: These have a chalet for warmth and ski hills for skiing and snowboarding – and they have bunny hills for those that have never tried (with instructors).
Your Backyard or Garage: This gives you a lower cost option. You can have the party indoors, and some activities outdoors. My family has wood-burning stoves in their garages, so being outside is not as intimidating as it might sound.
Winter Cocktail Ideas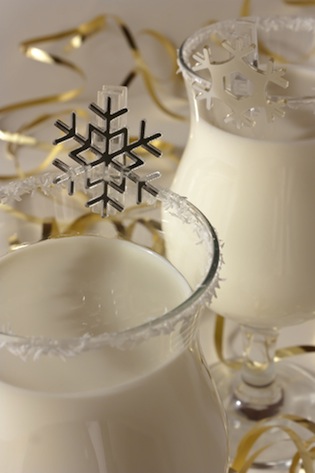 Bourbon Milk Punch
1 1/2 ounces bourbon whiskey
4 ounces milk
2 teaspoons simple syrup
2 dashes vanilla extract
Garnish: grated nutmeg
White Russian
1 jigger vodka
1 oz white creme de cacao or Kahlua
1 oz cream
Combine in a glass, stir, and add ice.
Reduced calorie White Russian
1 jigger (1.5 oz) vodka (80 proof), 100 calories
1 jigger half and half, 60 calories (instead of heavy cream, 150 calories)
1 jigger Da Vinci's Sugar-Free Kahlua-Flavored Syrup, 0 calories (instead of Kahlua 140)Combine in a glass, stir, and add ice.

Each serving has about 160 calories. To reduce further, use milk.
Here's a list of winter-themed activities to give you ideas for an activity focused birthday celebration event.
Snowmobiling
Snowman Building or Igloo Building
Snowball Fights
Snow Angels
Snow tubing
Snow Shoeing or Cross Country Skiing
Skiing or Snowboarding

Maple Syrup Tapping
Ice Fishing
Sliding or Tobogganing
Bonfire party
Pig Pickin Party
Touch Football
Ice Skating or Play a Hockey Game
Winter Birthday Theme Decorations
When it comes time to go indoors for your winter birthday theme, you need decorations too! Now, with it being a winter theme, you don't want it to seem too "Christmasy" in decorations – you still want that birthday feel.
Colors: Light blue, White, Silver
Decorations to Use: White and blue streamers intertwined together; Balloons with "50" on them (alternating colors – like blue balloon with white ribbon attached); Big snowflake cut outs hung from ceiling; birthday banners that are blue with silver writing; snowflake shaped balloons.
The Tables: (for more formal events) Light blue table cloth; silver utensils and plates; white napkins and glasses; add sparkles all over the table.
Cake: Three tier cake made into shape of snowman; snowflake shaped cake; white cake with light blue accents and edible sparkles all over. Sheet cake? White with snowflake sugar embellishments.
Party Favors: Maple Lollipops (if maple tapping is an activity); Mug labelled for the party (with all the fixings for hot chocolate inside); Framed picture of you and guest (get snowflake frames – that all for a picture in the center of the snowflake)
This winter birthday theme can be a ton of fun. Many people associate winter with bad thoughts, but this party theme can give many fun activities and celebrate not only being 50 but also celebrate winter.
If it gets too cold outside, you can still plan for a great indoor party. Make it festive with a colorful theme, lots of sparkling lights, candles, a fire to keep everyone toasty, and hearty refreshments.
If you need more theme ideas, check out these other 50th party theme ideas:
There's also the invitations. For a winter theme, the invitations need to somehow explain that there are outdoor activities, because you want your guests to dress appropriately.
The invitations can go along with the them, or any way you want. Just remember to add that warm clothes are needed. As I said, many people dislike winter. So here are some wordings to use for this:
"Our party will include a fun half hour sleigh ride and some snowman making."
"Bring your mittens, the snowball fight is on!!"
"I challenge you to a race down the ski hill!"
What to consider in your wording on your invitations is play on how FUN these activities can be and your guests will not think of how cold or wet snow can be!
Now help us all visualize some of the ideas: Feel free to use our contact form or Facebook page to share with us the pictures from your successful winter birthday theme!