50th birthday poems are a nice touch to add to a number of things. You can add these to cards, or speeches, or you can use them as a gift on their own. When you're trying to celebrate the fiftieth birthday of someone special in your life, this is a great way to add a personal touch. You can do a funny 50th birthday poem, a serious and heartfelt one, or anything in between. The best part of writing your own happy birthday poems is that you have full control to customize them however you see fit.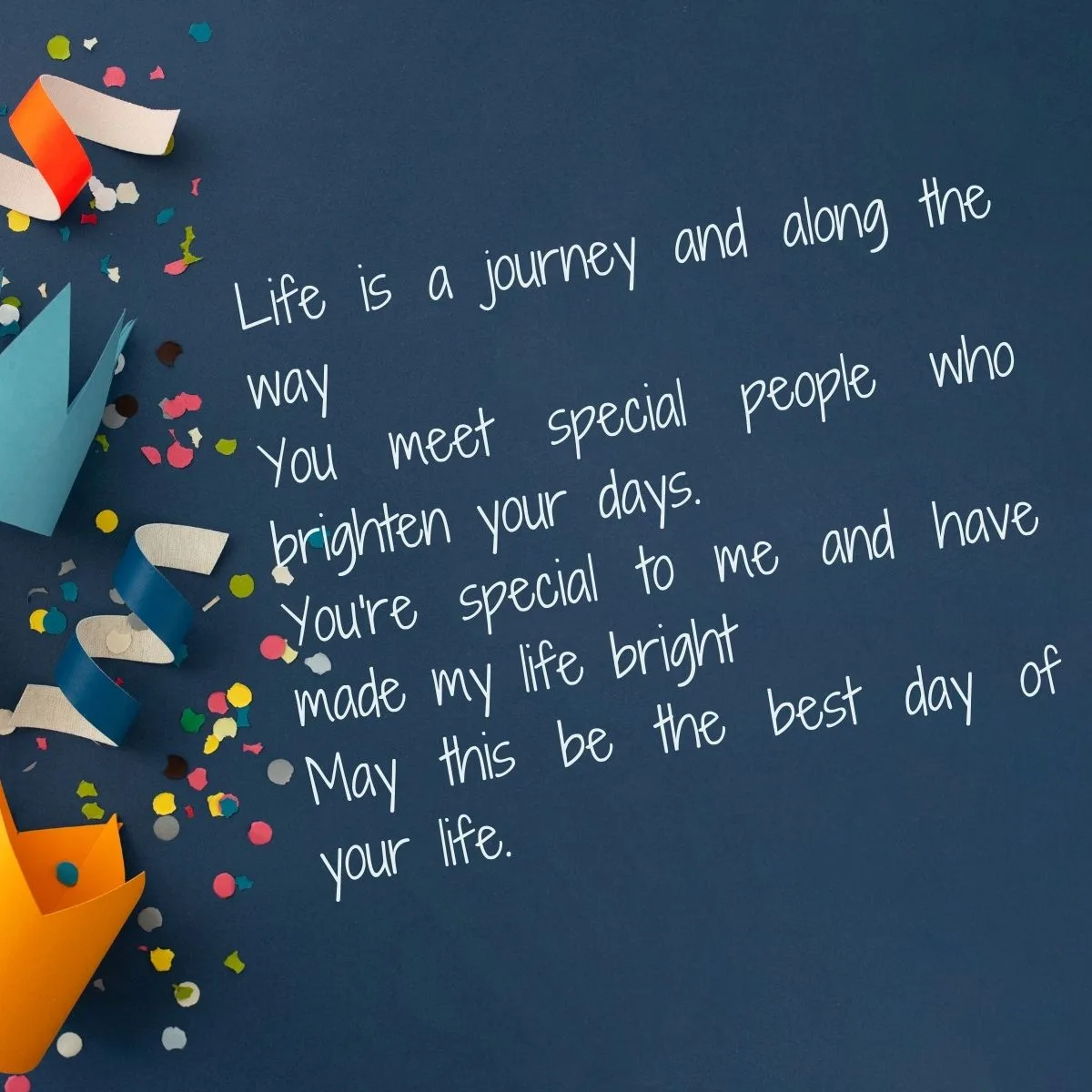 These birthday poems can be incorporated into your cards (check out these creative 50th birthday cards) – either by writing them in a blank store-bought card or by using them in your hand-crafted cards. Whether it's a message to your best friend or a loving poem to your mother, I think you'll find this is a great way to personalize the card or even use your poem as a gift itself.
As a gift, you can type up the poem on a nice decorative piece of paper and frame it. This is a touching, one-of-a-kind gift for that special someone and they are sure to cherish it forever. You can do thoughtful gifts like this for a family member.
If you have arranged to have speeches presented at the birthday party, you can even use a poem in your speech. Good luck!
Celebrating a loved one's 50th birthday? Here's some help for planning the best party ever!
How to Write 50th Birthday Poems
Trying to think of great 50th birthday poem suggestions? We've got you covered. Being stuck and not able to think of the right words is frustrating but this list of poems will help you get over that writer's block hump! A special celebration calls for something better than average. To show them what a wonderful person they are, it's a great idea to write them a poem.
If there were a way to write a 50th birthday poem without running into writers' block and falling victim to the evasiveness of a fickle muse, it would be so much easier to find the words, right? No worries! I'm here to help you.
Read our Happy Birthday Poems page for more tips and examples.
My 50th birthday poem suggestions are perfect for you if you are:
Blank in the idea department
Short on time
You don't trust your poetry skills
You need an idea spark to get started
Any of those reasons are just fine here. In fact, just about any reason at all will do. I created this page because I figured what else could you need or want to find a place that suggests a poem for you?
And… here you are! My page for 50th birthday poem suggestions!
I've categorized the poems below by recipient and other categories to make it easier. They can be transposed and modified (or not) and are free for offline use only. (Please don't re-post online without proper credit).
You will encounter a few places where you need to fill in the blank with a name. Please don't forget to fill in those blanks, or it will sound very funny when someone reads them!
Let's get started!
50th Birthday Poem to Spouse or Significant Other
This is a poem for ___(name)____, you see,
With whom I've spent my life.
I wish for you the best of the best
Especially now, as you turn 50.

Today our memories we will share
Our friends have gathered here.
They've brought with them good humor and wine
Just to show they care.

I share with them a special bond
A love we hold in common.
I know them well, what's in their hearts
I understand it as it's obvious.

I hereby send a special wish
From the deepest part of my heart.
For you a wondrous life to unfold
And that my wish be granted.

Happy 50th Birthday ______, and many, many more.
Enjoy your birthday with gusto.

(:Optional toast:)
50th birthday poems for husband
Short poems can be just as good as long poems. The best poems are the ones that express what you feel in your heart. And if you're looking for some good poems for your husband, check these out.
A Friend for Life
by Joydip Dutt
Out of all the blessings
Life has bestowed on me,
You are the loveliest of all –
This is not hard to see.
Even with the ups and downs,
The happiness and hardship,
Through challenges and success,
We maintained our friendship.
And with each passing day,
I understand and realize
Some things are meant to be
When I look in your eyes.
And this is my wish not just for your birthday.
May God bless you every step of the way.
Source: https://www.familyfriendpoems.com/poem/a-friend-for-life
Happy Birthday, Sweetheart
by Lyndee A Champion-Ivey
It's that one special day created with you,
When wishes rain in for the year coming new.
You'll gather this year which traveled too fast,
Weed out the regrets of time reaped by the past.
Harvest the days God planted with blessings,
Your health, your family, and valuable life lessons.
Although we're apart on Your day of the year,
With faith and God's love, our hearts bloom without fear.
This wish I have picked for my heart's only Love;
A garden of happiness and tending from Above.
Source: https://www.familyfriendpoems.com/poem/happy-birthday-sweetheart
You can also use these as inspiration for writing your own.
50th birthday poems for wife
Here are some samples that might get you inspired to write birthday poems for your wife:
A simple birthday wish for the coming year
Full of good times and lots of cheer
Thank you for being my wife, I love you dear
****
It's your 50th birthday today
And I'm looking for words to say
I'm so happy you're in my life
And so grateful that you're my wife
Happy birthday, love!
50th Birthday Poems for Women
When you want to wish happy birthday to the special woman in your life, a poem is a great way to do it. Here are some examples:
Because of You, I Am Me
by Susan M. Gilbert
Mom, on your birthday, I celebrate you
And all the wonderful things that you do.
But if truth be told, and that must always be,
I'm going to talk about Marvelous Me!
Because Marvelous Me did not just come about,
For you were my making; in that is no doubt.
Your STRENGTH gave me the power to reach new heights.
Your WORDS gave me the knowledge to learn wrong from right.
Your PATIENCE gave me the calm to face a new day.
Your ADVICE would show me there is always a way.
Your CAPABILITY showed me to strive for my best.
Your SELFLESSNESS was given with all of your zest.
You MOLDED and LED me with SUPPORT through it all,
Even LIFTED me up when I'd happen to fall.
So lo and behold, here I am today
Because of your love and guiding way.
Marvelous Me will continue to grow,
Only because of you, this I know.
So I celebrate you now, in this special way,
To wish you a very Happy Birthday.
For I wouldn't be me if it weren't for you from the start.
I love you, Mom, from the depths of my heart.
Source: https://www.familyfriendpoems.com/poem/because-of-you-i-am-me
I Love You, Mom
by Lyndsey Romjue
You brighten up my life
With tender love and care.
When I reach out,
You're always there.
You're someone I can count on
When I need a helping hand.
You're warm and loving;
You always understand.
I'm so thankful to have
A mom like you.
There is no other
Who could fill your shoes.
I always took for granted
That you were there for me
And all the things you did,
But now I see.
You're such a good example
Of what a mom should be.
We always get along so well,
Even when we disagree.
You're so patient
And understanding.
You don't ask for anything.
You're outstanding.
You're so quick to give
And such a joy to be around.
You're such a good person.
You deserve a special crown.
You have a good heart.
You're honest and true.
You're the best mother,
And I really love you.
Source: https://www.familyfriendpoems.com/poem/for-moms-birthday-poem
My Dearest Sister
by Aimee Tran
Sister, you are a guardian angel in disguise.
You are perceptive, intelligent, and wise,
Always helping me through good and bad.
You are also the greatest friend I've ever had.
If I could have one wish, it would be
To give you all that you have given to me.
Though I've put our relationship through some hazy days,
You've been the sunlight that has shone in so many ways.
Through my ups and downs, right by me you stood,
And you gave me your hand whenever you could.
Though I am sure my mistakes will not end here,
You're always there to keep me away from my fears.
I don't doubt some of your headaches are from me.
With all the times you lecture and tease,
I stand there upset and displeased.
Though I tell you I can't stand you,
You come back with, "That's not true."
We've had our fights,
Which lead to sleepless nights,
But in the end, I thank you so much.
My appreciation for you has no end.
You will always be my sister and my friend.
Happy Birthday, Sister!
Source: https://www.familyfriendpoems.com/poem/my-dearest-sister-2
Happy Birthday, Super Star Sister
by Beryl L Edmonds
From the day you were born I've watched you grow
Into the nicest person one could know.
Love changes everything, words are oh so true.
My world changed the moment I first held you.
A baby sister who captured my heart,
Nothing and no one could tear us apart.
That goes for all those who love you to bits,
Especially your children and grandkids.
So bouncy and lively, zesty and bright,
That's the way you go on sailing through life.
You light up a room, soon as you appear.
A gift to the world, so precious and dear.
May this special day and all days after
Be filled with abundant love and laughter.
Every moment a moment to treasure
For a sister who brings so much pleasure.
Never change from the woman that you are.
To us sisters, you are a "Super Star."
Source: https://www.familyfriendpoems.com/poem/happy-birthday-super-star-sister
50th Birthday Poems for Men
Birthday poems are a good choice for men in your life too. If you're feeling stuck on what to say, here are some poems for men that might motivate you.
Pillar of a Man
by Mike Brown
Work hard yet be humble,
share all that you have
Maybe the most important of many lessons,
that I have learned from my dad.
Protect and honor your family,
no matter what the cost
A battle for your family
is a battle that can't be lost.
Take a stand for things that matter,
and always keep your head held up high.
Embrace those things close to your heart,
and yes, sometimes men do cry.
These lessons in life can not be taught,
they must be observed.
Happy birthday, dad you have taught me a lot,
and I love you for what I have learned.
Source: https://www.familyfriendpoems.com/poem/pillar-of-a-man
Dad, I Love You
by Felicia Ruth Miller
I Love You Dad (Your 85th birthday gift from me.)
I thank God every day because you are my Dad
When I need you the most,
even with the miles that separate us,
you are always in my Heart.
You have given me so many gifts.
Courage, Strength, Hope, Kindness, and Peace of Mind.
When I did not know what to do next,
you believed in me.
I had your love from the beginning.
From the moment I was born.
You have always been there for me,
even when you thought you couldn't be.
I can't imagine my life without you Dad.
I know I don't call all the time, and I'm sorry.
I get caught up in life's struggles.
Still remember, you have given me so much joy.
You helped me to see the bigger pictures.
I think every day that if I never see you again
you will know as I do
how much you mean to me.
I am glad God picked you to be my Dad and I Love You.
I remember all the fun we had.
I smile every time I think about the time we have spent together.
You gave me life and you let me live it.
You gave me the push to do things I did not believe I could do.
In my heart, I will always be your little girl.
Even as a grown-up I can feel the love you have given
to a child, teenager, young mother,
even more as an independent woman.
Thank you, Dad,
I am always with you no matter how far or close.
DADDY, I LOVE YOU. HAPPY BIRTHDAY
Source: https://www.familyfriendpoems.com/poem/dad-i-love-you-happy-th-birthday
50th birthday poems for son
And don't leave your son out on his birthday because there are great poems for sons as well. Here are some examples:
Birthday Blessings, Son
by Debra L. Brown
I'd like to thank the Lord above,
for this little life He's given to me.
Without His gift of love,
your birth would never be.
I'd like to thank the Lord above
for what His gift has meant.
Just watching you grow up
has made my heart content.
I'd like to thank the Lord above
for instilling in you a kind heart.
You have grown into a loving man.
You're witty, thoughtful, and smart.
And on your blessed birthday, son,
a prayer I send to you.
May the Lord instill in your heart
Charity, faith, and truth.
Source: https://www.familyfriendpoems.com/poem/birthday-blessings-son
Happy Birthday, Son
by Anitha Devi Pillai
From the moment I looked into your eyes,
I knew that I was never going to be the same again.
You held my gaze, not once looking away
as you reached out to grip my finger.
I knew then that I would never let you go.
I have fallen in and out of love many times,
but I could never fall out of love with you.
You, my dear, were part of me before
I knew you by your name.
Source: https://www.familyfriendpoems.com/poem/happy-birthday-son
50th birthday poems for daughter
The joy a daughter can bring to your life is something truly special that every parent knows well. When it's your child's birthday, it's about more than just their special day. It's also about the day you became their parent and that adds another special element to it. And if you want to say something extra special to your daughter on her big day, here are some examples:
Birthday Wish
by Ciana R. Geckle
A cake with a lit candle,
Presents with ribbons and bows,
A bike with pink, glittery handles,
A little girl who grows and grows.
What will you wish for, my love,
On this, your very special day?
Send your wish to God above.
It will come true if you pray.
As you blow out the candle, my dear,
I'll make a wish for you too.
I'll whisper it so you won't hear,
That way I know it will come true.
My wish for you is like sunshine,
Warm, cheery, and full of delight,
My wish is the starlight, soothing and fine,
Which lights up the dark, dreary night.
May God follow you always,
May the path always be clear,
And may you have a happy birthday
This day and all through the years.
Source: https://www.familyfriendpoems.com/poem/birthday-wish
Happy Birthday, Daughter
by Alora M. Knight
Many are the joys in life.
I'm blessed with quite a few.
Still, most of all I'm grateful
To have a daughter just like you.
I remember well when you were born,
The joy that filled my heart.
When I first held you in my arms,
I loved you from the start.
It was always such a pleasure
To see your precious life unfold.
Learning new things every day
Brought happiness untold.
The child in you, I still can see.
A glimmer here and there.
The smile when you anticipate,
A tugging at your hair.
Though no one knows the future,
What each one has in store,
I know whatever happens
I couldn't love you more.
So on this special day of yours,
Know the love that's there for you.
Not just today, but every day,
Will last a lifetime through.
Source: https://www.familyfriendpoems.com/poem/happy-birthday-daughter-3
A Poem to a Parent
Mom/Dad, you've always been there for us.
We'll never forget the sacrifices you've made,
How you've worked so hard to raise us all.
We thought we'd put together our thoughts,
Before you have a ball.
Today you'll eat like a king/queen.
You'll laugh and drink fine wine.
Go visit with all your friends today
Who aren't allowed to whine.
Because today's your special day–
A milestone of life.
Even though you're 50 now
You're barely approaching your prime.
We hope you know how much we care
And we wish you many more.
There's no one who does the things you do
And no Mom/Dad who loves us more.
Love, Your Kids (names go here).
Happy Birthday, Mom/Dad
Poem to Friend
Here's a sincere message
On this, a most special day.
I hope you have a plan to spend
Some time in a special way.
Whether you plan on going out
Or to spend the night at home,
Take some time to reflect on 50 years.
It's truly a milestone.
Think of how far you've come
And your future life ahead.
I wish you every happiness,
I'm so glad you are my friend.
Wishing you a very Happy Birthday, _____
If you're looking for more ideas for a fiftieth birthday poem, here are some more you can use.
Happy 50th Birthday Poems
When you want some ideas for 50th birthday celebrations, here are some to get you inspired.
My Friend On Your Birthday
by Anisha Joseph
Dear friend, let me say
something on this special day
Though we are far apart,
You'll be always in my heart.
I cherish those moments,
our silly fights and funny talks
and how we grew together,
stayed united in grief and laughter.
May your face always light up with glee.
I wish you never ever feel empty.
I pray, may God be always by your side.
I want you to always lift up your head in pride.
My friend, on your birthday,
all I want to say
is that you mean the world to me
and you are more than just a friend to me.
Source: https://www.familyfriendpoems.com/poem/my-friend-on-your-birthday
Happy Birthday
by Vashni Kelly
The world was blessed with your beauty on this very special day.
Thank you for being so truly great with the amazing personality you portray.
Your grace cannot be matched as it's unique in every way.
Your heart cannot be snatched as you give love freely anyway.
What I wish for you is for all your dreams to come shining through.
What I pray for you is for your success, which is overdue.
Happy birthday to you from someone who truly appreciates you.
Happy birthday to you for all the good work that you always do.
Source: https://www.familyfriendpoems.com/poem/happy-birthday-19
From love poems to funny memories and other good things, there is a poem that can fit your need for the birthday girl or the birthday boy in question.
Rude 50th birthday poems
Would you really write a rude birthday poem? Well, we're not talking about something that's actually mean. We're talking about funny birthday poems with rude sayings. And if the recipient has the right type of sense of humor for this, it could be a great choice. The important thing to remember is to keep it in good spirits.
For rude 50th birthday poems, you might poke fun at:
their age
or just aging in general
physical manifestations of aging (like balding or wrinkles)
poems that use profanities or rude words might also be included in this list
Funny 50th birthday poems
Are you looking to write a funny poem? Humorous 50th birthday poems can be just what you need to lighten the mood and give everyone a good laugh. You can also be funny without being rude and the same rules apply: keep it in good spirits. Don't write things that the guest of honor wouldn't find funny or that might genuinely hurt their feelings. Keep it lighthearted and silly and it will be fun for everyone.
You might:
joke about good times
joke about how long you've known each other
have some laughs about birthday cake
laugh about good health
joke about ice cream
talk about the youth of old age
call them an "old man" or "old lady"
At the end of the day, the best birthday is one that is fun. You can make it a great day by giving a custom poem that presents happy birthday wishes in a unique way.
Choose a 50th Birthday Poem
Are you looking for a 50th birthday poem you can just take and use for yourself? Well, I've got you covered! Scroll on down to browse my 50th birthday poems. I hope you can find something you can use!
* Important note: The birthday poems on this site are provided to give you poetry ideas. You can also use them on birthday greetings, but you cannot distribute or publish them yourself.
Celebrate this day, in an extraordinary way.
This day is all for you, but we can be sure to party too!
You've turned 50, hooray!
Let's remember your life and every memorable day!
We'll tell you how great you are,
but no, we're not buying you a car!
Let's celebrate the first day of the best half of your life,
So pick up the knife,
Let's cut the cake… and have a great time!
***
A bounty of love coming your way, to brighten up your favorite day.
I wish for you many so more. I know the best life has in store.
***
Life is a journey and along the way
You meet special people who brighten your days.
You're special to me and have made my life bright
May this be the best day of your life.
***
We often don't say how our hearts feel
It's times like this we try to reveal
What's deep in our souls, so I'll give it a try
To say it to you at this special time–
I love you, my sweetheart. I'm so glad you're mine.
***
Today is the day you turned fifty.
Like few other birthdays, this one's a biggie.
Have fun, let loose, and have yourself a ball.
Make it really special, the most special of all.
When we get together 10 years from now,
I want your 50th year to make you most proud.
Today is the start of the rest of your life.
Begin with this party to live your life right.
Tips for writing your own birthday poems
If you prefer to explore writing something of your own, get a pad and paper, find a quiet place, and just start brainstorming.
What do you want to write? Something funny or something sweet?
Think of poems you've read before and why you liked them. Then just write down phrases and words you might use. Let your mind play with it.
Next, go do something like washing your car, cleaning the house, or just about anything where your mind can wander as you do it.
You just might come up with some great ideas when you least expect them.
In my experience, the more you write, the more ideas you get, so don't be stingy. Keep on brainstorming and writing until you get it just write – I mean – right! You can use these poems in a 50th birthday card, or for any milestone birthday. You can write them for a loving dear friend, for your best friend, or for any other person in your life. Birthday poetry is versatile, personalized, and sweet. It's also a lot of fun to do.
50th Birthday Poems – Conclusion
As you can see, there are so many great ways to incorporate poems into your birthday messages. This can be a great way to show that special person in your life how much they mean to you on their big day.
I hope you enjoy these verses and can find a use for them yourself and/or for your loved ones. Enjoy, and best wishes for a wonderful 50th birthday celebration! Are you ready to write your next poem?