A 50th birthday party planning checklist is a MUST for any party. This will not only ensure that you don't forget anything, it will also alleviate some of the party planning stress!
In other words, a checklist is an easy way to ensure your 50th birthday party is flawless. It's the secret to being a successful host or hostess.
Well, guess what? This page brings you great lists and a checklist to help you run a smooth party planning operation!
The checklist breaks down your party planning process starting a month (or more) before the party.
And it will break down everything you need up until the big day.
Birthday Planning Checklist
We want to help make your party a success, so here's a sample list that costs nothing but the paper and ink to print it out! Just click the link and a .pdf will be displayed. You simply use the print feature of your .pdf reader and send it to your printer. No running to the store or winging it by keeping things in your head.
FREE!!
Birthday Party Planning Checklist
Something to do with this list to help keep you organized and focus is to create a folder. Grab a manilla folder out of your office supply closet, or even a fancy colored one. It's up to you. Whatever you have on hand, or whatever inspires you.
Staple the list to the front of the folder. Inside the folder you can put many things like:
Your grocery lists
Cake design sketches
Party supply list
Breakdown of your budget
Guest list
Ideas for invitations
Plan for decorating
Menu ideas
A personal itinerary of when you need to do everything
And here's another Tips & Cheat Sheet you can download: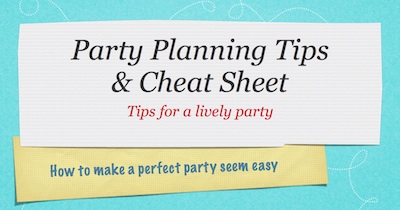 This list provides pointers and reminders on how to craft a successful event. It can help you anticipate issues and think of ways to improve your party. Print this out, too, and put it in your party folder. You can use it to make notes and add to your other lists.
---
Birthday Supplies List
Another lifesaver in the party planning adventure is a party supplies list. This list will make sure you don't forget any necessary items you need for a successful party.
This supply list will itemize everything you need (other than groceries – those are menu-specific and need their own detailed list).
I have put together a sample supply list you can use; leaving a few blank spaces on the bottom for some personalized supply items you may need.
FREE!!
50th Birthday Party Supply List
With these 50th birthday party planning tools in hand, you will be sure to wow your guests with an unforgettable night!
Now that you have these checklists, let's get back to the party planning steps.