Turning 50 is a big reason to celebrate. While some people don't care for a big celebration, there are those who love a good party. So, let's talk about some party ideas for men celebrating half a century. Let's look at some favorite 50th birthday party ideas for men.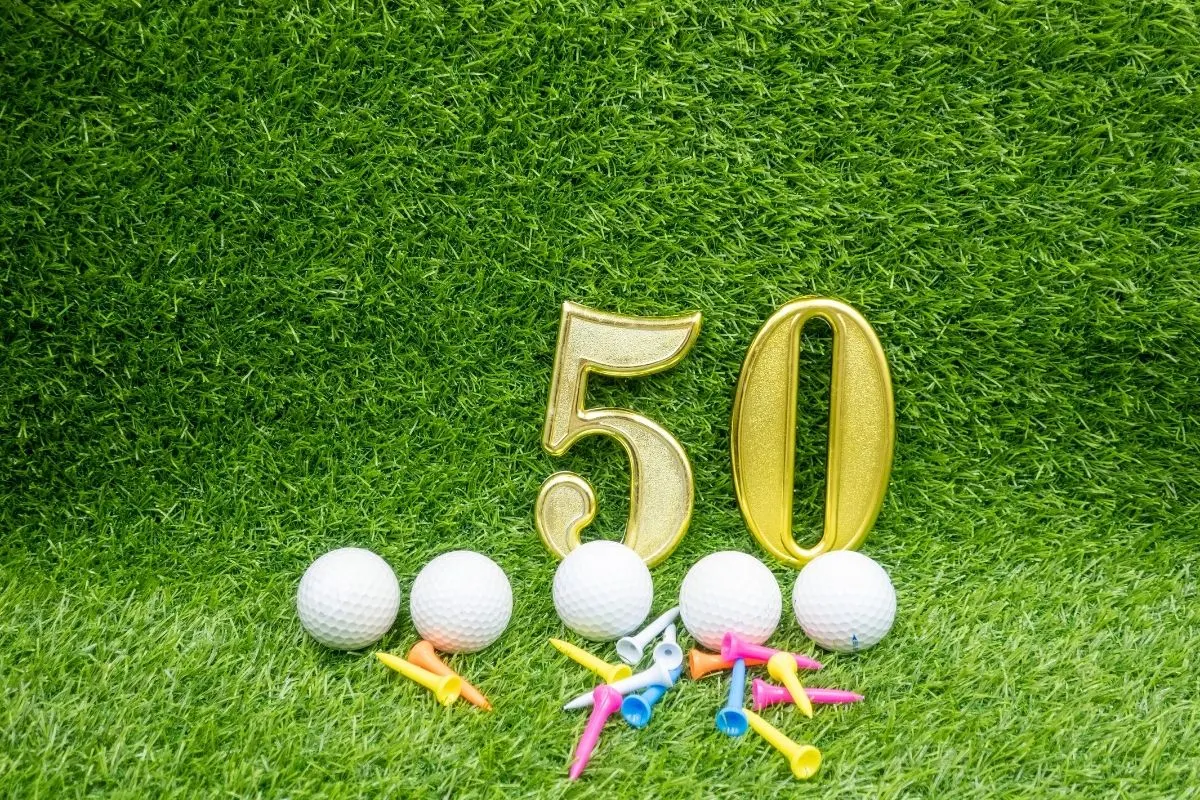 Party planning can really be stressful when you don't know where to start. If you want the birthday boy to have a very special 50th birthday to ring in being a half-century old, then it pays to start your research in advance.
How to Choose a Great 50th Birthday Theme for Men
A 50th birthday celebration is important for this milestone birthday and I want to give you some 50th birthday ideas that will help you celebrate and honor this special day the way it should be.
When planning an adult-themed party, keep these tips in mind:
Think outside the box – You don't have to stick to traditional themes such as "50s" or "retro." Instead, try something new by incorporating elements from different decades into one big bash. For example, throw a '70s disco party complete with neon lights, sequins, and glittery dresses. A decade party can be a lot of fun for the guests, too.
Make it personal – Think about what he really loves and build a theme around that. Does he go fishing every weekend? Does he love music and attending live concerts? Does he have a favorite band or favorite artist or favorite actor and movie? These are all things you can build a theme from.
Consider the season – When you're not sure on a theme the birthday boy will love, consider the time of year and the season. If he has an October birthday, you might make a Halloween theme or a costume party theme. If it's a summer birthday, consider a pool party, water park, or beach theme.
These 50th birthday ideas will help you plan the best party for the man in your life. You should also consider things like your budget, his tastes, how much time you have to plan, how long the party will be, what kind of venue you need, and any other details that relate to the big event.
At the end of the day, your 50th birthday party theme should be all about the guest of honor. You don't need to be so concerned about "right" or "wrong" as long as it is something he would enjoy.
What can you do for a man's 50th birthday?
There are so many things you can do for a man's 50th birthday. For example, you can throw a fun party and invite his friends and close family. You could stage a destination party at a place he's always wanted to go to. If he's an active person, you could plan a fun outdoor activity.
What is a good theme for a 50th birthday party?
Here are some themes for a 50th birthday for you to consider:
Black and gold party theme is classic and elegant. It's easy to see why it's at the top of 50th birthday ideas.
"50 and Fabulous" theme doesn't have to be just for the ladies. Men can be fabulous too and this can be a fun party theme for him.
Decades party – In a "decades" theme, everyone can pick a decade they want to dress up as. Or you can do a theme of the past 5 decades of his life and incorporate elements from each one. As an added touch, you can bring framed photos of him – one for each decade of his life.
With these ideas in mind, you can plan the 50th birthday party theme he will remember for the rest of his life.
What is the color for the 50th birthday?
There isn't a specific color you have to use for a 50th birthday theme. However, it is often considered the "golden" birthday so the color gold is used a lot. Gold and black are often the color palette for 50th birthday decorations and accessories. Here are some examples:
Black & Gold Glittery Happy 50th Birthday Banner
Here's a kit that has several great pieces to help you decorate with this 50th birthday party theme very easily.
Gold – Hanging Front Door Decor
This hanging would go great on the door to your home (if you're having the party there) or the venue to help direct people where to go.
50th Birthday Table Cloth Cover
If you're decorating this 50th birthday bash yourself, these table cloths and other party decorations make your job so much easier.
How to celebrate a 50th birthday without a party
Sometimes the best gift idea is just to stay at home and relax. What if you want to have a celebration but parties aren't really his thing? That's okay too because there are lots of great ways to celebrate and keep it low-key.
50th birthday decoration ideas at home
When you're planning to have your party at home, you can be as simple or as elaborate as you want. Think about the space and how many people you will be inviting.
Think about what food you will have and the birthday cake or treats. Will you cook yourself or will you have catering or order something in? And then think about what types of decorations you need to transform the space into a party zone. You can make a lot of the decorations yourself if you want.
You can even make your own party favors if you want them. You can do balloons, streamers, banners, or anything that is built around one of the themes I described above.
Unique 50th Birthday Party Ideas
If you're still looking for more 50th birthday ideas, consider these unique ways to celebrate the big day with your man. This can be the best 50th birthday celebration ever!
1. A birthday party at the beach
If you live in an area where it's warm enough during the winter months, consider having your party on the beach or by the water. This will be fun and relaxing as well as provide plenty of opportunities for photos with friends and family. You can also have games like horseshoes, volleyball, etc., which will keep everyone entertained while they enjoy their food and drinks.
2. An outdoor barbecue
Another great idea would be to host a barbecue outside. It could include music, dancing, and other activities that make this event memorable. The best part? No one has to worry about cleaning up after themselves!
3. A golf tournament
For many golfers, playing a round of golf is something special. Why not turn your 50th into a tournament? Invite all your buddies and play a few rounds together. Then, invite them back again next year so they can join in on another round.
4. A dinner cruise
Have dinner aboard a cruise ship. You don't even have to stay away overnight or for a trip. You can just book in for a fancy dinner and then get back off the ship.
5. Horseback riding
If the man in your life loves horses or doing things outdoors, you might decide to book some time for horseback riding together.
6. An afternoon jet ski tour
Rent out some jet skis and spend some exciting time on the water. If you've never used jet skis before, you can get an instructor to guide you. It's very easy to learn.
7. Attend a favorite sports event
Another winning idea is to attend a sporting event for his favorite team or his favorite sport. You can go with him if you also enjoy it or encourage him to go with some of his buddies if it's not your thing. You can plan a separate dinner afterward together.
8. Go out for lunch
Sometimes just a fun lunch will be the perfect way to set the stage for birthday celebrations. Do a picnic in a beautiful spot with his favorite food, or cook up some lunch at home. You could also treat him to his favorite restaurant.
9. Throw a backyard 50th birthday party
A great idea for a fun 50th party at home is to throw a party in your own backyard. Invite over some close friends and family and celebrate together.
You could also do this as a surprise party for the man in your life.
10. Karaoke party
If the man in your life likes karaoke, or just having a fun time, consider a karaoke party. You can even do it virtually if you want.
11. Carryout picnic
A carryout picnic from his favorite restaurant is another great idea. include all his favorite foods and then go to one of his favorite spots, or a special spot that you choose, and picnic together.
12. Gourmet burger bar
Another food option is a gourmet burger bar or a taco bar (if he prefers tacos). You could do a dinner party, exchange gifts, and then hang out for a bit and just talk and catch up with friends. Your 50th birthday party celebration doesn't have to be any more than that for it to be a good time.
13. Bonus party ideas for 50th birthday
50th Birthday Party Ideas for Men – Conclusion
As you can see, there are so many fun ways to have a 50th birthday celebration for the man in your life. I hope these birthday party theme ideas helped you with planning your own 50th birthday party celebration.
Remember that the perfect party theme is one he will enjoy and depending on the man, that may be no real party at all. Do what he would love, bring the party to life, and show him an extra special time on his big day. You don't have to be professional party planners to make it a great time.
What 50th birthday party theme ideas for him did you like the most from this list?