When you can make homemade 50th birthday invitations, you know that they're going to be unique and add a fun touch to the party as well! Plus, you can make them more heartwarming for the occasion, too!
You need creative and fun 50th birthday invitations if you want to make sure your party is a success. Even if it's a small party these birthday invitations can be a unique way of enticing your guests to be sure they are there!
These do not have to cost you an arm and a leg, they can be very inexpensive by just making homemade invitations.
What You Need For Your 50th Birthday Invitations
Even though you are going to make creative and unique invitations there is some vital information that is needed for all invitations!
We have created a simple brainstorming form to make sure you include all the necessary pieces of information.
You would fill in the blanks and of course, make it much more creative!
With this basic list of information to put on your 50th birthday invitation, you can just fill it in, and "ta-da" you have the first stepping stone for your invitations!
Here's an example! After seeing this, you're ready to get creative and make great invitations.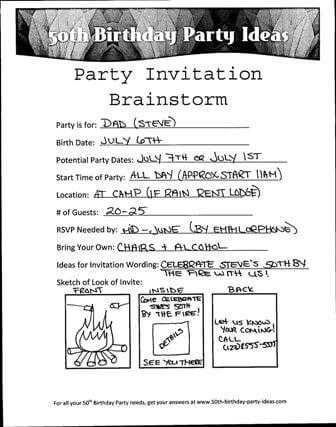 Once you have your basic information you can start deciding how you want your invitations to look and what kind of 50th birthday invitation you want to create.
The look may depend on your theme, so take a look back at what kind of theme you have and match your birthday invitations accordingly. If you have a specific theme or colors, incorporate these into your invitations as well. Take a second and make a quick sketch of how you want it to look then use the blank squares to sketch what you want your invite to look like.
What Style of 50th Birthday Invitations?
Do you want to make a funny 50th invitation? Maybe something elegant? Do you want people to RSVP? If you want people to RSVP you need to be certain to include how they should RSVP.
When asking people to RSVP, decide on how you want them to do this. It can be by email, phone, or include a response card and postage with your 50th birthday invitation.
Next on our list to create the perfect invitation is the wording to use. Now that we know the theme, the style, and a rough sketch of the look. We can decide on what we want it to say.
We've got some great wording for your 50th birthday party for you to check out.
Making Your 50th Birthday Invitations
Once you have your wording and you have a sketch of what you would like them to look like, you have three options.
Break out the craft supplies and make the invitations by hand
Get in touch with a company that makes invitations
Create the invitations on the computer with your desired software and print them out
But if you just don't have the patience for designing your own, hire someone to do it for you. You can find graphic artists on Etsy.com, eBay, and Fiverr, just to name a few options.
Get the design done, then print your own invitation cards. If you only pay $5 for the design, the rest is just your paper and ink (card stock).
With all this information in hand, you can make great, unique birthday invitations to send out to all your guests!
Other Great Birthday Items To Add To Your Celebration
Some other items that are helpful in ensuring your guests get to your party are banners and signs. These are nice to not only decorate at the venue but also in areas along the way to the desired area – especially if your party is in a hard to find area.
Check out some great ideas for signs for your party and some banners for the wall.
We also have some great invitation samples to help get the creative juices flowing.
Now you are well on your way to having a great turnout of people at your 50th birthday party.
With the 50th birthday invitations, and the signs and banners, no one can forget or get lost on the way to your big event!