Are you looking for some ideas to help plan a 1st birthday party? The first year of life is such a special time with so many milestones and memories being made. The very first birthday party is one great way to celebrate this.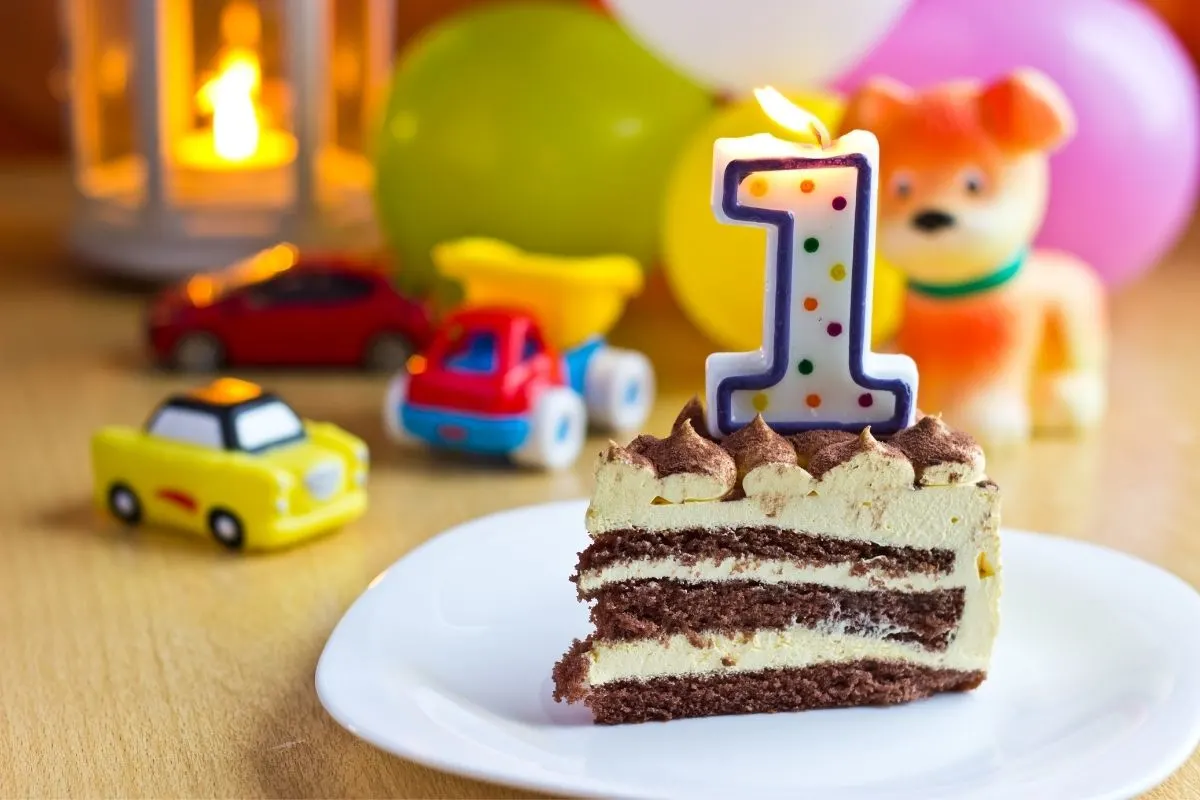 Baby's first birthday party is as much for friends and family members as it is for the guest of honor. While they are old enough to enjoy the experience, they're not old enough to really remember it later. However, it's a special time for the parents and other family members and you can take some great photos and videos for your child to look back on later in life, too.
If you're ready to plan a first birthday bash for that special little one in your life, let's look at some great birthday themes, great party game ideas for young children, birthday cake options, and everything else you need to know.
1st Birthday Party Preparations
First, let's look at what kinds of things you may need to prep for the party. It's a good idea to make a list of all of these first before you start planning and shopping so that you don't forget anything important. In addition to the guest list, you may need:
The venue
A party theme
Decorations
Plates, cups, plasticware/ silverware
Party favors
Food and drinks
Birthday cake and a smash cake
Games or toys
There may be other things you want at your party or some things from this list you don't need or want. That's why it's important to make your own list. I just wanted to get you started with some ideas.
It's also important to plan help from assistants for a birthday party for a one-year-old. You may need a family member to help watch your little one while you do the setup or while you present certain parts of the party. Or you may hold onto your child and help show them all the fun and exciting things while a family member or close friend leads the party.
You can work it out however you want but it's important to plan ahead for having help. It will be difficult to do it all alone with a 1-year-old in tow.
1st Birthday Party Theme
As you're planning your first birthday party theme, think about things your child likes. Is there a cartoon they can't stop watching or a movie they beg you to play every day on repeat? This could be the party theme.
1st birthday party decorations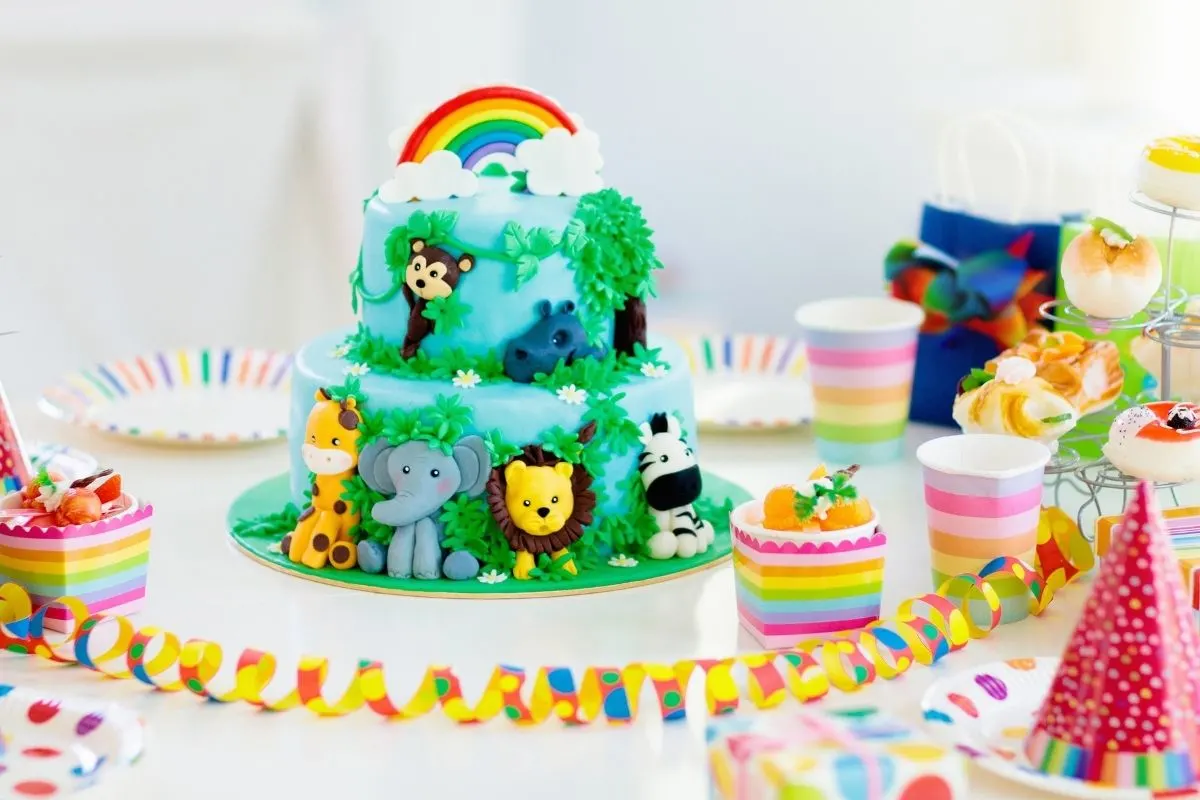 The 1st birthday decorations are an important part of bringing your theme to life. Whether it's their favorite Disney princess or maybe a sports theme for a little boy, you can use the decorations to showcase the theme in a way the whole family can enjoy and appreciate.
If you do an outdoor zoo or animal-themed party, you could use hay bales for sitting and for a photo-taking spot. Another option is to rent out a play place where there are many things for the child guests to enjoy and keep them occupied. They'll also be able to run off the energy from that cake!
1st birthday party favors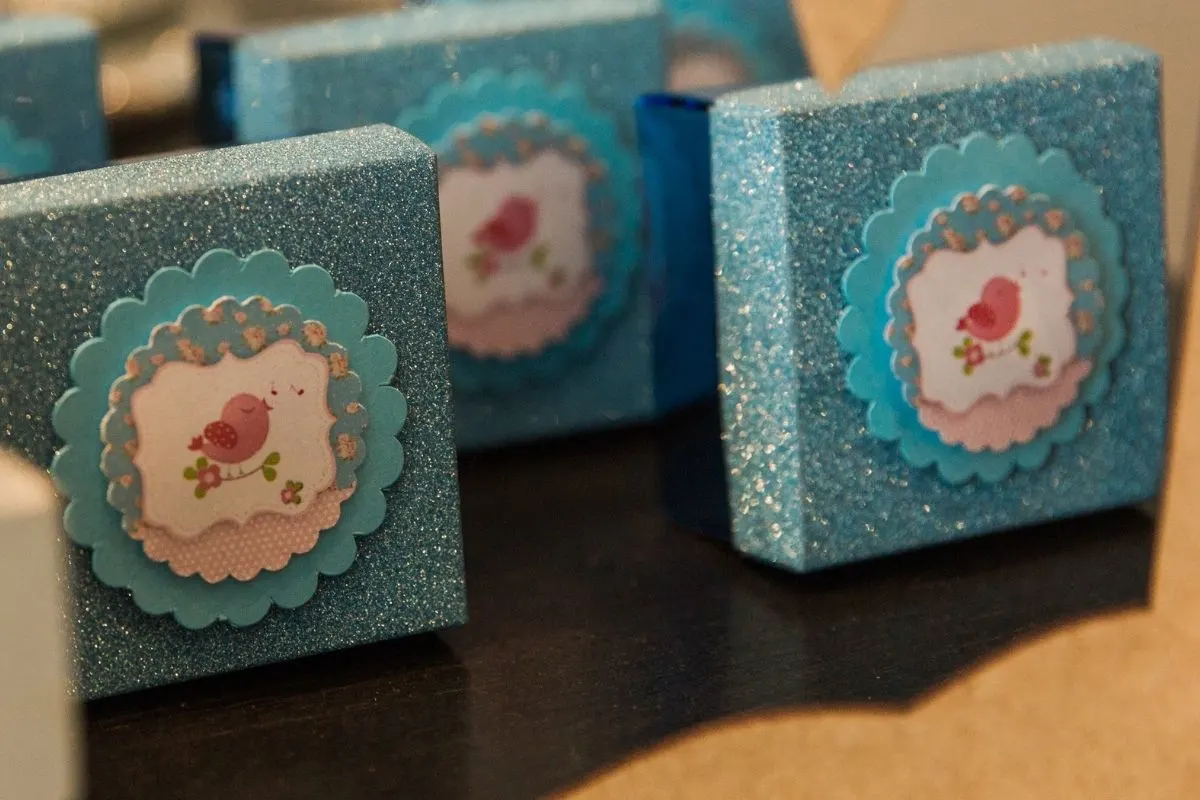 Your little girl or birthday boy may not be old enough to really enjoy most party favors, but there are options for every favorite theme. Baby's first birthday is a good time to choose party favors that other small children can enjoy like toddler-safe stuffed toys, puzzles or games, stacking toys or blocks, just to name a few.
You can also choose party favors based on your child's favorite characters from a cartoon or show, or from the theme that you use for the party. For example, if it's a Tangled party, you might have party favors with the main characters or side characters on them. These types of party favors can usually be purchased from party supply stores, or even from Amazon (these squishy toys are adorable!).
1st birthday party games and fun
There are a lot of great things you can do for party games and fun for kids this age. You can set up a ball pit for them to play in, or a bouncy house that is approved for toddlers (this is different from bounce houses made for older children).
You may have them pick ducks from a small pool of water with numbers on the bottom that corresponds to a prize or do the same but with a fishing game instead.
Have parents and volunteers around to help the small children with these activities. You can even incorporate the parents into the games in a fun way.
Why is the 1st Birthday Important?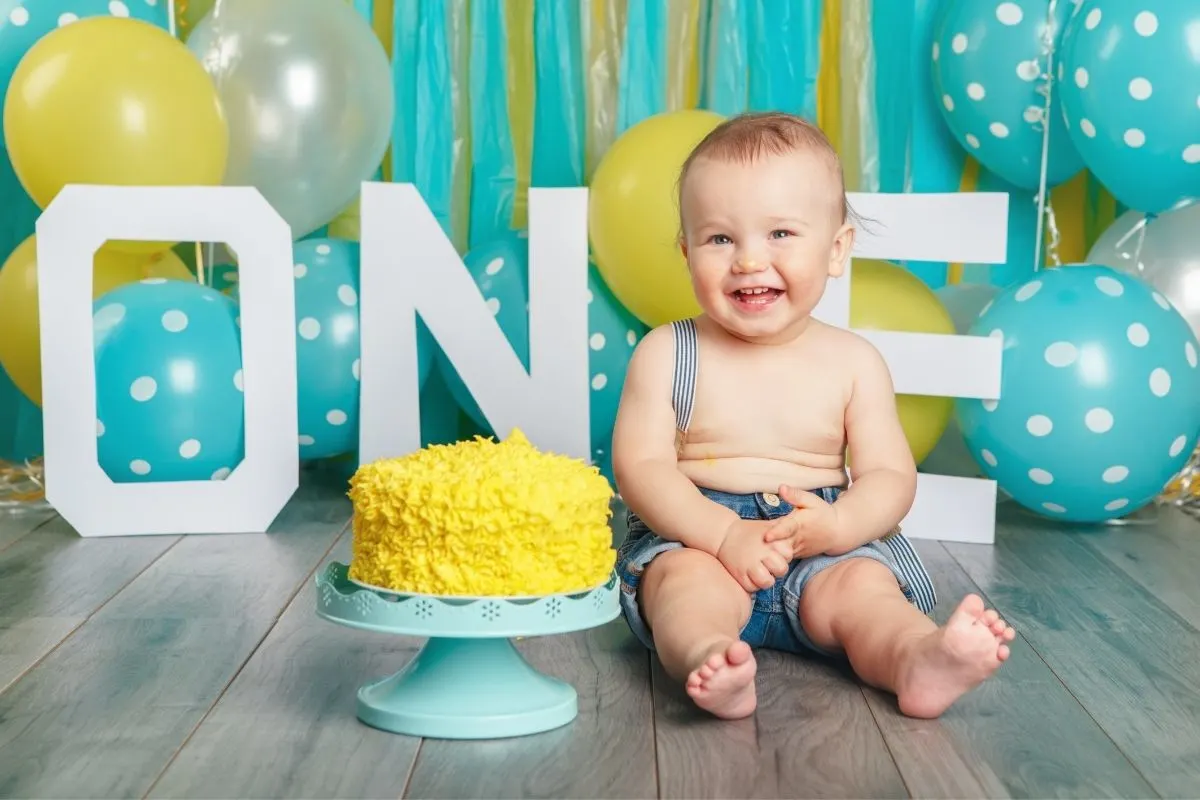 The first birthday is an important milestone, not just for your baby, but for you as a parent too. It helps to celebrate a whole year with your child and allows you to reflect on the life-changing journey you have gone on with them over the last 12 months.
While the birthday itself may not be so significant to your child because they are unlikely to remember it, it is important for you as a parent. It is a momentous occasion and a wonderful time for the parents to celebrate their little one for turning a whole year old. It's a nice time to get together with friends and family, make connections, and celebrate the life of your little one.
It is a fantastic opportunity to celebrate, and it will provide some great memories that you can look back on. Even if you do not celebrate with a big party, a small get-together with close friends and family is a lovely way of remembering your baby's first birthday.
How much should you spend on a 1st birthday party?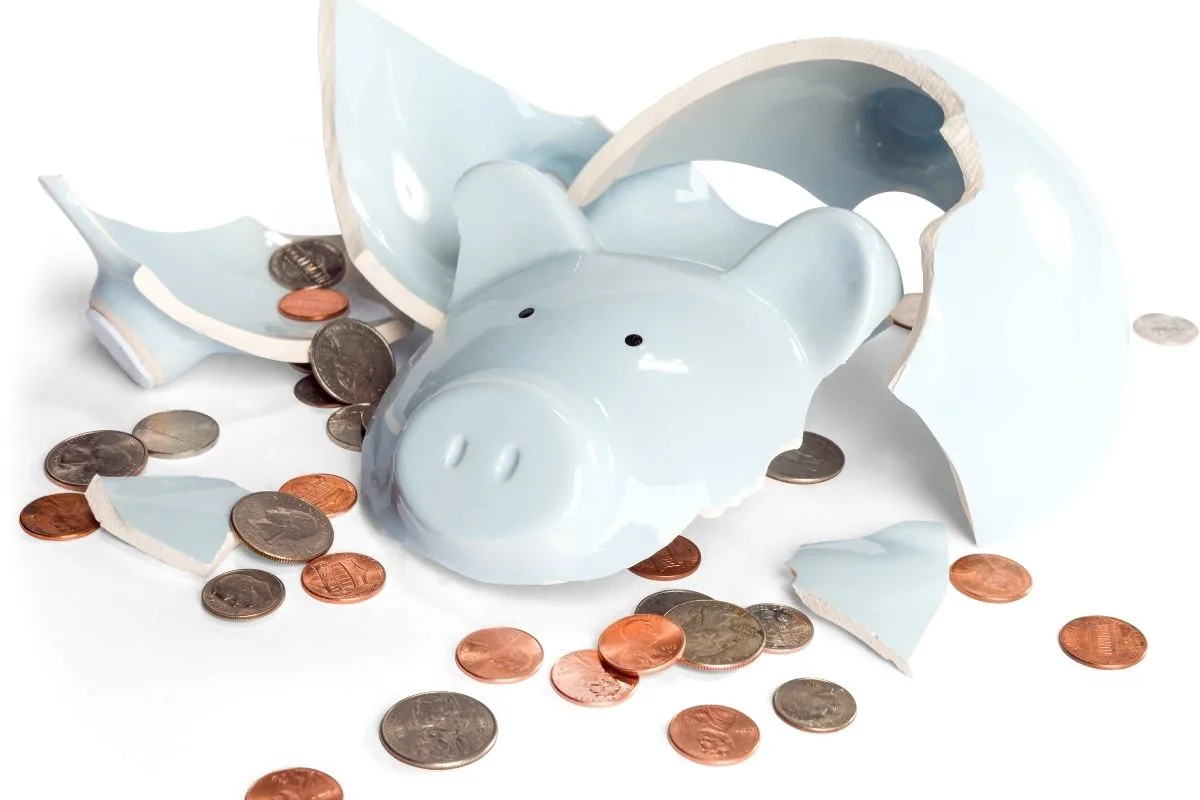 There is no specific answer to this question and how much you spend on the 1st birthday will depend on a wide range of things, such as your budget, how many people you invite, the food, cakes, and presents you purchase, and what you feel comfortable spending.
You can have a great 1st birthday celebration without spending a fortune. But then again, if you can afford a big party and that's what you want, go for it. There is no one-size-fits-all when it comes to parties. You can be as extravagant or as money-saving as you choose to be.
Studies have shown that around 25% of families spend around $400 on their child's first birthday which is a significant amount of money. However, it is possible to spend far less than this on a party, if you are trying to stick to a smaller budget.
If you are going to rent a space for this celebration, this will be more expensive in comparison to having the party at home or in a park or similar free or low-cost party venue.
What time should a first birthday party start?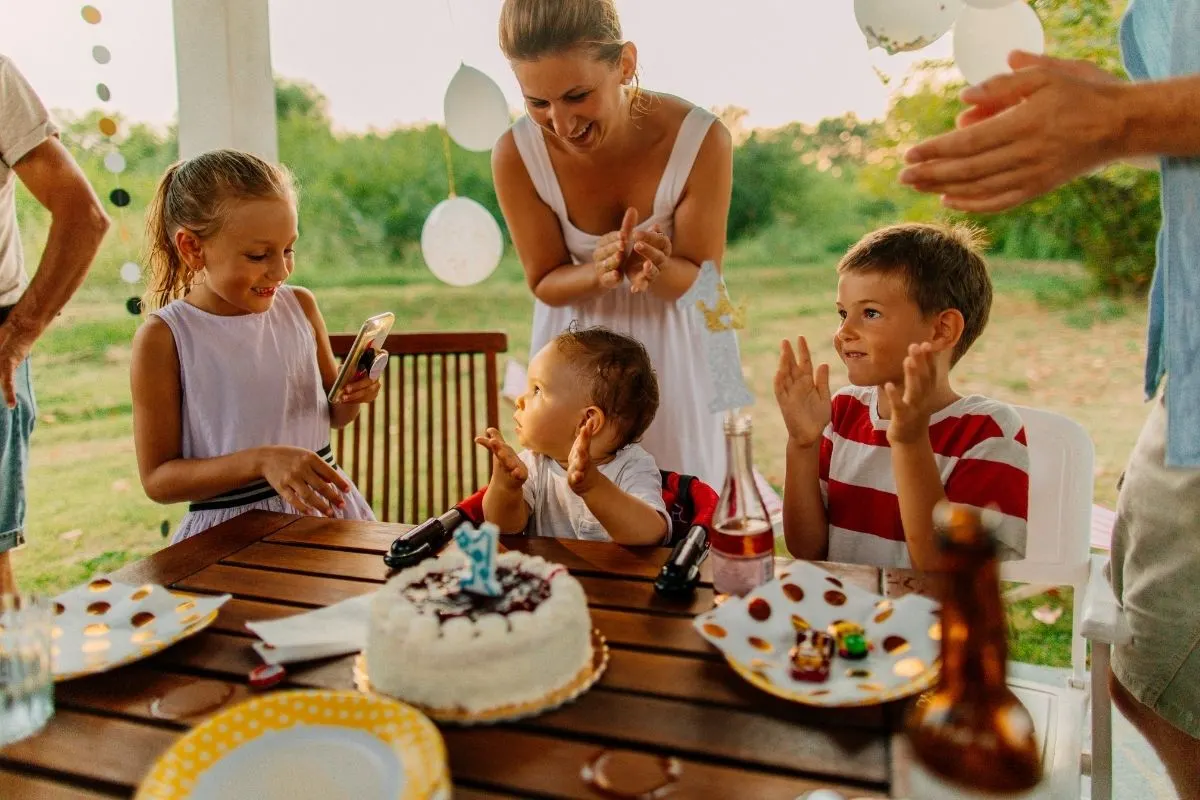 When it comes to the time you should host the 1st birthday party, it's really up to you. It's your party, so you make the rules. However, you may also want to consider who you are inviting. If there will be other small children, it may be important to consider their schedules and also not do it too late in the evening.
Ideally, you will want to plan the party around the schedule you have set up for your child. This way they will be happy and awake during the celebration, rather than being overtired and in need of a nap.
There are pros and cons to different times of the day, though, for a 1st birthday party, the evening may not be the most suitable as this can interfere with the bedtime routine of your child and other children who may attend.
A mid-morning birthday party would be a great option as this tends to be before your baby is put down for their afternoon nap, and everyone is feeling refreshed and energized.
In addition to this, a mid-afternoon party is also a great idea, especially if you have other children that are in school as they will not miss out on the fun.
However, there is no specific time that you should choose for the 1st birthday party, you should choose a time and day that is best for you, your schedule, and your guests.
How long should a gathering celebrating a 1-year-old be?
If you have never hosted a children's party before, it can be difficult to know how long it should be. While parties for teenagers and adults can be a few hours long, with smaller children it is better to keep the festivities shorter.
The longer the party is, the more likely it will be that your baby will begin to become cranky or overwhelmed before it finishes. And of course, party guests can also get tired and cranky.
A good amount of time for a child's party to last is an hour or two; any longer than this may become too overwhelming. This will give you and your guests enough time to socialize and have fun without the celebration being too long.
A smaller party will be better overall for your child's schedule too as it will not disrupt it too much.
Even if the party only lasts for an hour, this still leaves enough time for games, activities, blowing out the candles on the cake, and eating some light snacks too.
If you are at a venue, often you will hire a room out for an hour or two, and you will need to stick within the time frame of this.
Another way to work around the time dilemma is to pack all of the important stuff like cake and birthday presents into the beginning of the party, and then allow guests to mingle as they choose afterward. If someone needs to leave early, they will not have missed anything, so they can take their toddlers and go ahead and go if needed.
How do you celebrate a 1-year-old birthday without a party?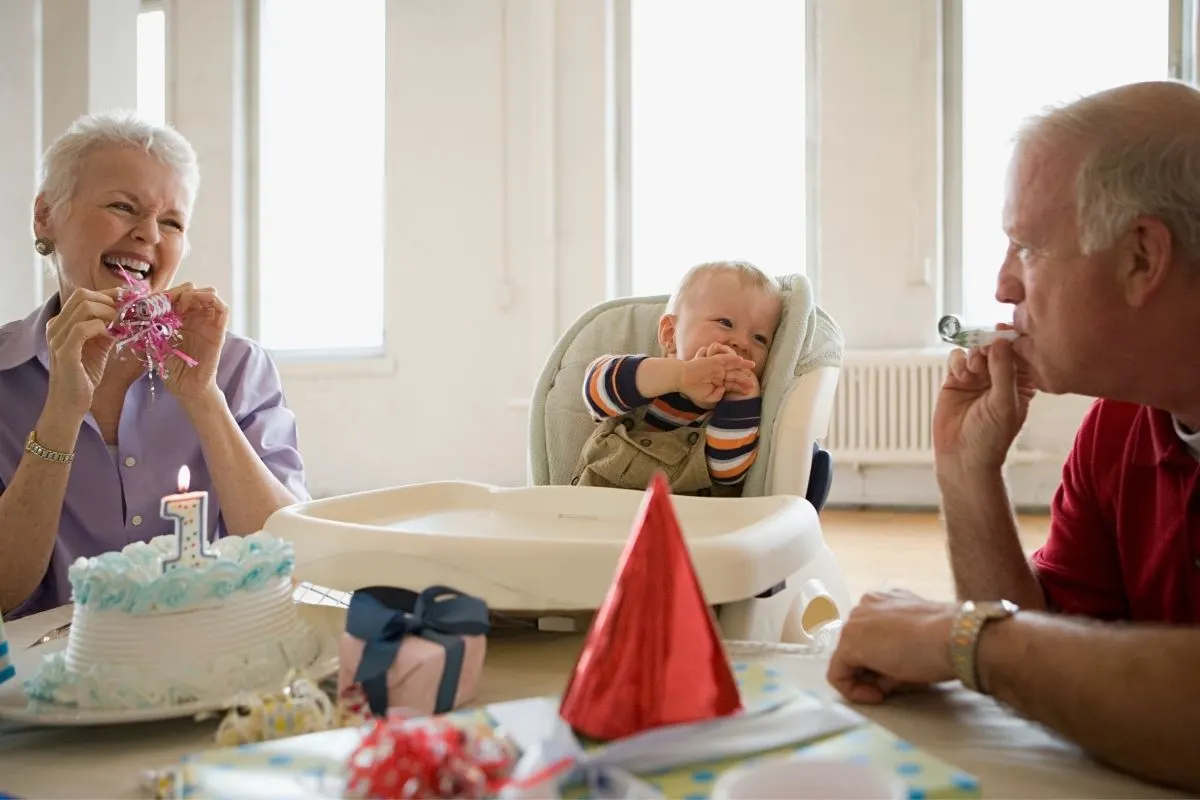 If you are not keen on the idea of hosting a party for your 1-year old's birthday, this is completely understandable. There are many ways in which you can celebrate that do not involve the expense or the planning of a party.
You could have a small get-together with close family, have a picnic at the beach or the park, or even visit the movies or the zoo. If your child has begun to show an interest in something specific, it may be fun to incorporate this into the day too.
Celebrating a 1st birthday can be low-key and still as enjoyable as hosting a party. If your child loves watching fish, why not visit the aquarium?
If your child loved nothing more than splashing around in the water, why not take them to the swimming pool for the day? There are so many options you can choose from that do not involve hosting a party.
How to Celebrate a Girl's First Birthday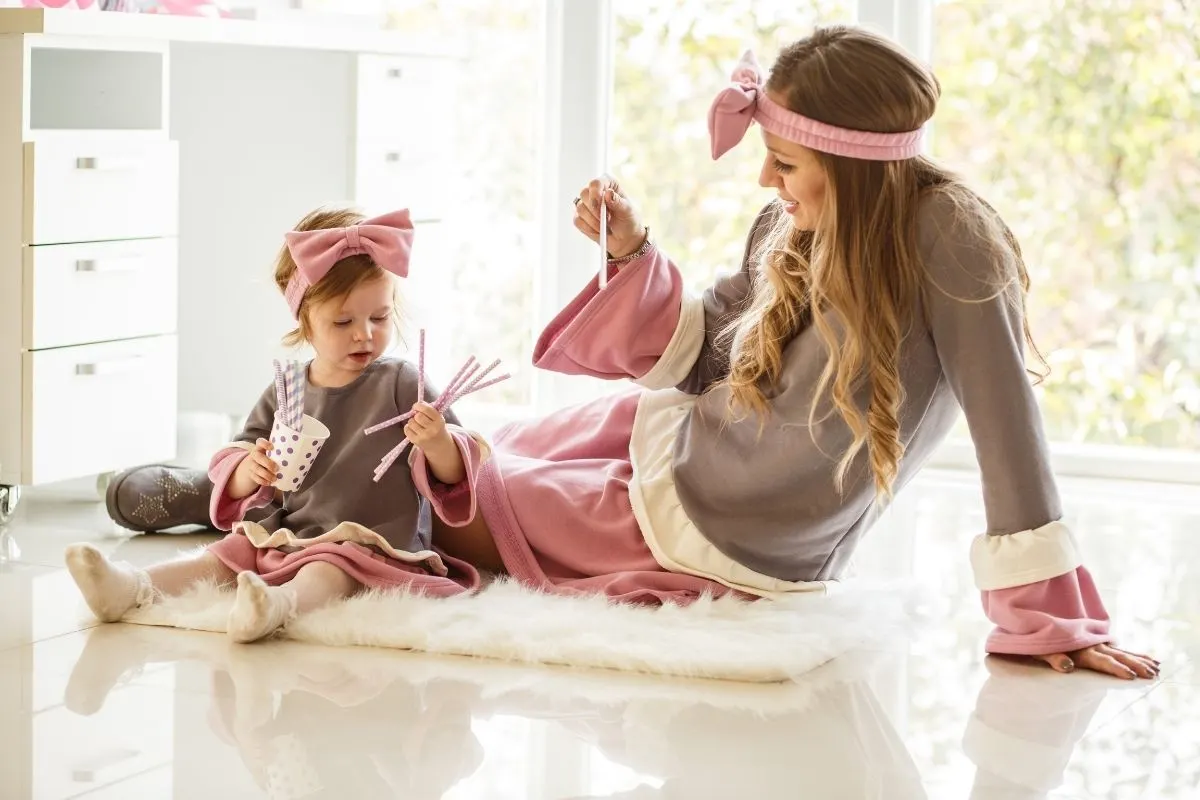 The list of ways to celebrate a girl's first birthday is endless, there are many fun things you can do. A popular trend is to have a photoshoot to mark the occasion.
Many parents will choose to have a smash cake which involves your child having great fun eating and smashing up a cake while having her photo taken.
If you do not want to have a specific photoshoot you can have a smash cake at a small birthday party instead. Many families do decide to throw their child a 1st birthday party, but if this is not something that is particularly interesting to you, why not plan a fun day out instead?
While it is lovely to buy nice gifts for your child and possibly a new dress for her to wear, as she will still be quite young, she will enjoy fun activities or toys to play with. Now let's look at some first birthday party ideas for boys.
How to Celebrate a Boy's First Birthday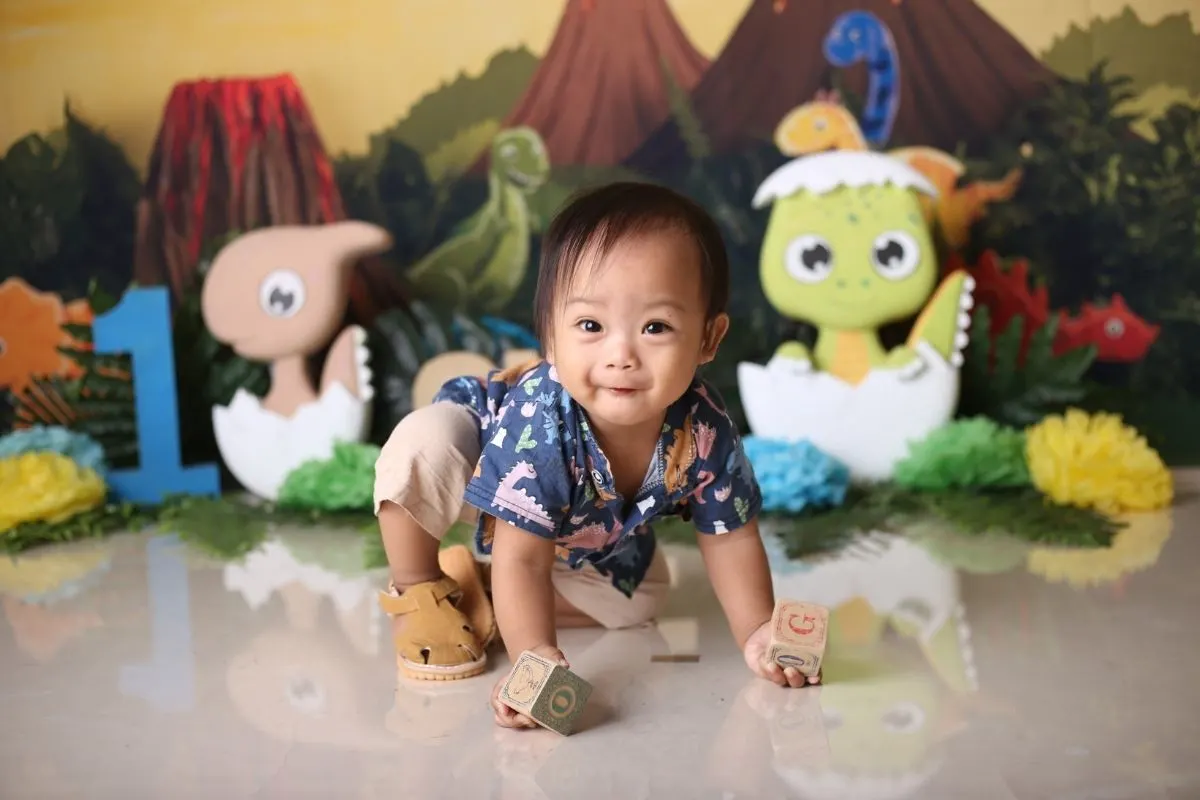 Again, many families choose to celebrate their first birthday with a photoshoot. These are great to look back on in the future and if they involve cake smashing it can be great fun for your child too. Your little guy will enjoy anything that feels like it is centered around him. Most children love getting attention at this age (but not so much as to overwhelm them).
You can consider his interests and activity levels when deciding the best way to celebrate his special day. Maybe he will enjoy play areas or sports themes, or his favorite superhero or a favorite cartoon character like Spongebob.
As your child is still quite young, he will still be getting used to the world around him. At this age, children are responsive to toys and their surroundings. Perhaps a trip to the aquarium or the zoo would be a fun idea?
You can also throw your child a birthday party to celebrate the occasion with your family and friends. If you prefer not to host a party, soft play is a great option that will be fun for your son.
What do you serve at a one-year-old party?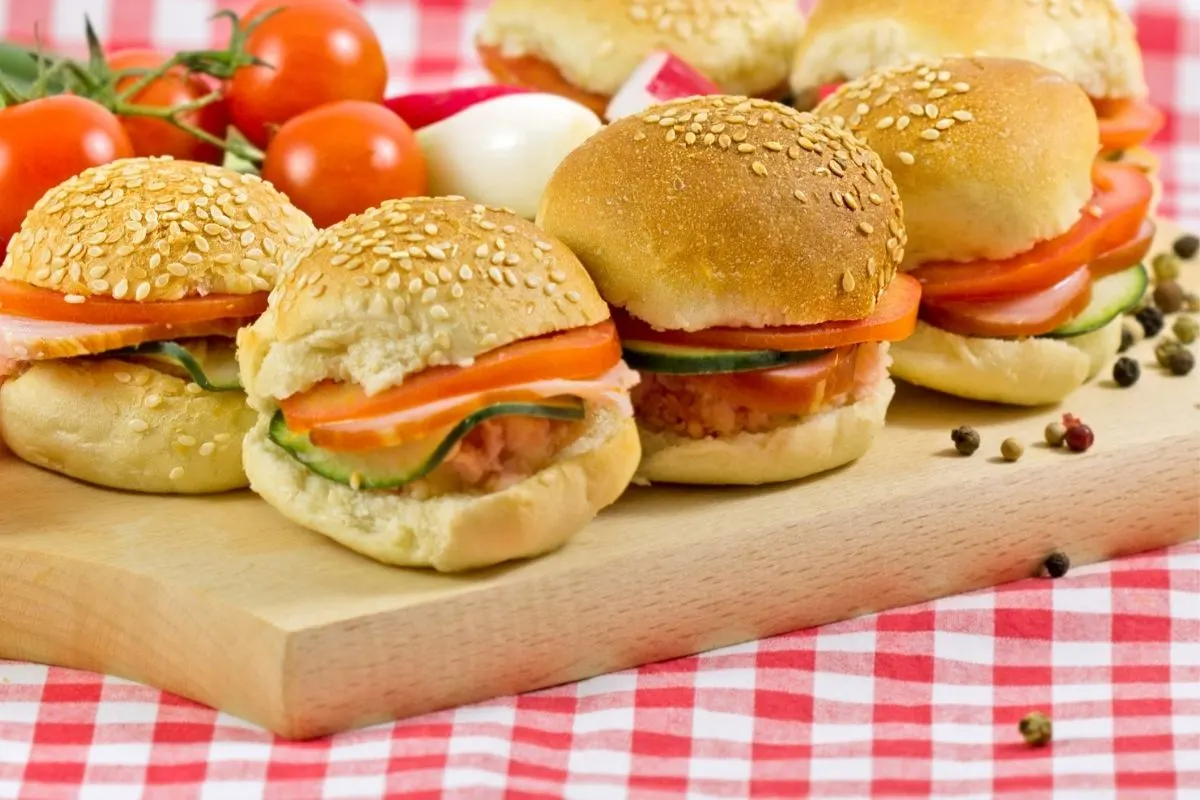 When it comes to children's parties you will want to keep the food as easy and as fuss-free as possible. Finger foods are the best option as they are easy to serve, they are not too messy to clean up, and you can pre-prepare the food.
Foods such as small sandwiches, chips, pasta, yogurt, muffins, and fruit are great options. Everything should be child-friendly, easy, and safe for them to eat. You can choose to serve different types of food for the adults if you prefer.
As it is a birthday party, it would not be complete without a birthday cake you can use to celebrate the occasion! A child's first birthday calls for a special cake and as mentioned above, some people like the tradition of a "smash cake" for a 1 year old. This is a small cake made just for the birthday guest of honor and they can "smash" it or make a mess of eating it with their hands all to themselves.
When choosing food and drinks for a one-year-old's party, consider things like food allergies, the messiness of the food, sugar content, and also something that the parents can enjoy for a snack while they are managing their own children at the party.
1st Birthday Party – Conclusion
I hope that you have found this article useful and that it has given you some ideas for wishing your special young one a happy birthday on their first birthday. There are so many ways in which you can celebrate a 1st birthday party and this article was intended to help you see them so that you can plan your own.
How you celebrate it really is down to your own preferences. While there is no one size fits all, planning is so important, it will also help to keep you from having a last-minute panic too! With the ideas in this post, you can make baby's big day extra special for them and for you.
These 1st birthday party ideas are just to get you started. Feel free to add to them or use them as inspiration for some great ideas of your own. Are there any ideas from this list that you're planning to implement for your party?