For mens birthday cake themes there are more options than you think. We have lots of ideas and pictures for your guy's cake. You can do this, too!
To pick a cake theme for your guy, you just need to think about what kinds of things he's interested in.
For example, does he follow particular sports or participate in activities like fishing, shooting, or diving?
Men's Cake Theme ideas
Spectator Sports – Football, basketball, soccer, baseball, car racing
Sports Hobbies – Fishing, volleyball, golf
Hobbies – Mountain biking, playing guitar, NASCAR, scuba diving
Affiliations – Celtic heritage, Masonic, VFW, Military
Favorite Movies or TV Shows – Super Heroes, Star Trek, Star Wars
Cake Decoration Ideas for a Man's Birthday
Men's Sports Birthday Cake
This cake was decorated for a racing theme. It has the checkered flags around the sides, and on top it has a speedometer.
You could also do this theme with a racetrack, a race car on top, or images of race cars on the side.
For a football theme, put a football field, goal posts or a football on top.
Decorate the sides with pom-poms for a colorful touch.
For a scuba diving theme, lots of colorful fish, a reef scene, and/or maybe a scuba tank or mask.
For a fisherman's cake, put fishing poles around the sides, grass growing around the bottom. Bamboo poles would be neat.
On the top, put a mounted fish to show off a special catch.
---
Men's Hobby Birthday Cake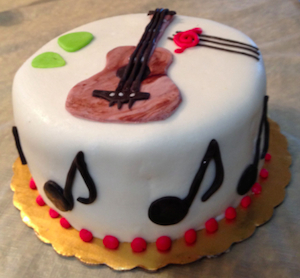 For your music man, if he's a guitar player put a guitar on top, with a couple of picks, a music sheet with music notes.
You could do the same with whatever instrument is his favorite.
The cake pictured was done with marshmallow based fondant.
This was my first time using it, and it wasn't as hard as I expected.
---
Where to Find Artwork Ideas for Men's Themes

A great resource for designing men's birthday cake themes is the openclipart.org website. You can get images like these to use as a guide for your man's cake decorations.
Do you recognize the checkered flag from my racing cake design?
Clipart is great for this purpose because it's easy to find line drawings or blocks of colored shapes to recreate with fondant or icing.
You can see clipart collections on the free clipart for birthday cakes page.
---
We hope you found some good ideas for your mens birthday cake.
If you need help with anything related, use the Ask an Expert link. You'll also see other questions and answers on that page.
Thanks so much for visiting!