Spoil her with these great ideas for a 50th birthday gift for wife! (Or check out this page, if you'd rather have general gift ideas for 50th birthday.)
We all only turn 50 once, and she's probably dreading the day! So why not make it a happy memory and celebrate with her. These are some great ideas for that perfect gift for your soon-to-be 50 year old wife.
Before I go into some examples, let's remember that flowers and chocolates are nice, but so common and predictable.
She will be glad you remembered her birthday, but it definitely would not be the "WOW" she would want.
Common gestures don't say much about you or reflect your personality – and they definitely don't show how much you care about her.
Come on, she's turning half a century!
Something else to keep in mind are any hints she may have dropped over the last few weeks. Those are good indicators for things she really wants.
If she hasn't made it easy with some clues, here are some different ideas for a 50th birthday gift for wife :
Jewelry
Diamonds will always be a girl's best friend – what better 50th birthday gift than that!
Necklace, bracelet or ring with both of your birthstones. Something nice would be two intertwined hearts, one with each birthstone.
Any nice jewelry is always a hit, to make it extra special get it engraved with a romantic saying – maybe in a different language, or just a short few words to show how much you love her.
Photos and Keepsakes
Buy her a blank scrapbook and all the craft items she needs to create her own memory pages. You can also insert the pictures. This way all she gets is the fun of making the book without the pain of buying the supplies and having the pictures printed.
If you want to get your hands dirty, you can create the scrapbook for her. She'll love the fact that you actually broke out the glue and sparkles to make her gift.
Create a collage of pictures of the two of you over the years. Lay them out in a sequence from the beginning to most recent.
Take her favorite picture of you and her and imprint it on things – like coffee mug, key chain, mouse pad, etc.
Have a calendar made, each month with a different memory of you as a couple, and add captions to explain why you cherish that memory.
Make a digital scrapbook. You create this by making a power point presentation of all the pictures of you and her. You can add in caption as well as music. There are also tons of digital scrapbook sites out there now.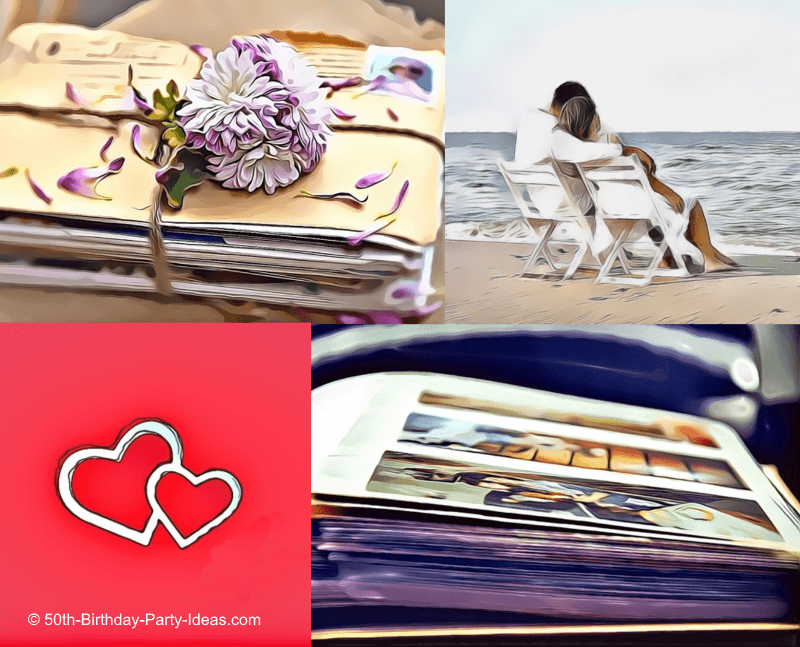 Shopping Spree
Buy her gift cards to her favorite store.
Bring her to the mall with a credit card (with a set amount on it) and let her spend. Or you can use cash if you don't have a credit card.
Some malls have gift cards that are good to use at any store in the mall, these are another great idea.
Ideas for a Sentimental 50th Birthday Gift
A mixed CD with all the sappy songs that remind you of her, or of times you have spent together.
Breakfast in bed, made by you, and she doesn't have to lift a finger.
Keepsake box. You can buy or make a decorated box, fill it with all kinds of mementos from your relationship. For example, I keep cards and little notes my husband leaves me, as well as movie tickets or things from special dates together.
Pamper Her
Spa days
Personal massages from you, with candles and soft music
Get her a photo shoot and accompany it with a make over – the hair, the make up, the wardrobe, everything.
Vacation. Take her somewhere she has always wanted to go. I'm thinking Paris or Tuscany, for example.
These are just a few of the many great ideas for a 50th birthday gift for wife. Always check back, I am constantly adding great ideas!