For a French or Paris party theme, lots of Paris pictures will help get you in the mood.
When you think of Paris or French-theme party decorations, the Moulin Rouge, art, and architecture with black lacy iron scroll-work are some of the things that come to mind.
Sidewalk cafes along the River Seine, bistros, and of course, the Eiffel Tower are common elements, too.
Venue Ideas for a Paris Party Theme
Check around your area for French restaurants, bistros, or even French bakeries that may have a picturesque decor that would fit your Paris party theme.
Hotels with the right architecture and decor might have the  look you can set off with your Paris-themed decorations.
The great thing about choosing a hotel option is that it makes the food much easier, since they can cater it onsite for you, saving you time and work.
If you prefer to host your party at home, you might want to setup your patio or deck as a French sidewalk cafe.
Go all out with a Moulin Rouge cabaret decor, lots and lots of red for this theme.
Rent one of the movies and choose ideas from your favorite movie scenes.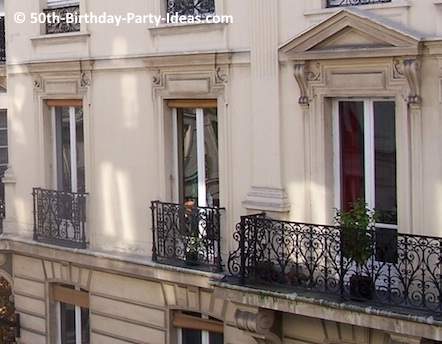 French-Theme Party Decorations
Hang posters of cancan dancers, a red windmill, and use lots of extravagant feathers. Maybe even headdresses for the ladies to wear.
At the official Moulin Rouge gift shop (moulinrougestore.com) you can order posters, cancan fans, and other touches to make your party memorable.
For a more elegant decor, print your favorite Paris images (see examples below) or take your favorites to a photo shop to get poster sized prints of Paris scenes and sidewalk art. Hang or display these pictures around the room to complement your  party theme.
Use black lace to imitate the look of black iron work. Plaster columns and statues of various sizes are not too expensive for an extravagant party. Also look for murals or wallpaper you can hang temporarily to set a scene.
Order custom Paris-theme party supplies using some of these images. You might choose a favorite Paris photo to be printed as a place mat or for the party napkins.
Note: You may print or copy any photos on this page to use for your party. Any other use of these photos is a violation of our copyright. If you would like larger format photos, contact me and I'll provide up to 3 larger images.
Visit French theme party decorations for more ideas that would fit a Paris party theme.
Food and Drink Ideas for a Paris Theme
When we were in Paris for my 50th, our favorite thing to do was to buy a bottle of wine, a baguette and cheese, and sit beside the river.
It was beautiful and delicious!
So wine and cheese would be one option, baked brie, crudites (veggie sticks), a platter of brochettes (pineapple wrapped in ham and grilled, for example), canapes (bread or cracker with toppings, such as flavored butter)
Beverage options would be French wine or cocktails with French spirits such as Cognac or Cointreau.
French cocktails could be the Black Rose, Pompier, or French Sidecar, or the simpler Pernod and Water.
Top off the evening with Cafe Cremes or Cafe au Laits.
Bon Appetit!
Photos from My 50th Birthday Paris Trip
If they fit, use these images to decorate your all about Paris party.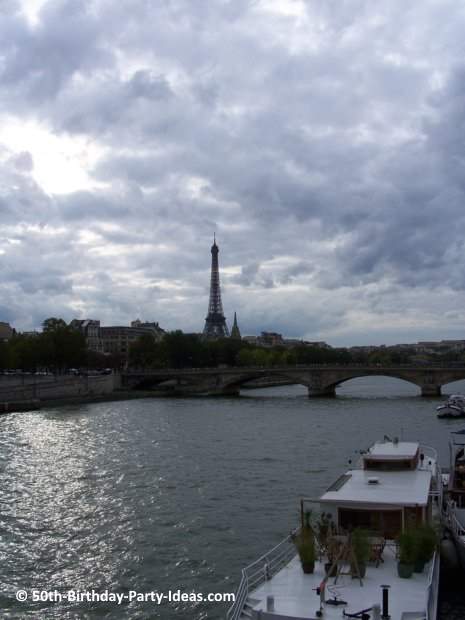 The Eiffel Tower from the River Seine, on a Bateau Boat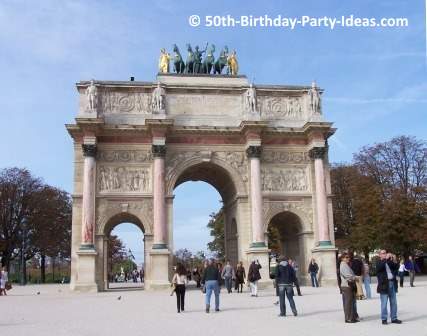 L'Arc de Triomphe looking out from the courtyard of Le Louvre
Courtyard with Pyramid at the Louvre.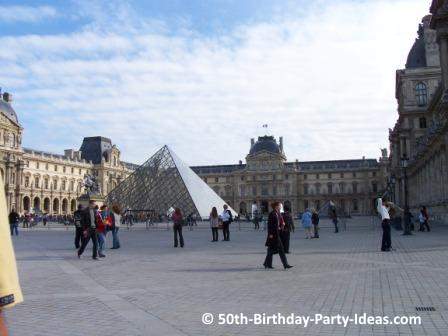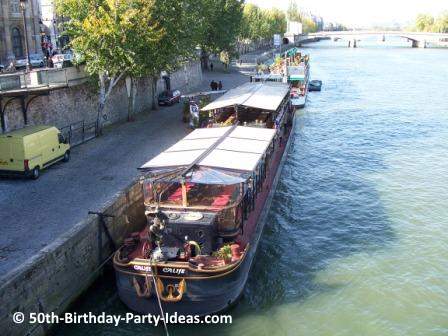 Dinner cruise on the river.
More Scenes from Paris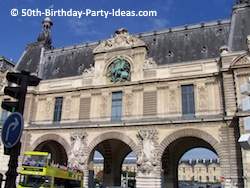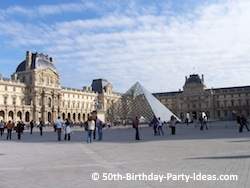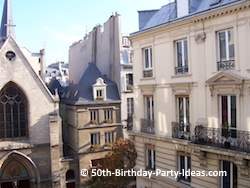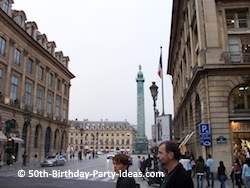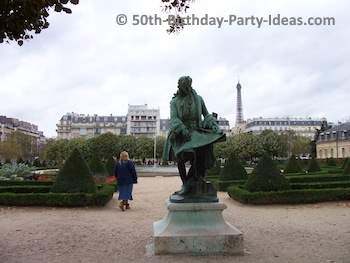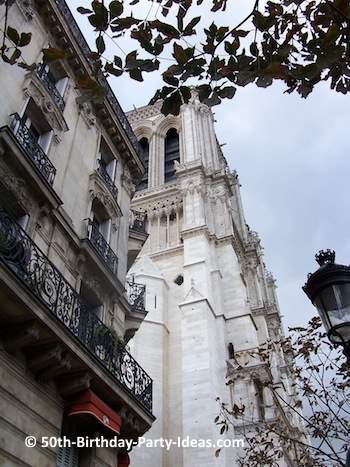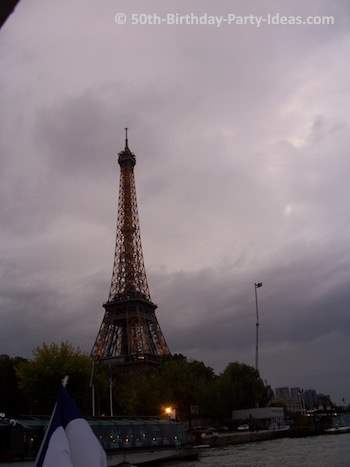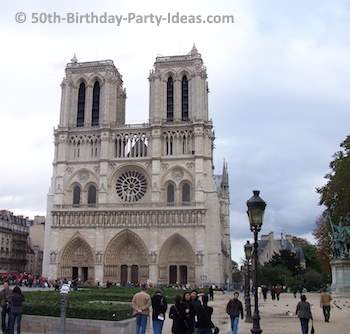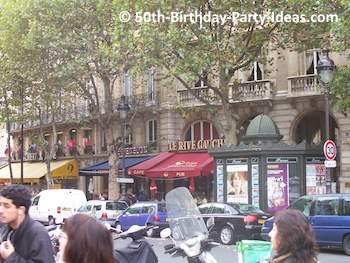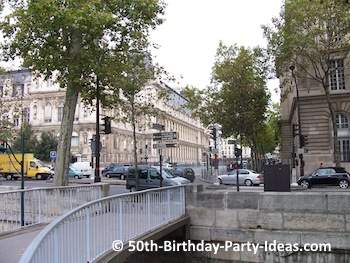 ---