Are you looking for that unusual 50th birthday gift?
If you thought your special birthday person already has everything and there's nothing you could possibly give that would surprise them, you really need these unusual 50th birthday gift ideas.
Do you like getting looked at like you have two heads when someone opens your gift? Do you want to give something no one would dream of getting for their birthday?
These are gifts they will never guess before opening.
An Undersea Birthday Party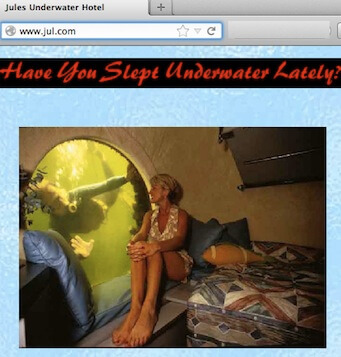 What a surprise gift this would be! Reservations to spend the night under the sea in an underwater hotel at the Florida Keys.
This would only work for the more adventurous among us, like someone who is already into water sports.
Contact Jules' Undersea Lodge or visit their website for more information on this unusual birthday gift idea.
Jules' Undersea Lodge
at Key Largo Undersea Park
51 Shoreland Drive
Key Largo, Florida 33037
Telephone: (305) 451-2353
More Unusual Gift Ideas
We need to cross those lines and break some boundaries and here are more great ideas for an unusual 50th birthday gift
Buy a star and have it named after them.
Buy a small tree. Plant it where it can grow over the years and be a reminder of their amazing 50th birthday celebration. As they grow older the tree will too.
Create a CD with a hit song from every year of their life from the year they were born and onward.
Find a newspaper article from the day they were born, if possible, from the city where they were born.
Make a scrapbook with pictures of all the milestones of their life. Create it in a progression from baby to current. You can even predict their future and show what you think the future might hold.
Post birthday wishes in a newspaper with a picture of them, either a baby picture or a teenage picture.
Make one of their wishes come true. For example, if they wish to be a race car driver, set up a training session at a race track.
Create a slide show of pictures of them and from their life, have it play with music from the years the pictures were taken. Give it on DVD as well as playing it at their party.
To make sure your gifts are unique and unusual is easy! Just remember, don't think conventionally. Use creativity and have fun.
The best gift is a well thought-out gift, not just something where you run into a store and grab something. Put some thought into your gifts, think about the person you are buying it for.
Look at their interests, likes/dislikes, favorites, etc. From there decide on something they would just LOVE when they open it, or something they would want to cherish for the rest of their life.
Unusual gifts do not need to be big and expensive – all you need is a thought behind the gift. That's why there's a saying "it's the thought that counts!"