If you're thinking about a Carnival theme party for your birthday celebration plans, there are several ways you could go with it.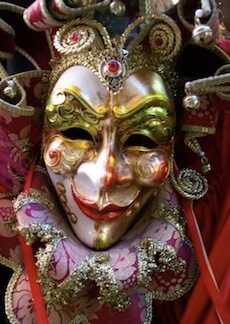 You could think about a traveling carnival with games and rides for a casual outdoor event, or a Mississippi/Gulf Coast style Mardi Gras Carnival, or even a more formal and elaborate Venetian Carnevale masquerade party (see bottom of page for lots of pictures).
The last two options could be extra fun because they involve everyone wearing costumes! How exciting that would be for a really fun party theme.
Carnivals date back to Roman times and are closely tied to Christian traditions, especially Catholic celebrations preceding Lent. Wikipedia has interesting articles on the topic if you're interested in the history of these traditions.
A Traveling Carnival Theme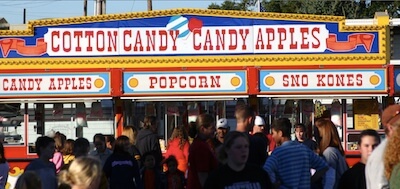 A traveling carnival theme party would have many similarities with county fair type amusements. Side shows and freak shows used to be crowd draws, along with cotton candy, hot dogs, funnel cakes, a ferris wheel or tilt-a-whirl, and games like knocking down bottles with a baseball, a ring toss, and maybe a bell-ringing hammer challenge.
If your guests are fairly fit, you might even want to arrange a bounce house or water slide.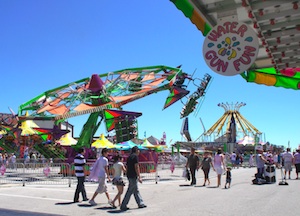 For this type of event, you'll need a piece of ground either in your back yard or a rented space.
Visit a few carnival equipment rental websites and decide what types of amusements would work best for your particular group of guests. Some have their prices posted for the equipment rental, but the transportation fees would depend on how far away you are.
You'll save money by choosing vendors in your region due to delivery costs.
Of course, while you're looking, you'll have to keep your budget in mind.
Get more info about decorations, costumes, and equipment on the carnival supplies page.
Mardi Gras New Orleans Style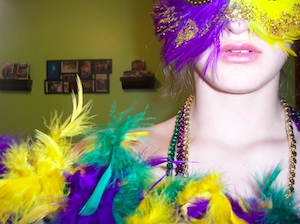 Along the Mississippi and Louisianna Gulf coast, the Mardi Gras festival occurs in various towns on various dates during the festival season preceding Lent.
There are elaborate parades and floats, and carefree celebrations up until Fat Tuesday when Mardi Gras is observed with gusto in New Orleans.
To recreate a Mardi Gras party theme ala New Orleans and Fat Tuesday, you would need colorful beads, trinkets, masks, perhaps costumes, but for certain you need all sorts of indulgences verging on sinful.
Instead of building a parade float, why not use a large pinata as your centerpiece?


The colors for this theme should be purple, green and gold.
The throwing of beads and trinkets, and King Cake, are traditions that are specific to this region, so make sure you include these in your party for this theme!


King cake is a pastry similar to cinnamon or sweet rolls and is always served at Mardi Gras festivities in the Gulf coast region of the U.S.
It sometimes contains or covers a trinket representing the baby Jesus, and the person who finds the baby has special privileges or responsibilities, such as hosting next year's party.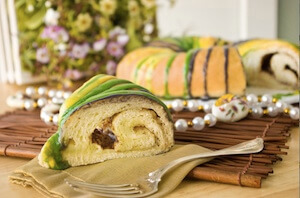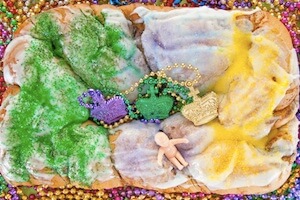 Visit the Carnival Supplies page for ideas on where to find masks, trinkets, and decor for your Mardi Gras theme party.
A Venetian Carnival Theme
For a more formal carnival theme party, a Carnival of Venice theme would make an amazing birthday celebration.
This masquerade party theme revolves around exquisite costumes and beautiful masks, but to capture the true spirit of Carnevale you and your guests must assume and act the part of the costume you choose.
So if you choose to be a jester or buffoon, you need to practice clowning around. You don't want anyone to recognize you, so really stretch to be a different person.
Visit the Venice Carnival party supplies page to get everything you need for an amazing 50th birthday party.
Venice Carnival Costumes
Below is a collection of photos featuring some of my favorite costumes and venetian masquerade masks. We hope these pictures will give you lots of masquerade costume ideas, but if you need more, visit the carnival party supplies page for more.