by Barb
(Pittsburgh)
I would like to ask friends write down a song that reminds them of the birthday girl. What can I send to them to write it down on that will then become a keepsake??
---
Amanda's Reply:
Hello Barb,
Another great question!!
I can think of a few ways to do this.
#1: You can print out a picture of each of your friends and have them write the song on the back of the picture and why they think that song reminds them of the birthday girl.
#2: Have each friend write out the lyrics to the song they pick. This way they can all be put in a scrapbook together or a binder. She can read all the lyrics.
#3: You can give each friend a music note and have them write their name on it and the song they choose.
Kind of like this . . .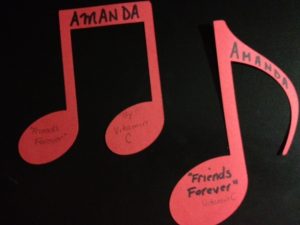 Sorry if its a blurry picture, but I took it with my phone so I could post this nice and quick for you 🙂
You can then take these and glue them all onto a piece of bristol board, or create music out of it and place them all on a music staff.
Sidebar comment – a great friendship song is the one I put in the picture from Vitamin C called "Friends Forever".
Hope this helps!! 🙂
Update with more suggestions for guests to provide their songs (or poems, or story):
Purchase a set of note cards (blank inside) that match the theme and provide one to each guest that they can fill out and return to you.
Purchase a keepsake book with removable pages and provide a couple of pages to each guest which they can return to you to compile in the book prior to the party.
Join in and write your own page! It's easy to do. How? Simply click here to return to Ask a 50th Birthday Party Expert.